Tuberose, the symbol of forbidden pleasure and passion, has a high reputation among perfumers and is commonly used note in oriental and floral perfumes. Although rose appears in its name, this intoxicating night blooming flower is from a different plant family.
Its scent is so heady, that in some cultures, the young unwed girls are prohibited from smelling its scent after sunset, because of its magical seducing powers.
This fragrant flower oozes intoxicatingly potent scent with sweet and sensual undertones. Perfumes based on tuberose leave a trail of mystery and exoticism on the skin. They fall into the category of "stronger" perfumes (of course with almost magical effect). Just apply a few drops of perfume with tuberose and you'll be able to smell it for hours. These perfumes are ideal for evening and formal occasions.
If you enjoy the company of magical strong scents, select one of these top 5 bewitching tuberose based perfumes: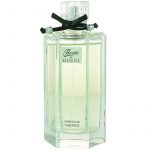 This Gucci Tuberose perfume is from the series Flora by Gucci Garden Collection which Gucci launched in May 2012. The fragrance is inspired by the most important blossoms outlined on the legendary Gucci scarf designed by Vittorio Accornero for Princess Grace of Monaco, including the tuberose flower. Tuberose note in this composition is wet and ozonic, like a tuberose flower drenched in midnight rainpour. Accompanied by African orange flower and violet leaf,  Flora by Gucci Gracious Tuberose by Gucci is tamed, archly and definitely sophisticated perfume.
Valentina Acqua Floreale by Valentino Poison epitomizes Valentina, an Italian woman full of life and contrasts. It's older sibling Valentina is an extremely popular fragrance that became a symbol of Valentino's quality since its appearance on the market in 2011. Valentina Acqua Floreale is white floral, animalic fragrance with mysterious depths which tempts, bewitches, and challenges you to come back for more. The top notes are bergamot and orange blossom, in the heart of the composition the notes of wild neroli, mimosa, tuberose and jasmine are reigning in their floral kingdom, while the base is oriental with amber and patchouli.
Norell Elixir is both glamorous and comfortable, modern and provocative perfume. This feminine floral fragrance opens with fresh sweet notes of Italian mandarin orange, plum and pink pepper. The heart is a love fusion of white flowers. Indian tuberose, lush and seductive, combined with clean, clear and intense notes of Egyptian jasmine and pimento, is a heart-winning combination. This floral love fusion is then embraced by the warm notes of sandalwood, patchouli and siam benzoin.
Signorina Misteriosa by Salvatore Ferragamo is a symbol of femininity and love… This tuberose composition is young, carefree and mischievous. You can sense the perfume seducing you right from the opening notes. The delicately sweet blackberry takes you straight to heaven, and then head-dives into a milk mousse, splattering its infectiously joyous scent all over your senses. The tuberose is paired with vanilla, and its sweetness is transformed into dangerous seductress whose charms you simply cannot resist. This perfume is a must have for anyone who cannot resist a subtle yet sweet perfume made with great mastery.
Exotic, enchanting and expressive, Flor Y Canto is nothing like the usual run-of-the-mill floral perfumes. This one pulsates on the skin and dances with your every heartbeat. Inspired by the most fragrant festival in the Aztec calendar, Arquiste created a perfume that drags you back in those times. A floral wreath of Tuberose, Magnolia, Plumeria and Marigold is placed on the shrine of the Gods with Great Sense of Style, beckoning them to have mercy on us, the mere mortals, when this liquid gold becomes our scented aura. If you're on the hunt for a seriously artistic and unique scent that celebrates life and perfume in its original, undiluted form, this one should be your number one pick.
FIND YOUR FRAGRANT MATCH ON SCENTBIRD
Give yourself a gift of pure luxury in the form of amazing fragrances. Seize this opportunity and experience scented love firsthand: try the perfumes, add them in your personal queue with Scentbird.
Scentbird is a luxury fragrance subscription service that sends you a 30-day supply of a fragrance of your choice for $14.95/month.
You'll receive a selection of fragrances each month for $14.95, and add other perfumes you want to try to your queue for an upcoming delivery.
For $14.95, Scentbird is your monthly pass to fragrant elegance, chicness and refinement.
To join Scentbird or learn more about this luxurious fragrance service, click here:https://www.scentbird.com
SCENTBIRD, BECAUSE SMELLING GOOD IS JUST AS IMPORTANT AS LOOKING GOOD!