One idea that doesn't get enough credit in the scented world is that perfumes are excellent stand-ins for things that are bad for us.
There are phenomenal dessert fragrances that smell better than a lifetime supply of Godiva. There are boozy scents that can drink anyone under the table, and tobacco perfumes that resemble the finest hand-rolled cigars.
Tobacco perfumes in particular have the widest range of possibility in perfume – they can range from stubby cigarette smells to back room men's club smoky sophistication.
A good tobacco scent can be the ultimate accessory to a bespoke, tailored suit or a thrashed leather jacket. And there's nothing that says that suit or jacket can't be from a woman's wardrobe, either. Tobacco perfume is an equal-opportunity kind of style – it instantly makes everyone more adventurous and chic.
So if you've not sampled a tobacco perfume before, here are a few different approaches from various houses to get you started.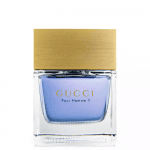 Starting with the lightest tobacco note of the three, Gucci Homme II is a captivatingly astringent and soft scent featuring notes of pimento, violet, cinnamon, and tobacco leaf in the base.
The tobacco here is not a power statement, but a dry, herbal base layer that firms up the fragrance. The violet and bergamot are light and engaging as top notes, but might float away too soon, without tobacco's rigid backbone. Instead, the herbs fuse with violets powdery facets to offer an intimate, comfortable weekend scent.
Burberry London is for fans of pipe smoke. The tobacco note in the base blends up into cinnamon and lavender, and the effect is pure English smoking-room reserve.  The tobacco in this scent is slightly richer and more aggressive than in Gucci Homme II, but also more ephemeral. The pipe smoke aura gives way to the lavender and mimosa in the top and heart, lending more of an overall floral feel.
Vintage is the most aromatic cologne on this list. It is packed with lavender, orris, rhubarb, and basil just to name a few. The Turkish tobacco and suede accord in the base lend Vintage a "visit to the tobacconist shop" ambience. There's an imported, loose-leaf richness in the heart of Vintage that is instantly noticeable and quite addictive. Layer upon layer of aromatics slowly unwind like incense in this scent, and it's just as mesmerizing to wear.