Imagine yourself in an enormous golden temple in Asia. The dawn is rising over the treetops, and a small flight of brightly colored birds erupts into the cold air as the first rays of sunlight reach the branches below. Behind you, a large brass gong is struck high in a far-off tower, and its ancient sound echoes deeply through the quiet halls.
Suddenly the air is filled with a mesmerizing scent, both sweet and dry, lulling you into a state of blissful contemplation. Your spirit rises out of your body as the sun's warmth reaches the temple walls…
Perfume has been a part of mankind's search for the sacred for as far back as history will allow. The essential oils used for perfume have also been used as healing tonics, in religious rituals and aids in meditation. Our sense of smell has always been the most direct connection to the Divine.
But what makes perfume so spiritually appropriate? The answer is sandalwood. Sandalwood is found in both the spiritual and scented world, especially in countries like India, Tibet and China. Temples all over Asia are infused with sandalwood incense, and ceremonial jewelry is made from the wood as well. In ancient Egypt, it was used to prepare the pharaohs for their journey into the Afterlife.
When used in perfume, sandalwood has a creamy, soft, and sweet texture that is delicious on its own or in combination with other notes. A tiny drop of sandalwood can make a bright green perfume seem earthier, and a light, citrusy scent becomes exotic and mysterious.
If you want to experience the Divine through scent (or just smell divine, period), here are a few sandalwood perfumes that may make you see God:
Terra takes sandalwood in both a fresh and sweet direction simultaneously. The fresh side takes off with sheer layers of citrus and geranium, while the sweet side is sticky with tonka bean and sugary rhubarb. The sandalwood note stays somewhere in the middle, with a dry, smooth elegant undertone. Terra is a complex cologne that can pull off making you smell confident and irresistible at the same time.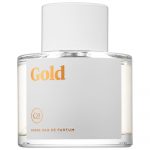 In addition to its sweet side, sandalwood can also be dreamy and dry. When you add it to a scent that's already sweet as in Commodity Good's Gold, it keeps the amber and vanilla from going too far into butter fat territory. Its woody side makes all the sweet notes that much bigger from its astringency.
D&G's Anthology Series of fragrances are named after the Major Arcana of Tarot cards, and they all carry the same mystery and curiosity in getting your cards read for the first time.
La Force 11 is both wondrous and sensual with notes of pimento, cinnamon and caraway in addition to sandalwood.  What to look for in this fragrance is how the caraway and sandalwood marry in the base notes – the effect is completely unique and absolutely addictive.  Some perfumes make people ask what you're wearing, and La Force 11 will make them ask about you alone.