As silly as it may sound, nostalgia is one of your best friends in perfume. Never mind what you hear about "not wanting to wear your grandmother's perfume!"  Your grandmother got to wear some of the greatest perfumes ever made before anyone else did, and to her they were as common as today's new celebrity scents.
Imagine what it would be like to wear Chanel no. 5 when it first came out, or Guerlain's Shalimar when it first hit the floor at a department store.
Women who know fashion know that reaching back into the past for your perfume choices can be a daring and paradoxically cutting-edge choice when it comes to accessorizing your favorite looks.
Here's why:  in today's perfumed landscape, every year more restrictions are placed on what ingredients companies use to make non-allergenic perfumes. It's getting harder to offer new scents that don't end up smelling blandly similar or synthetic due to lack of access to proper essential oils.
So if you want to wear something that feels intimately yours, and doesn't smell like you should be washing your clothes with it, it's a good idea to know the classics. Back in the day perfumers had more leeway to create original compositions without concerning themselves with allergens or corporate budgets to realize their visions. And that can only mean more artistic energy in the scents, which makes them feel more electric and sensual. And even if the icons of yesterday's perfume world have altered their formulas slightly in order to adhere to new regulatory standards, you can still sense the power and magic that made them famous in the first place.
Perfumers as well as fans are looking backwards for inspiration. Great perfume companies who fell on hard times due to changes in taste or economic problems are now being re-booted by a whole new generation of respectful perfume artists. Designer houses that ruled the fashion universe fifty years ago or more are finding new life from sophisticated followers eager to recapture the gilded glory they once possessed and re-introduce them to the world.
The designer house of Norell is a perfect example of this. In the 1960's, Norman Norell was the undisputed superstar of high fashion. Everyone from politicians to Hollywood superstars wore Norell, and it was the epitome of New York urban elegance. He was the first-ever American designer to launch his own perfume brand, and there is a plaque commemorating his work on Seventh Avenue in New York City.
But as with all things, especially in the fashion scene, the house of Norell faded from view after Norman Norell died in 1972.
Fashion may come and go, but genius lives on, and in 2015 the granddaughter of Elvis Presley, Riley Keough, partnered with perfumer Celine Baril to re-launch the Norell perfume line.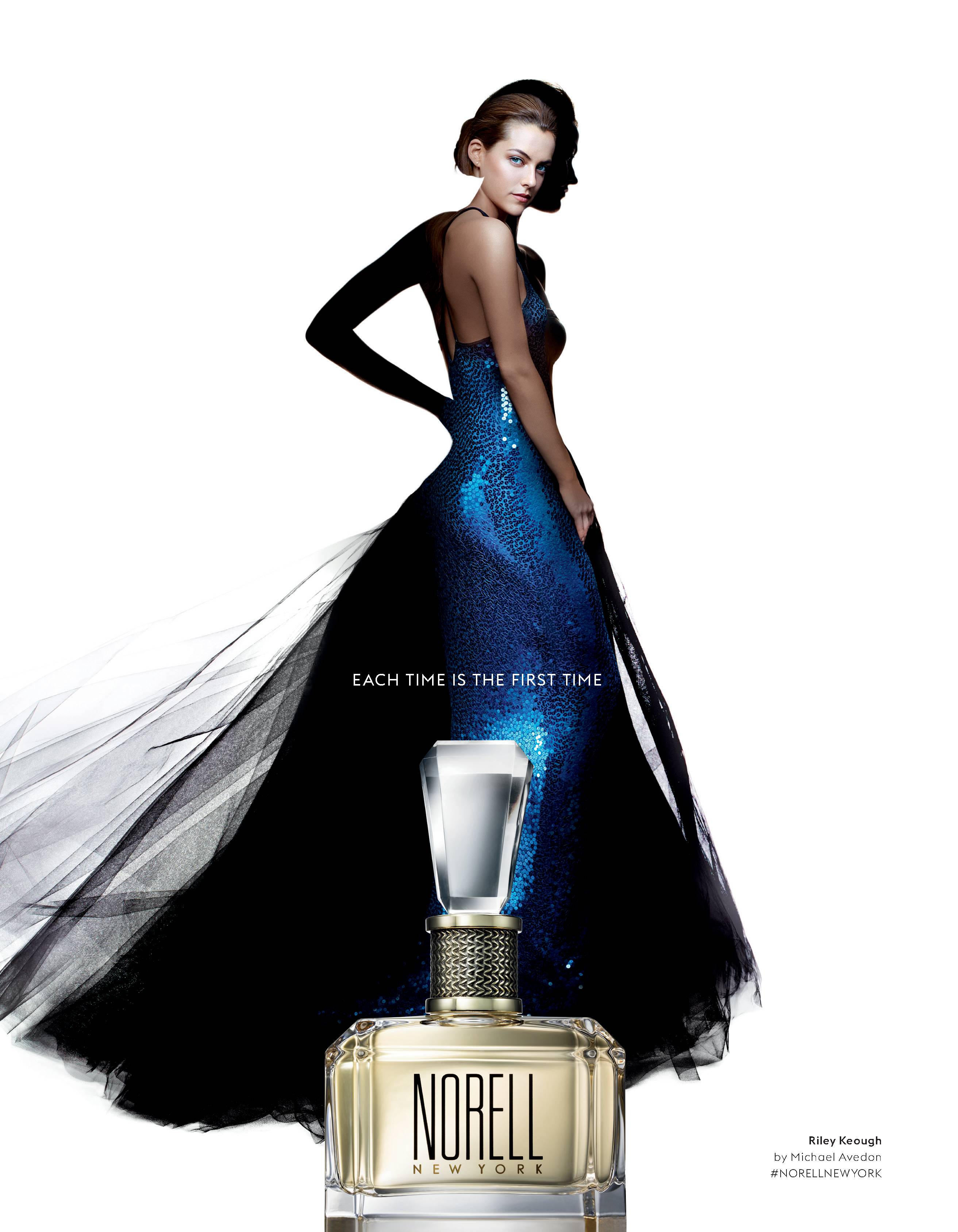 The new perfume, Norell New York, contains over 200 jasmine petals in each bottle, and it's that attention to detail that brings lovers of classic perfumery back to the brand.  Another pricey ingredient, orris butter, is used in the base.
Norell New York wears wonderfully, with a debonair silhouette infused with a reverent modernity. It's the kind of fragrance that younger women now will reach for on their mother's dressers, yet not feel disappointed by how out-of-date it might appear.
The opening notes are mostly lively, buoyant citrus with a hint of bracing, cool green galbanum.  Which is a completely appropriate way to start, as the heart opens wide with rich orchids, gardenia, and all those hundreds of jasmine petals.
Norell New York is demure and light at the beginning, but the spotlight in the center of this scent is meant only for the women who will wear it with respect to tradition.
The drydown is earthy, sweet and firm with the orris butter combined with a rich vanilla and sandalwood.
Norell New York is a perfume for women who aren't afraid to show their many sides to the world and who realize that inner strength can be shown in anything you do. The light-hearted top notes which introduce a Hollywood sign-worthy floral heart, and a quiet but sweet ending will give nostalgic perfume lovers a wide range of emotions to play with while wearing this scent.
And you never know, maybe you'll end up with a story that's meant for your memories alone, no matter what your grandkids say about it.