Share both the love and the fragrance with your significant other. Break the tradition and bend the rules of gender-based fragrance standards with these AMAZING UNISEX scents.
With strong and aromatic rum as keynote, intoxication is the natural cause of events with everyone who tries this fabulous (MALIN+GOETZ) creation. Sinfully addictive, the sweet olfactive start of citrus and plum wanders off when the rich leather and rum combo enter the stage. Like a Godfather scene saturated with machismo, milk, amber and patchouli are responsible for the twist in this scented plot, wrapping up the fragrance in a soft, cuddly haze of well behaved scent.
Versatile and unexpected, Dark Rum is what every unisex fragrance dreams of becoming once it leaves the bottle.
Inspired by the tea ritual in China, Bvlgari set out to capture the scent that imprisons a room the moment a tea leaf takes a plunge into the hot water. Luxurious and classy, Eau Parfumee Au The Blanc is the realistic presentation of earthy, ozonic fragrance. The fragrance steals your heart with the tea note's character. Its spicy, woody complex nature demands attention, gently probing your shoulder until you finally recognize perfection for what it is: a sublime pleasure, just like taking the time to enjoy your tea.
Complex and innocent, do not get fooled by this heartthrob's softness. It's out to get you for life.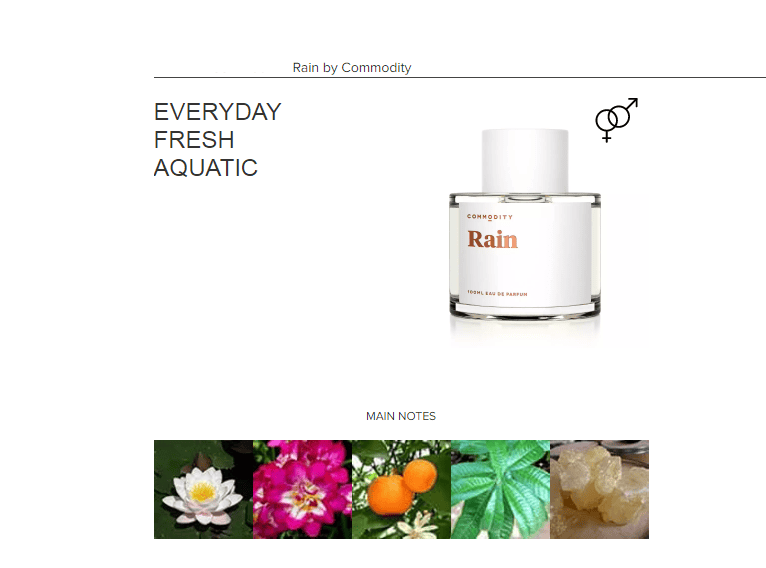 Commodity Rain caters to the needs of the urban souls for new, artistically and literally refreshing scents. Wearing this simply amazing scent threatens to convert everyone in a poet, so when the opening wave of  bergamot and lemon verbena come crashing down on you, you feel like a monsoon of citrus freshness is teeming on your skin. Jasmine, lotus and freesia are soft and tiptoeing around the base notes, feeling misty and almost frosted in moonlight. If the heart is too feminine for you, just wait for the drydown, where this feminine flair is counteracted in the base with notes of musk, woody notes and vetiver.
Rain by Commodity is a sheer perfection, spoiling you with its unusual, unexpected, unique beauty. Unanimously unisex.
Intimate and warm is what clean should smell like, as opposed to the crispy cold vibe the word is wrongly associated with. Warm Cotton captures this sentiment in the best possible way; by combining Peppery Floral Accord with Watery Ozonic, Mint Green notes. These notes are like planets orbiting around the same path but never really meeting. They know about each other's existence simply by the trail they leave behind. When floral accords leave a scented trail, it is to be enjoyed in its linear simplicity, rather than mixed with the freshness of the ozonic, mint green notes.
Playful and smart, with just a little bit of nostalgia mixed in.
Equal parts Middle Eastern spicy and Mediterranean citrusy, this exotic blend is soothing and strong. With an optimistic outburst of citrus mix, the ambergris and the woodsy notes give way to a cozier finish. Working both in hot and cold weather, Eau Profonde behaves the best on warmer skin. Heath creates another dimension of smell; it amplifies and heightens the scented molecules, making this the perfect scent for those cuddling-by-the-fire sessions.
Charming, bold and dominant.
FIND YOUR EXCLUSIVE UNISEX FRAGRANCE ON SCENTBIRD
If you're looking for an exclusive fragrance  – Scentbird is the right place to go. ScentBird specializes in all kinds of unique fragrance tones, which include all of the fragrances that were mentioned in this article. A properly chosen fragrance can really transform the perception of your style and underline your personality.
In case you are not acquainted with Scentbird, it is a luxury fragrance subscription service that sends you a 30-day supply of a fragrance of your choice for $14.95/month.
You'll receive a selection of fragrances each month for $14.95, and add other perfumes you want to try to your queue for an upcoming delivery.
For $14.95, Scentbird is your monthly pass to fragrant elegance, chicness and refinement.
To join Scentbird or learn more about this luxurious fragrance service, click here: https://www.scentbird.com
SCENTBIRD, BECAUSE SMELLING GOOD IS JUST AS IMPORTANT AS LOOKING AND FEELING GOOD
Stay gorgeous!