Juliette Has A Gun
Mad Madame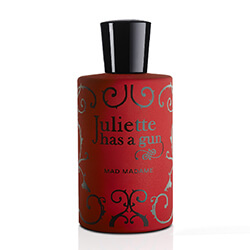 Get a 30-day supply of Mad Madame
for
$
14.95
Notify me once this scent is available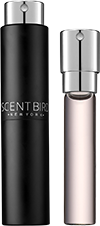 0.27 oz subscription

0.27 oz a la carte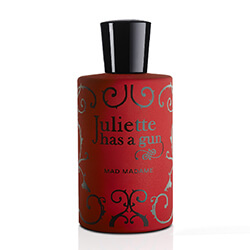 1.7 oz bottle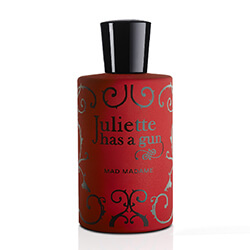 3.3 oz bottle
Share and earn free perfume
Notes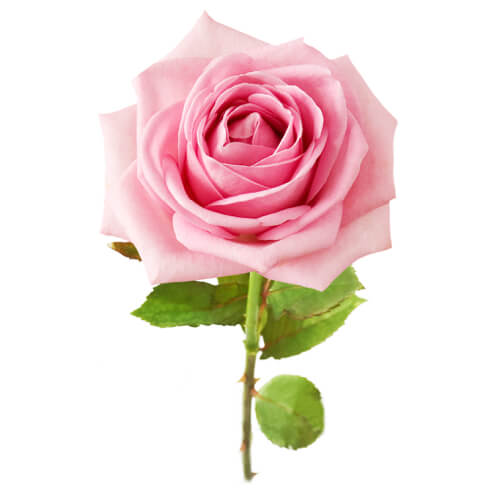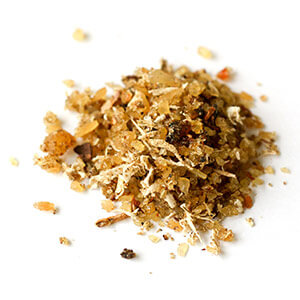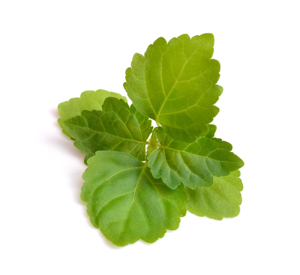 Description
She fascinates, entertains, provokes. And no one is left indifferent. While the whispers gather in her wake, so does the sensual trail of an aphrodisiac perfume… A green chypre fragrance revolving around the metallic Rose Oxyde, the Blackcurrant bud Absolute, and the woody-modern Ambroxan.
You may also like
Mad Madame description
If you are already a fan of Juliette's anti-perfumes, such as their intimate new release, Anyway, or the sheer and transparent Not a Perfume, Mad Madame will take you on entirely different journey.
Mad Madame is a somber, heady and almost gothic evening perfume with an eclipsed moonlight profile. There are only three notes: a metallic rose, darkly ripe black currants, and a thin veneer of frosted ambroxan. The roses have a brandy-soaked heaviness, and the currants burst with sweet, sugary licorice-scented liqueur. It's almost as if this scent should be poured from a cut crystal decanter rather than sprayed.
Mad Madame also has one of the slowest pulses in perfume; its slyly overindulgent layers of roses and currants bloom, wilt and burst in an endless, airless moment that doesn't fade or alter for hours on the skin. This perfume wants to transfix and derail you. The intimacy it offers is mesmerizing and dream-like; an opium den's thick, faded velvet curtain swinging wide to admit one more happy sleeper.
The reverie doesn't end until deep into the drydown phase, when at last the ambroxan asserts itself. You finally awaken from the narcotic stupor and take your first deep breath. Yet that gorgeous, frozen moment of blooming and bursting stays addictively coiled in your consciousness even as this perfume fades out. The petals are forever unfurling and falling, the currant buds stretching and spilling their sweet liquid into your senses, until the outside world can pry you away with the tireless demands of gravity.
Read more
Mad Madame by Juliette Has A Gun Reviews
07/24/2017
Not in love with this perfume. It doesn't smell bad, just not the best fragrance. Definitely reminds me of perfume a grandma would wear. My mother did like the perfume however, so maybe a scent for older ladys.
07/24/2017
I don't love it or hate it. It is a little more musk than I would normally go for. My mom wanted to steal it.
07/24/2017
I fell in LOVE with the name first of all. It sounds so romantic and mysterious. The scent definitely lives up to it's name! Everyone in my office loves it as well
07/22/2017
I really love this perfume! It was pretty strong when first sprayed on, but when I rubbed my wrists together and let it dry, the smelled calmed down. I can't think of a perfume that it is similar to enough to make a comparison. However, to me me it smells like cotton mixed with a woodsy smell.
07/21/2017
This scent is interesting and different. I don't love it and I'm not sure that I hate it. I think it would set a specific mood and I would wear it with intention that I give to an outfit for a special occasion. It does smell like metallic rose. The scent is old, sensual, exotic and warm. Maybe it smells love me an old lady but a very beautiful old lady. One who has seen and done thinks you have only dreamed of.
07/18/2017
This is a no go for me. I'm 35 years old and my 10 year old daughter told me that I smelled like an old lady. Last thing I need at my age is to smell older. On to the next.
07/17/2017
Smells like a men's cologne, my boyfriend thought I had used his spray instead of mine that morning. I always get compliments on how amazing I smell, wearing this I just got asked to wear less. Very disapointed seeing as how some of the others from this brand are my ultimate favorites ever!
07/06/2017
This smells a lot like flower pollen... like that spray they give you for allergy season for your nose.... don't like. Maybe a grandma smell.... ewww
07/03/2017
This is my first one and I'm in love with it!!!
07/02/2017
This is the second most amazing scent on me. Everyone around me loves it and I love it.
06/30/2017
I love the scent but shipping just took a little to long
06/30/2017
I love this sultry scent. A little strong for the day but when the sun goes down...
06/29/2017
LOVE this perfume! First review was wrong, I hit the 1 star instead of submit and didn't realize it.
06/29/2017
Absolutely love this perfume! It's pretty strong at first but shortly after applied it is perfect!
06/28/2017
I wear this scent every single day and I get asked what I am wearing by everyone. Men stop me and ask me to write it down so they can buy it for their wives/g/f, women want the name too. I have never found a scent that is as unique and well loved as this one. I date a lot and every guy I meet comments on how incredible I smell. I cannot recommend this scent highly enough.
06/25/2017
I have to say, i dont completely dislike this scent, but its more of a clean fresh out of a soapy shower scent.. I'm glad I added it to my queue.. this is why I like the subscription... you can try scents you wouldn't normally go for.. different scents for different occasions ri ght!?.. I do think the amount you spend monthly is low, but still think a new case or even velvet bag of different color should come with each order monthly, not just first shipment..
06/22/2017
They say it smells like metallic roses and I'd say that's accurate, but on me the "metallic" part of that especially becomes very strong and off-putting. I like it in the bottle, and I think on the right person this could be really elegant and chic but not on me. It does, however, last a very long time; if I don't shower at night, I can still smell it the next morning.
06/21/2017
I just got this perfume in the mail. I love it. Someone referred me and I get a different one each month. Each time you refer a friend, you get one free. Can't beat that.
06/07/2017
I did not get this perfume. I got the Rag & Bone perfume. Was not a fan of the Rag & Bone perfume. its too strong & my husband said I smelled like bug spray. I wanted to get the Juliette has a gun
06/03/2017
Love this smell...
06/03/2017
Really nice scent, warm and clean
06/03/2017
Smells different in the bottle than on me, but I'm getting accustomed to it
06/02/2017
Unfair for me to actually rate this as it smells like death on me. Smells good in the bottle.
05/31/2017
Very strong. I dont like it
05/25/2017
For some reason, it reminds me of my fresh laundry... I like it. Its warm and spicy and makes me feel wonderful.
05/06/2017
While I do like the scent, it is a bit too strong for me.
05/03/2017
To strong.. just not a fan of this one
05/01/2017
I like the way this smells but it also makes me nose run A LOT. It's got a very pleasant smell. It's a little soapy and kind of strong. I've only ever gotten compliments while wearing it, but it's more of a winter/fall smell and less of a summer/spring smell.
04/28/2017
I gave this perfume to my male boss. It just smells a lot manlier than I thought it would. I love patchouli and rose. I thought it would be a heavier scent and definitely not an everyday perfume, but it reminds me of men's soap.
04/26/2017
I did not like this scent it just wasn't a me smell
04/25/2017
Love this one as much as I love ALL of JHAG!!!! Very rosey initially but sets up sweet and woodsy!! IMix this one with another oud to make my own super sexy signature scent that people compliment me on all day long!!!
03/08/2017
Very soft and strong scent . It has a little bite almost chemically that's why I gave it 4 stars instead of 5
03/07/2017
I love this perfume!! It isn't too overwhelming and yet has such a distinct smell.
03/07/2017
I don't like this scent. Made me nauseated after 15 minutes of wearing it.
03/06/2017
A rich, mature, and alluring perfume, with roses, patchouli, and enough musk to be sensual. This has a powerful projection and you only need one or two sprays. Perfect for a date night.
03/05/2017
So delicious and lingers on for a long time
03/05/2017
Loved this scent! So sexy!
03/05/2017
Not for me! ugh!
03/05/2017
I didn't like this fragrance
03/05/2017
Not a perfume was way better. Definitely do not like this scent at all.
03/05/2017
It started smoky woodsy on me and then disappear within a few hours. Not a fan so far.
03/03/2017
I like it! Nothing beats "not a perfume" though.
03/03/2017
A good day perfume, has a slight synthetic quality - lasts for about 3 hours on my skin
03/01/2017
I like this smell
03/01/2017
Smells beautiful!! A little strong but absolutely amazing.
02/27/2017
No. Just, no. I should have listened to the reviews that warned that this was a 1960's scent off of your great-grandmother's vanity table. It smells nothing like the description that made me give it a try. I don't smell "woodsy" anywhere in it
02/27/2017
No. Just, no. I should have listened to the reviews that warned that this was a 1960's scent off of your great-grandmother's vanity table. It smells nothing like the description that made me give it a try. I don't smell "woodsy" anywhere in it.
02/06/2017
Smells like granny perfume
02/04/2017
I like the scent. But when you first put it on it's very heavy. After it settles down it's nice and light.
02/04/2017
This scent lasts all day. I find myself at work thinking, "Gosh, I smell good!" I love it!
01/22/2017
I think it is very unique, spicy but still feminine. The musk and basalm elements give it an almost powdery quality; it doesn't last as long as others I've had in this line but at first spritz it's something to remember. I would definitely buy more.
01/18/2017
I LOVE this perfume! It is very elegant. Woody and flower scent is very subtle. I would looooove to buy the full thing.
01/17/2017
Ugh...I really wanted to like this. When I first tested this fragrance it took me back to my college days when I hung out in a dive bar. It is hard for me to describe. Smokey, boozy, ect... When the scent settled it had a very floral-y scent. The scent maybe lasted a few hours on me.
01/12/2017
I was disappointed with this.
01/11/2017
I was very disappointed in this one! Not at all what everyone made it out to be. All I have to say is YUCK!! If you want to smell like this find a dead skunk on the side of the road and roll around in it and you have what we've got here in this bottle. Can we say stinky!! Only thing you will attract with this is peppy la, Pee-u. Sorry to all of you out there who might like this scent but oh man I don't know how you can stand the horrible smell it gives off. If I could give it zero hearts I would.
01/07/2017
This one is my least favorite of the line with" not a perfume " still my fave..This one goes on strong and dark but fades to nice scent but key word is fades...I wont purchase but definitely not the worst winter scent ever..
01/03/2017
Very strong. More floral than I thought. Gave me a headache and had to was it off right away. Very disappointed that we can't try small samples and then go from there. Can wait for my next perfume.
01/02/2017
Gave me a headache from first spray and I couldn't smell all the green it say's it has bc it is overwhelmed by something that is metallic... Going to ask for a different one bc I am a lover of strong knock me down perfumes, it doesn't even have a nice heart to it when most perfumes mellow into a softer scent. It just goes away. So sad I had high hopes....
12/31/2016
Omg I love it. Starts out a little sweet and mellows out spicy so good!
12/31/2016
It probably smells okay on someone else... doesn't really do it for me though.
12/31/2016
Terrible! No redeeming qualities what so ever, so gross. I couldn't wash it off fast enough!
12/31/2016
A little too floral for me. I was told my one person it gave them a headache :(
12/31/2016
Smelled much more floral than described. I was not impressed.
12/31/2016
At first I was a little leary about this one - but now I can't get enough of it! It's a lasting scent that makes me feel sexy. I love it!
12/31/2016
Totally love this one
12/31/2016
Smells good. Very strong as usual for this brand.
12/30/2016
It has a old lady smell at first but then it turns more delightful as it wears!
12/30/2016
Love this! It's not probably an everyday scent, but it's a very unique scent.
12/08/2016
I love hot and spicy scents. This was okay. Lasted all day and got slightly sweeter as the day went on. There was a small hint of 'older lady' that I wasn't a fan of.
12/06/2016
It has a really strong smell that reminds me of bad breath...I think that might be musk. It starts to smell nice after a few hours. I don't hate it but I would not recommend it either.
12/06/2016
This is a perfect winter scent!
12/03/2016
A bit too floral for me. Not my taste, but still a nice perfume.
12/02/2016
Thai fragrance is the perfect blend of spicy, sassy, and sweet! It's not too heavy or too light - absolutely perfect. If you can't already tell, I love it!
12/02/2016
To strong smelled like Chanel number 5 old lady smell yuk never again!
12/02/2016
Not my thing it had a manly sent according to my man friends
12/02/2016
It was nice, but definitely not for me. Way too floral for my tastes.
12/02/2016
Too masculine and spicy for me.
12/01/2016
I gave it a 3 because I honesty can not figure out if I like it or not. Its very spicey, as soon as you put it on ya feel like, "uh oh... what did I just do". At least thats how I felt. But after it dies down its not bad I did sorta like it but I'm not in love with it. We were going out to eat and I asked my fam what they thought and my brother said he thought it was his Cologne.
11/29/2016
Juliette Has A Gun does not have a fragrance that I'm not loving. Mad Madame smells just like it's name... Kick Ass!
11/28/2016
Starts and remains strong, over spicy, and old lady smelling.
11/27/2016
Love it. It's a very sexy fragrance.
11/22/2016
Loved this scent! Spicy and delicious it's perfect for a night out.
11/08/2016
Very masculine smell to me. Did not enjoy as much as I wanted to.
11/03/2016
The scent smells like Juicy Couture, a fragrance I've never liked. I gave this away to a family member. Didn't like it at all. I expected it to remind me of Hypnotic Poison, which is my favorite.
11/03/2016
This is by far my favorite perfume ever. I always get complimented when I wear it. This is my go to everyday scent.
11/03/2016
I love it! It smells amazing and I am so happy with it
11/02/2016
Not my favorite. Very floral. Co-worker said it was old-ladyish
11/02/2016
I really loved this perfume. It is perfect for everyday. It's not too overpowering and lasts for almost the entire day.
11/01/2016
Really like it, but very strong
11/01/2016
Love this scent, it's feminine and sultry.
10/31/2016
My favorite scent so far, so in love with it very earthy and sexy
10/26/2016
This is one of the most intriguing perfumes I have smelled. When I first spritzed my wrist, it was a green, rosy jasmine. It was unusual and lovely. Then it slowly morphed into an overwhelming freesia, which I did not like. At the same time, when I would move my arm, I would catch the most beguiling scent. Sniffing my wrist, it was still freesia. Oddly, up close it was too much, but at a distance it was beautiful. This perfume grows on me the more I wear it. I will be buying a bottle when the sample runs out. It's an unusual perfume perfect for autumn.
10/25/2016
Doesn't work for me. It starts out aggressively musky, then dries down to a very woody chypre, almost no discernible floral notes. The heavy patchouli note tips it into an almost hippy-dippy mood. Heavy & wintry.
10/21/2016
This perfume is absolutely amazing! I was afraid to pick it out but I will definitely be buying the full size of this perfume very soon... I cannot get over how wonderful this smells!
10/18/2016
This smells so good! It is more on the spicy side, and it is a lot heavier than some others but I love it!
10/11/2016
Really bummed. I love some of their other scents (in the Juliette Has A Gun line), so I was really excited about this one. I wore it once and won't ever wear it again. Totally smells musty, like an old lady's house. So sad!! But their "Not A Perfume" scent is amazing!
10/05/2016
Strong musky scent. Yuck.
10/04/2016
Hands down the best I have ever smelled - love it
10/04/2016
I really was drawn to the name of this perfume. Smells great. An intense and unique fragrance.
10/01/2016
I have a love hate relationship with this scent! Some days I love it and some days I hate it. Overall it smells pretty good!!
10/01/2016
I really like this scent, but it needs time to wear off a bit. The initial fragrance is reminiscent of a little kid's perfume you might get with a toy makeup set, but once it has had time to evaporate a bit, it's really quite pleasant.
09/30/2016
i love love love it.
09/28/2016
Definitely a new favorite of mine! It's so unique and unlike anything I've ever worn but I love it so much. It's worth a try!
09/27/2016
HELLO LOVE IT!! I took a gamble on this because of the name honestly. I loved the name was like lets try it and I am so happy I did. It is a seductive perfume great for a romantic date, or if you want to let others know your a woman whose beauty is matched by her bite.
09/27/2016
This is one of my staple scents, it's not for the faint of heart. It is very sexy, and MEN love this smell. It's funny because I love this smell, I wear it a LOT... Woman never compliment me with this on, but I get stopped my at least two men everyday who say What do you have on, it smells so good... One man even had me help him order it for his wife! It defiantly does it for the opposite sex - I personally don't wear it for that but my boyfriend LOVES this smell on me as much as every other man who stops me and asked what I am wearing
09/26/2016
Really love this smell, stays with you for the majority of the day. Had many compliments and smells like a nice fall/winter perfume.
09/26/2016
It was hard to believe I'd love anything more than or as much as "Lady Vengeance" but I did. I love this perfume. Very spicy and sexy and a little goes a long way. It lasts ALL DAY. If you like "Lady Vengeance," you'll definitely love this one.
09/21/2016
Not my favorite at all.
09/18/2016
I'm surprised by the other reviews- I loved this one! This is my first Scentbird perfume, and I have to say, I am very impressed. This is a long lasting scent, and a little goes such a long way. I know even in the small bottle it will last a long time. With that being said, it may be considered a "more mature" scent, but as with everything, I think that depends on your body chemistry. I am in my 20's and I love how it smells on me. If you're looking for a long lasting, feminine scent, definitely check this one out!
09/18/2016
I'm surprised by the other reviews- I loved this one! This is my first Scentbird perfume, and I have to say, I am very impressed. This is a long lasting scent, and a little goes such a long way. I know even in the small bottle it will last a long time. With that being said, it may be considered a "more mature" scent, but as with everything, I think that depends on your body chemistry. I am in my 20's and I love how it smells on me. If you're looking for a long lasting, feminine scent, definitely check this one out!
09/17/2016
My first Scentbird package came with this perfume. The rose smell is over powering and it almost makes me nauseous. It's smells more "old lady" to me than anything
09/05/2016
Hate this smell. I'm so disappointed. Now I've got a perfume I'll never use. I wish scentbird would send out samples.
09/05/2016
This perfume is very "smokey" and woodsy. I absolutely love it and have since ordered a full bottle. I've found that men really like this scent and i think it's because its not too "girly" and has some of the same notes that would be in a cologne. It is a very unique scent1
09/04/2016
Smells very mature, unfortunately a bit too mature.
09/01/2016
I very much love the Juliette Has A Gun line however this one was a little too strong for me right now. I would suggest it more for winter or a night out than a everyday. I love the thickness of the scent and it lasts all day but again a special occasion more so than everyday. I would prefer "not a perfume" or "oud
09/01/2016
Little too flowery and old lady for me, but nice.
09/01/2016
I love this perfume, it had a very complex sent. It was very feminine but still very mysterious. You could wear it at night or in the day I would say it had floral under tones with musk and oak and a little spicy! Loved it!
09/01/2016
it's a very fruity fresh scent. reminds me of my dads after shave. I like it and will purchase the full size bottle.
09/01/2016
So good. love this brand!
08/31/2016
I absolutely LOVE this scent. I was nervous that some reviews weren't so great but it smells HEAVENLY on me. So many ask what I'm wearing and it's just fun to say "Mad Madame from Juliette Has a Gun" haha. It's definitely a sexy scent and quite strong so a little goes a long way. I'm happy that it stays with me all day. Sexy, musky, mysterious. I will be ordering a full bottle I love it so much!
08/30/2016
Very pretty, but a little too flowery for me
08/29/2016
When I read the reviews on this perfume I was so excited to receive it, so when I had gotten it in the mail and opened it I was extremely disappointed!!! Everyone made it out to be this fabulously great smelling perfume.😷I'm sorry it smells like an old lady perfume met a leather store. It's absolutely terrible!
08/23/2016
I think I found my new favorite perfume! This scent is unique (which I love) and lasts longer than most perfumes out there!!!!
08/12/2016
HELLO I LOVE JULLIETTE HAS A GUN. IT HAS BECOME MY SIGNATURE SENT I CANT WAIT TO TRY OTHERS BY THIS. MADDAM SENTS IM GOING TO LOVE SENTBIRD I ALREADY LIKE THE IDEA ITS GREAT.TRULY DIANNAJOY STATHOS
08/08/2016
Great perfume! My hubby loves it, and it was definitely worth the wait!
08/06/2016
I liked this perfume, but at first, it was a bit to strong. As it settled down on my skin it was a very good scent. I have not tried all of the perfumes in this line, but I want to very much. My favorite so far in Julietttt Has A Gun is "Not a Perfume ", I love that fragrance and get many compliments on it.
08/04/2016
Not a scent for me.
08/02/2016
Don't know what the perfume smells like since I have yet to receive it. This would be my first scent, and I'm quite annoyed that I signed up in mid July and it is still not here!!!
08/02/2016
Not my favorite in the line but not the worst.
08/01/2016
the smell is great! I will be saving this one for the winter
07/31/2016
Very strong at first but fades quickly. Not a fan. :(
07/30/2016
Not my style! it's a pretty scent but not for me
07/10/2016
I love all of the Juliet has a gun scents, You can really smell the rose in this one with a twist of unique
07/02/2016
Strange and evocative scent but I already had it.
07/01/2016
Love , Love it!!!!!! Smells awesome.
07/01/2016
It's different from anything I've worn before. Subtle, provocative, I love it!
06/21/2016
A lovely stronger scent from JHAG. It strikes first with the floral fruity notes but as soon as it dries down on me it gets a very nice oud musk going on with a bit of the blackcurrant note left. From further away it keeps the floral notes. I'm not a huge fan of floral, but this is a complex floral that I enjoy without seeming too young or overly girly. It would be a great date night scent, I find it very enticing with a "dangerous" edge. Would not recommend this for younger women who don't enjoy strong scents, but it is by no means an "old lady" scent...it feels classic but edgy. I'd recommend this for gals 25+ unless you are very into this style of fragrance or really enjoy strong notes. After awhile on skin, it fades down to just the musky oud which I enjoy a lot.
06/20/2016
This was not a winner for me. It was very soapy, and had a somewhat matronly smell to me. I like some soapy smells, but one just didn't appeal to me.
06/05/2016
Not my favorite. Too much floral scent.
06/03/2016
It's not a bad smell. Just one that I don't enjoy on me.
06/02/2016
This is actually my favorite scent so far. It's different and deep but with a lovely sweet undertone.
06/02/2016
This is a very strong scent and smells a little cheap when you first spray it on. It does mellow out over time and smell a little less "drug store" but it does remain strong. I didn't love it like I hoped I would, but some other people liked it very much. I would describe the scent as "brassy". This
06/02/2016
Not my favorite scent, too strong and chemical tinged even after it had settled. However, on my coworker it smelled wonderful! Ended up giving it to her 😊
05/31/2016
I love how this smells, I really want to buy a full bottle now.
05/28/2016
Awesome scent absolutely love it
05/21/2016
It smells like cheap old lady perfume. No. This straight up gives me headaches.
05/11/2016
Omg............ I didn't like this at all........ My husband didn't like either.... Maybe, it just doesn't work with my body chemistry... Husband said it smelled like Jean Nate...ewwww....
05/01/2016
I love this one. It lasts a long time!! It smells floral and flirty. I think it's more of a nighttime scent, but I wear it all the time.
05/01/2016
I'd been dying to try this niche brand but the full bottles are just too pricey for me to commit to without being able to try a scent for a few days. I find some juices change on me from day to day until it "settles" on me somewhat so I don't trust spritzes or strips. This fragrance has been a bit bipolar on me for a couple of days but let me say that Madame has me in her spell and I'm nuts for her! First, she hit me with roses- not bright, sunny ones but deep red/violet ones after a heavy rain. Then, she sneaks in a bit of an ambery-musky vibe with maybe some tuberose laying in wait. The dry down is both lovely and persistent and longevity is incredible. I could go on about Madame but I'll just say this is not a light, shy fragrance. I am obsessed!
04/10/2016
Starts out very strong, but once it dried down it smells nice. Very floral and long lasting scent.
04/08/2016
So far I have not been impressed with 'Juliette has a Gun's' line of perfumes. At least Mad Madame is less offensive than Lady Vengeance. I was afraid of the castoreum would bring a profound fecal smell, it is under control and only adds a musky animalistic scent. The rose oxide is sparkling at first and slightly overwhelmed with alcohol burn but dies in the dry down. Finally this settles into a generic pleasantness that has a herbal muskiness like hay on a dewy morning tossed with decaying blooms of tuberose. The giant sillage in the beginning fades fast but the slightly below average sillage lasts forever.
04/07/2016
This reminds me a little bit of Frederic Malle's Portrait of a Lady, which is one of my all time favorite perfumes. It's heady and loud, but that's why I like it.
04/05/2016
It's interesting and long lasting. Smells nice. Just not for me.
04/04/2016
A little strong, but another great fragrance by this brand!
04/01/2016
It's floral and strong, not my favorite.
03/29/2016
not a scent I'd choose again reminds of an older womans woodys scent
03/29/2016
Lovely, intense scent. I get a lot of compliments on this perfume. I will definitely be purchasing a bottle!
03/29/2016
Love it! "Sensual trial of aprodisiacs..." Says it all!
03/29/2016
Very unique scent. I have received more compliments on this perfume than I have received on almost any other that I have worn. This is one you must sample first - I'm sure the combo doesn't work for everyone, but this is an awesome rose scent.
03/20/2016
Really intense, long-lasting scent. I felt it floating around me for hours. Once it dried down I got lots of dried rose petals and musk. Really unique scent. Not really my thing, but you can't deny it's good quality.
03/12/2016
Dried down to a mellow floral scent with some woody, earthy elements. Did not have the longevity that some of the others in the Juliette Has a Gun line, but still made it through half a day. Easily something I could wear daily.
03/07/2016
Love this perfume
03/06/2016
Nice scent for fall and winter
03/02/2016
I really really love this perfume. It's scent is amazing and last a long time. Love love love Juliette Has A Gun! I'm so glad this was my first scent!
02/29/2016
Wasn't crazy about it. Too much madame for me.
02/29/2016
This perfume just doesn't work with my body chemistry, which is a shame. I shared it with a friend and on her it was amazing - complex, with strong dirty rose notes, a little green, a little spicy. On me all you get is rose and animalics. It turns cloying and nauseating. I'm envious of people who can wear this. I wish I was one of them.
02/29/2016
The scent is a nice combination of woody/spicy scents with just a little floral to keep it from being over bearing. All and all, I love Mad Madame.
02/17/2016
Another score for Juliette Has A Gun! Amazing and unique fragrance. Perfect for what I look for in a fragrance. seductive and sultry.
02/05/2016
I was anxious to try this as I LOVE Juliette Has a Gun's Lady Vengeance and have worn it for tears. Well, Mad Madame has the same beautiful rose base as Lady Vengeance, but where LV is a clean, smooth scent, Mad Madame is much more animalistic (due to the castoreum and musk, I'm sure.) I kind of feel like MM is the skanky sister of the pure innocent LV. I like MM well enough to wear it, but I don't think I would buy it. Instead I would spend the money to buy more LV.
02/03/2016
I really love this scent!
02/03/2016
I like this for work. Good long lasting scent
02/01/2016
This perfume has a very overpowering alcohol fragrance. The tuberose and musk are there, but I simply cannot wear it due to the sharp alcohol scent. This is a dud for me.
01/28/2016
TERRIBLE!!! Can I give no hearts?! Being the grandson of Nina Ricci I thought, yeah, give this line a try!! I chose the wrong one, because not only is it strong and NEVER dissipates, but it smells like swamp butt on my skin! Like some 250 lb old lady forgot to wipe her butt all the way and this was the result after mixing with her god awful perfume. YUCKY! Anyone got a fire hose to pressure wash this crap off???? Even tried layering with other perfumes. Generally, if I don't like it as is and layer Jessica Simpson Fancy Love over it, the nasty evens out to tolerable. Not so on this one. Blechsville
01/22/2016
Not a big fan. It was really strong and gave me a headache. If it wasn't as strong, I probably would enjoy it more since I am a big fan of some of their other perfumes. Sadly, this was a miss for me.
01/18/2016
Not a fan of this one. Spicy, almost smells masculine on me. Just not for me, but a unique scent, I'm sure it works well for some!
01/07/2016
Different, but good. It smells mysterious and almost unisex but velvety...nice when you want to mix things up a bit!
01/02/2016
This sadly does not mix well with my body chemistry. It smells a little off.
12/31/2015
I don't like the top note, but once that wears away it is a nice and unique scent.
12/30/2015
Really love this on me. Knowing it is strong, one spray is all I needed.
12/30/2015
It's okay, hard to describe scent
12/29/2015
not my favorite, it was a little strong for me.
12/29/2015
A little to strong...
12/23/2015
I'd best describe this as a deeply rich red/black current, slighty rosey with a hint of vanilla and powder mixed in. Its definitive festive, for a holiday or special occasion, not an every day type of scent.
12/03/2015
This was okay... I actually had the highest of hopes for this one... but I hate to say that it was not my favorite. Mixed with my body chemistry, I didn't find this to be pleasant on me at all... also my boyfriend said I smelled like a grandma lol. :/
11/25/2015
Definitely an UNIQUE scent this one. There's no middle ground, you hate it or you love it. Too rich for a young heart and too elegant for the sunny days. It is as the name says is "a gun", seductive.. use it with care..
11/24/2015
there's a lot going on here. it has a bit of an "everything but the kitchen sink" quality but it still works, curiously. kind of like a vanilla-y cherry brandy but also somehow sort of resin-y... really peerless. never smelled anything like it.
11/24/2015
wow, what an unusual scent. it has a lot going on... almost an "everything but the kitchen sink" quality but it still works somehow. definitely not for the faint of heart but if you're looking for something really peerless, this might be one to try.
11/24/2015
It's a bit too strong and not one that I would pick or buy again.
11/18/2015
I feel like some notes took center stage where they'd best make a cameo; overpowering the softer side.
11/18/2015
Very masculine. Not a huge fan.
11/07/2015
I don't think its my favorite scent.
11/03/2015
Disappointed in this one. I own and love Lady Vengeance by JHAG and really thought I would like this. While it is similar it has a very sharp unpleasant note to my nose...maybe too musky. Couldn't wait to wash it off!!