Guys deserve a little love on Valentine's Day, too! And plenty of exquisite colognes, which both of you will enjoy.
Take a look at these manly Valentine's Day gift sets and choose the right one for the man of your dreams.
Each of the below mentioned gift boxes contains carefully chosen set of 3 colognes that cater to the specific needs of the special men in your life.
YOUR VERY OWN MR. RHETT BUTLER
He dresses well, loves you even better. He is always composed, except when his favorite team loses. He's someone who relishes in his masculinity while acknowledging the woman standing next to him.
He is not afraid of those three little words, but he's more a man of action than words. You are the center of his vast, enormous universe.
Does this sound pretty much like your man? If he is in possession of all the qualities that separate him from the boys, then make sure to tell him that, in a scented fashion.
Go for Scentbird Gentleman gift set, which is fully equipped with three colognes that complete his gentlemanly traits: (MALIN+GOETZ)Dark Rum; BVLGARI Bvlgari Man in Black and DOLCE & GABBANA The One for Men.
MR. STYLE TRAILBLAZER
His not so subtle fascinating style is trendsetting condensed. Everything on or with him is carefully chosen.
The staple of his wardrobe is not clothes, but right attitude towards life. He's adventurer, trailblazer, style maverick. And he's your best friend in the whole wide world.
There is one thing he's clearly missing that would complete his style, and that is Scentbird Trendsetter gift set, containing three colognes that announce and confirm his presence wherever he goes: VERSACE Eros; KENNETH COLE Black Bold and GUCCI Gucci Guilty Black
MR. "THE WORLD IS MINE"
For him, winning is a game. He takes risks all the time, but these risks are smart and adrenaline rising.
"Go big or go home" is his motto. Failure is his best friend and his teacher, since you cannot make it in life without making a few enemies along the way.
He may have everything, but a small token of appreciation will make him feel like he's truly on top of the world.
And I have the perfect appreciation, the one you cannot shake it off: Scentbird Mr. Billionaire gift set.
Inside he will find a scented incentive to continue his reign in powerful fashion: BENTLEY Bentley for Men EDT; AMOUAGE Honor Man and TOM FORD Tom Ford Noir EDT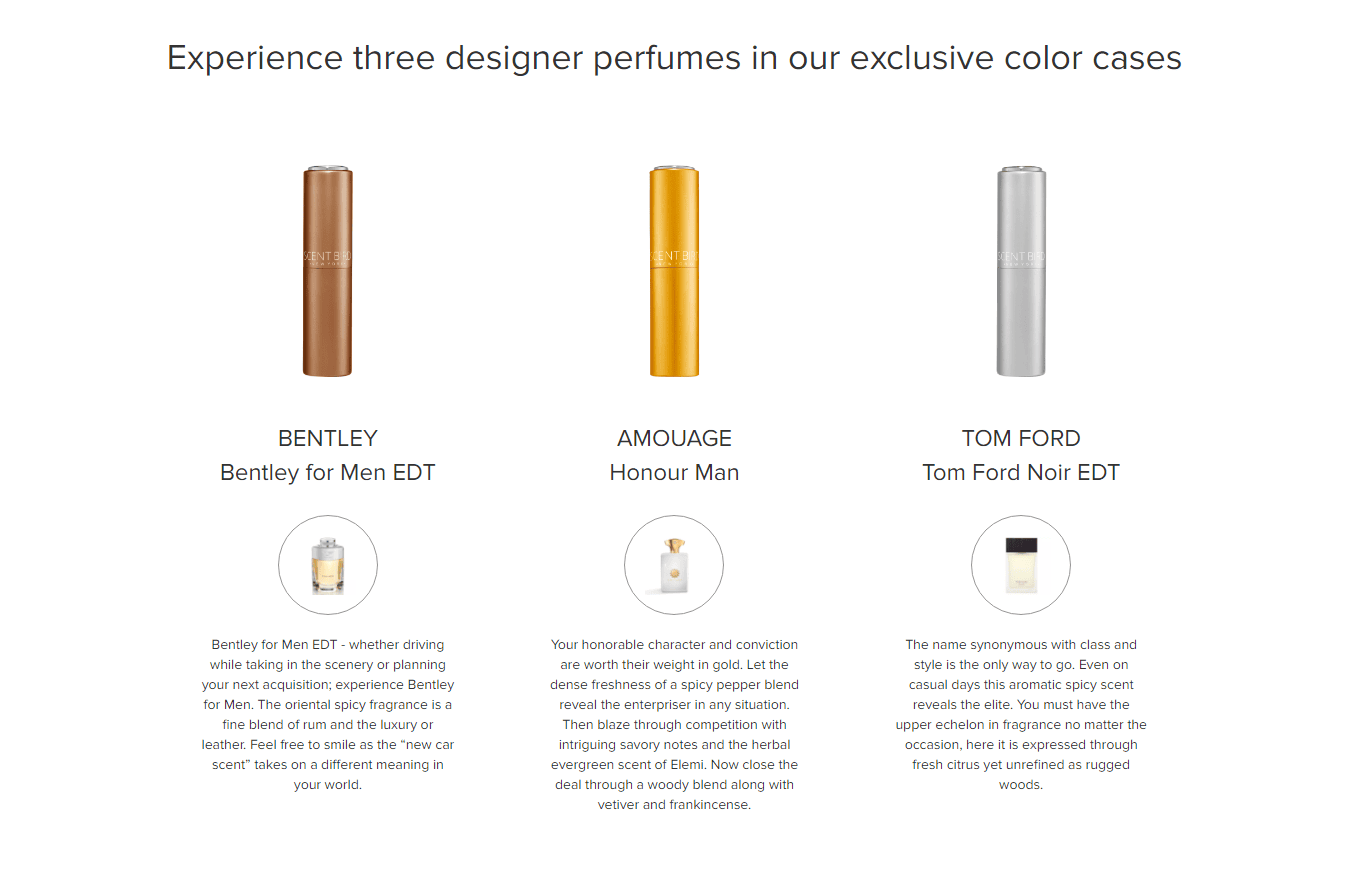 MR. Saves The Day
Do you need a hero?
His seduction techniques are smooth, persuasive and flawless. Just like his personal style. There is a certain kind of mysterious aura veiled around him, but he's always prepared to save the day.
His choice of weapon for mass seduction are fragrances powerful enough to offset a woman's blush, just like the ones included in SECRET AGENT Gift Set: COMMODITY Gin; ENGLISH LAUNDRY Cambridge Knight and CARVEN PARFUMS Carven Pour Homme.
TELL HIM HOW YOU FEEL IN A SOPHISTICATED WAY
What is more masculine yet romantic than a carefully chosen scent? They say a little can go a long way, and I could not agree more.
Go over to Scentbird's scented web portal (click here), find the one gift set that describes the man of your dreams best and then find one for yourself, for just $99. 
Yes, you read that right, you can mix and match any two gift sets on Scentbird and get all the loving for just $99, with free shipping!
In case you are not acquainted with Scentbird, it is a luxury fragrance subscription service that sends you a 30-day supply of a fragrance of your choice for $14.95/month.
You'll receive a selection of fragrances each month for $14.95, and add other perfumes you want to try to your queue for an upcoming delivery.
For $14.95, Scentbird is your monthly pass to fragrant elegance, chicness and refinement.
To join Scentbird or learn more about this luxurious fragrance service, click here: https://www.scentbird.com
SCENTBIRD, BECAUSE SMELLING GOOD IS JUST AS IMPORTANT AS LOOKING AND FEELING GOOD