Ladies, let it be known that Scentbird feels your pain when it comes to weaning your man off of the tired and dull drugstore scents he buys with as much thought as his shaving cream.
For, deep in the mind of some men, there is a little red emergency lever marked SMELL GOOD NOW that gets pulled whenever they decide to impress someone. Usually this lever unleashes Axe Body spray, or some light aquatic fragrance that Mom popped in their stocking at Christmastime.
But that doesn't mean you can't get them to up their game and seriously start to consider building a proper men's cologne wardrobe. For you have a secret weapon, which is this: ANYTHING you want them to smell like, they will wear and feel good about.
Please use this superpower for Good, not Evil and consider that your man may be a little lost fawn in the forest when it comes to picking his own scents. But with your guidance, (and Scentbird by your side), soon he will be throwing out all of his Christmas stocking scents so you don't have to.
Scentbird suggests going slow on this project, though. There is a skittishness you may need to account for when it comes to switching up his gear, so introduce him to a known designer brand that's a cut above what he wears now.
PRO TIP: Choose a style that isn't so esoteric that he shuts down your superpowers by reaching for that same tragic bottle of Old Spice he's had since he was 15.
Hugo Boss colognes are a possibility at this crucial juncture in your relationship. They have a definite masculine appeal, and some have interesting notes, like Louro Amerelo wood, that you won't find in other fragrances that makes them unique.
Not only that, but Hugo Boss has a long-standing reputation as a top European designer dating back to the turn of the century, so if a classic scent is what he feels best in, he's bound to find one that works.
We've selected three colognes that range from light to spicy, and each one has it's own individual character, so the two of you can mutually decide on what works best for your lifestyle.
And thank you for your commitment to ensuring that all men become brave and confident explorers of the Scented World.
This is an older scent that is an excellent starting place on the road to creating an iconic scent wardrobe. It launched in 1995, and very quickly became a staple of discerning men's grooming rituals.
Hugo is light, airy, and fresh with equal amounts of citrus and floral notes, making it an easy choice for matching to casual or formal situations.
The lavender and mint at the top are traditional men's cologne notes, backed by green apple and basil for a bright, crisp and mysterious opening. You can throw it on for a weekend family barbeque, or dress it up with a suit and tie without it tipping the scales into Aggressive Male Musk territory.
The heart notes of geranium and sage echo the aromatic basil and mint, and keep Hugo in that cool, "in control" zone that all good masculine scents have at their core. The base is all cedar and fir, for a confident, woodsy drydown.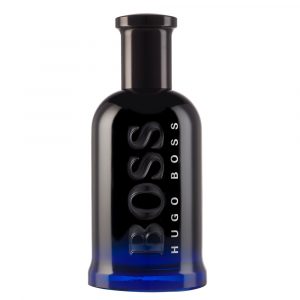 This cologne should be introduced to your man after you've gained his trust. It's a very masculine scent, but built around lavender and violet notes which some men may consider too dandyish to wear. They couldn't be more wrong.
Lavender and violet are two of the cleanest, calmest notes in perfumery and what's more they always smell sophisticated and smart. Meaning the less work, the better for smelling fantastic no matter the occasion.
Bottled Night is maybe best suited for afterhours fun, however. The lavender and violet have a powdery edge ideal for evening plans, but during summer this is fine to wear during the day.
This fragrance is definitely for the daring man.
Oud is an extremely dry and spicy Middle Eastern style of scent, and one you either instantly love or hate. Oud is an Arabic name for wood that has been infected with a type of fungus that turn the wood intensely warm and no-holds-barred spicy.
In Middle Eastern culture, Oud wood is considered a spiritual and sacred form of perfumery, but to a Western nose it may come off as too dry or acrid to wear.
The truth is that Oud can be the most sensual option in a man's collection. There's nothing quite like it in perfumery, and once your palate catches up to its charms, Oud can be almost mystical to wear. And despite its boldness, Oud also marries well to almost any other note in perfume, to instantly add a virile, sexy edge that is impossible to ignore.
Hugo Boss Bottled Oud has an intriguing balance of natural oud, saffron, cloves and citrus that makes it a good one to see if you like the style. There's nothing too forcefully hot or spicy going on, and each note plays well with the others to create an exotic, but wearable cologne.
So off you go, ladies. Try these out and tell us which ones work best for you and yours. Each of these colognes is fine to start out with, and we can guide you to similar fragrances as well if the feel is right. Just remember that a great man's cologne deserves a better fate than to be tossed in with the toothpaste at the Express aisle, and so do you.