When you first start wearing perfume, choosing the right scent can be intimidating. It's like choosing an expensive wine at a fancy restaurant – you don't want to feel silly by not knowing enough from the menu to complement the food you love.
And in the perfumery world, the choices are endless: there are florals, white florals, fruity florals, chypres, fougeres, Orientals, etc. And that's just the beginning! Then there are also choices based entirely on the time of year, scents that are best for each season. And even further, perfumes best worn for day or night.
For a newcomer who's faced with a towering tsunami of scents, it takes some time to discover a warm and comfortable current. But once you've learned to swim, the scented world opens up into an enormous, gorgeous ocean you could happily spend the rest of your life floating in.
A great place to start is the Floral family of fragrances. Each perfume you come across will have certain flavors, called notes in perfumery, that help to identify how it smells. Floral scents are exactly what they say they are: a mixture of soft, flowery notes layered with any number of spices, citrus, smoke, even incense. But the heart of the scent remains soft, feminine and flower-based.
And this is why floral scents are so much fun. You can take them in any direction you want, from the high classic drama of older French houses to the latest in edgy, grungy, downtown late-night fierceness. Scentbird has got you covered with a number of great starter perfumes in the Floral category that we're sure you will find a fragrance that appeals to you, whether you're just diving into that enormous ocean on a dare, or a confident swimmer with many miles of exploration behind you. We hope you enjoy these perfumes as much as we do.
PERFUMES ON THE SWEET AND TROPICAL SIDE:
Vince Camuto – Bella: Designer Vince Camuto's line of perfumes is an excellent place to start building a lovely floral fragrance collection. Bella is a delightful fruity floral scent that is both sweet and airy, thanks to the combination of peaches and pears in the top notes, combined with bergamot and lemon ice. This is a great scent for summertime fun, especially if you happen to be on a beach boardwalk and strolling by a lot of bright, tempting candy.
Versace – Bright Crystal Absolu: This absolu (meaning concentrated – absolu is French for absolute distillations in a scent – the highest percentage of perfume oil in a bottle.) is for the dark and exotic fruit lover. If you like juicy, tropical notes – this is your jam. The pomegranate and yuzu fruit opening here sets the scene for a night out in a daring black dress, along with some serious smoky eye drama.
Dolce & Gabbana – Dolce: D&G have been making fresh and clean scents for a long time, and I'd direct any newcomer to fragrance to their doorstep. Dolce has just enough tropical flair and sensual texture to turn heads, but it's not too sweet or overwhelming. The papaya and neroli opening is what you want to pair with a nice spaghetti strap dress while on vacation somewhere warm and remote.
PERFUMES FOR A MORE CLASSIC AND COMFY FEEL
NEST – Dahlia and Vines: For those of you who prefer something a little more classic than dramatic, the home lifestyle line at NEST has a pitch-perfect and welcoming line of perfumes. Dahlia and Vines is a straight-up white floral with an amusing grape note that pops out at you and provides a fun focus for your nose. NEST makes great weekend scents, whether you're in the garden or your Sunday best. Their bottles also feature gorgeously detailed labels of botanical illustrations.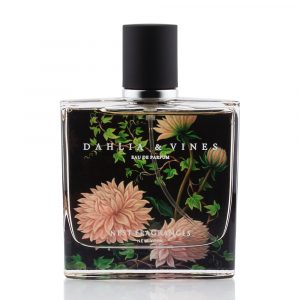 Clinique – Happy Heart: Clinique is known for creating bright, bursting, citrusy scents that will always bring a smile to your face. Happy Heart is no exception – the top notes of mandarin orange and cucumber, paired with a heart of hyacinth and carrot flower creates an energizing but earthy vibe perfect for a brunch date to the Farmer's Market and some mimosas afterward. This is bright sunlight and warm earth in a bottle.
Tocca – Florence: Tocca is an Italian line that specializes in demure, feminine and light perfumes. If you're the type of woman who enjoys her scents kept in a polished brass tray on top of your dresser, Tocca's line will be happy to take up residence. The bright citrus in Florence is contrasted by a powdery heart of iris and violet, for a retro feel that pairs well with formal outfits and occasions. This is an appropriate choice for when you're asked to be a bridesmaid at your best friend's wedding.
PERFUMES FOR THE DRAMATIC AND DARING:
Pinrose – Wild Child: Like the name implies, Wild Child is a perfume for a woman who doesn't just enter a room but owns it. It starts out light and fun with tiare flower and bergamot for a zesty conversation starter, but immediately drops into a heady, sensual and herbal concoction of frangipani, gardenia and jasmine. All three of these heart notes are major aphrodisiacs, and together in Wild Child, they are unstoppably sexy. The drydown of both vanilla and amber is sweet and mysterious, a cauldron of potent juju that guarantees he won't forget to call you, ever.