---
Spring is just a hop, skip, a jump and a month away, but it's hard to keep the optimism up while feeling blah and completely drained of energy.
The absolute go-to for breaking the winter slumber party, Platinum Bergamot is one of the freshest, brightest and most uplifting scents ever created.
What does bergamot smell like?
Sparkling and exciting, Bergamot is a refreshing burst of energy that features sustainable ingredients of Indonesian patchouli oil and Haitian vetiver oil.
When you initially unleash the energy from Bergamot's bottle, the air becomes light and scented like in a surreal orchard: Italian Bergamot, Brazilian Green Mandarin, and Clementine float in the air, leaving just a little bit of their oil on your skin.
The heart of this olfactive structure is in consonance with the top notes, a pure floral delight: Jasmin Sambac Absolute, Moroccan Spearmint Oil, Egyptian Geranium Oil create a dangerously flirtatious union.
Continuing on the theme of seduction, the base leaves you breathless and in an instantaneous state of wonder. Introducing Patchouli Oil, Vetiver Oil, Blonde Musks, Violet Leaves are the perfect balance to the refreshing snap of the citruses and the caressing quality of the florals.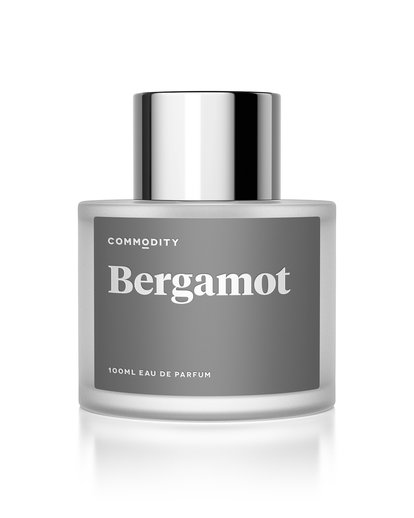 For a refreshing kick to your day and night, Platinum Bergamot is a scented bomb that explodes with magnificent beauty.
And since Commodity Fragrances are perfect for layering, layer Bergamot with Leather for your daily dose of casual and cool, and pair it with Tonka for contemporary and sexy effect on a night out.
TRY COMMODITY PLATINUM COLLECTION ON SCENTBIRD
Like a one of a kind scented signature, Commodity fragrances are as individual as you are.
Grab yours and fit it in your personal queue with Scentbird.
Scentbird is a luxury fragrance subscription service that sends you a 30-day supply of a fragrance of your choice for $14.95/month.
You'll receive a selection of fragrances each month for $14.95, and add other perfumes you want to try to your queue for an upcoming delivery.
For $14.95, Scentbird is your monthly pass to fragrant elegance, chicness and refinement.
To join Scentbird or learn more about this luxurious fragrance service, click here: https://www.scentbird.com
SCENTBIRD, BECAUSE SMELLING GOOD IS JUST AS IMPORTANT AS LOOKING GOOD!