Salvatore Ferragamo
Incanto Shine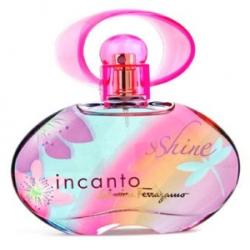 Get a 30-day supply of Incanto Shine
for
$
14.95
Notify me once this scent is available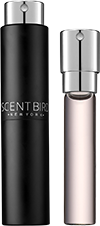 0.27 oz subscription

0.27 oz a la carte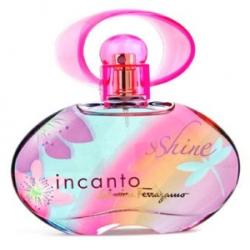 3.4 oz bottle
Share and earn free perfume
Notes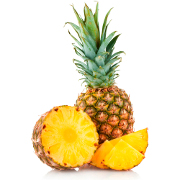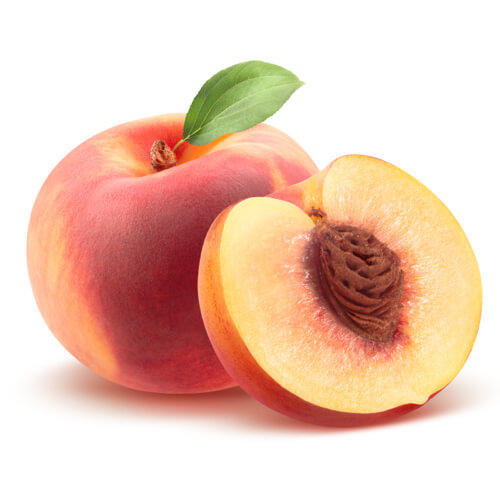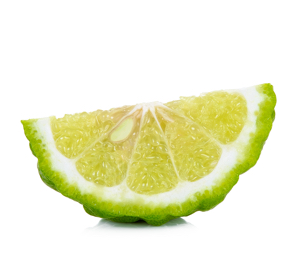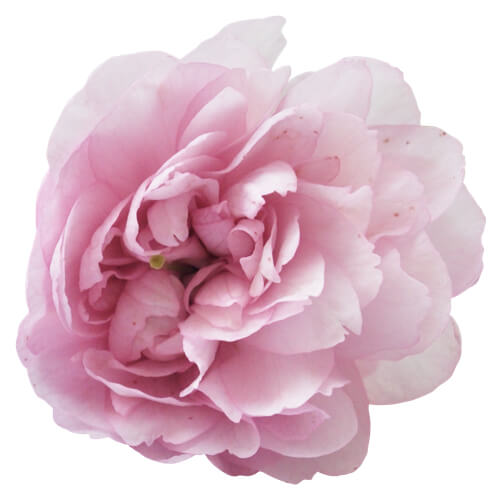 Description
Incanto Shine was launched in March, 2007 by Salvatore Ferragamo. It is a fruity floral fragrance, in a colourful bottle adorned with carefree summer motives. It starts with fresh notes of pineapple, bergamot and passion fruit. Pink peony, freesia and peach are at its heart. The base consists of cedar, amber and musk.
You may also like
Incanto Shine by Salvatore Ferragamo Reviews
10/31/2017
I like the smell BUT.. unfortunately I dropped it..so can't tell you honestly how it is the time I did wear it,it was really nice..BUT.. for my chemistry.. not one I should par take in.. SORRY..BUT..ON THE REAL
10/17/2017
Love this purfume. Very sweet smelling. Got tons of compliments!
10/12/2017
Love this fragrance! Sweet smelling not overwhelming. Would but it,
10/08/2017
I really liked this scent. Sweet smelling, actually wanted more than the subscription
10/04/2017
Love this scent! It is light and sweet! Exactly what I would want to wear all day long. HOWEVER, it does not last long. I am having to apply TOO OFTEN!
09/28/2017
Love love love!! My mom said she liked it and it's not even her type of fragrance notes.
09/19/2017
This was my least favorite fragrance. It is super strong and wears off quickly.
09/15/2017
I usually like scents that are more fruity, and this one is definitely more floral, but fresh smelling. I surprisingly actually like it.
09/08/2017
It smelled nice but had a very masculine smell. Not my favorite.
09/05/2017
I prefer sweeter, fruitier scents, so this one wasn't my favorite. It was a bit more floral but at the same time had a very masculine cologne-type scent to it as well. Definitely not in line with Candy by Prada or Aquolina's Pink Sugar, which are two of my favorites, even though it was recommended based on the type of scents I like.
08/30/2017
Oh my I LOVED this fragrance. I ran out of the sample super fast because I used it all of the time. Floral but not overwhelming. Nice and clean scent.
08/29/2017
smells more like cologne than perfume
08/23/2017
I completely agree with another reviewer. I love Candy by Prada and La Vie Est Belle by Lancome they are some of my favorites. And this is absolutely awful I hate it from the bottom of my heart. Why on earth would someone recommend this one to me?
08/22/2017
This was recommended based on my favs which included: Candy by Prada; La Vie Est Belle by Lancôme; and Juliette Has a Gun Not a Perfume....WTF? This smells immediately like old lady followed by cheap hair spray! Uhl...gag me with a wooden spoon!
08/19/2017
Fresh and clean beautiful scent
08/17/2017
I was suprised by this fragrance. I like it but i don't pick up on any of the fruity notes. It does to me smell masculine like a cologne but i like it. Fresh and clean
08/12/2017
Love this scent..its fresh, clean but alluring. Long lasting as well. I will buying a full bottle and adding to my list of favs.
08/08/2017
Didn't last long and reminded me of church mothers
08/07/2017
My husband said he loves it so I guess it's a winner :) However I feel like it has a very sickly sweet scent in there that I could do without. I thought it was apricot but I don't see that on the description, but it's a deep sweet scent like that or old dark soda breath 😂 The rest smells great when you can get past that whiff. It didn't seem to last very long though.
08/05/2017
It is a masculine scent and I prefer more floral.
08/04/2017
This is such a pretty scent. It didn't last long at all.
08/04/2017
Did not like this at all. It doesn't last long and the smell reminds me of bathsoap.
08/03/2017
BEST. SCENT. EVER!! Sooo many compliments!!
08/02/2017
Very pretty and fun and fresh. Finally one that I like In a few months!
07/28/2017
Love love love
07/26/2017
This scent smells amazing
07/23/2017
Not the fruity floral I expected at all. This is more of a bitter floral and also very musky. I honestly thought I had gotten the wrong shipment. It smells more like a cologne than a perfume.
07/07/2017
My favorite scent so far!!
07/04/2017
Didnt even have this in my queue I had incanto charms fir my first scent but got this instead good goof on scentbirds behalf THIS time because I love it it smells so good I will def buy a big bottle of this but if they keep sending me things not even in my queue I'll be canceling not cool man
06/29/2017
It smells so fruity and fresh. I absolutely love it. It lasts all day. Need more
06/23/2017
Love this scent! Smells more fruity when first applied, but mellows out quickly into a nice clean, crisp scent. Longer lasting than last sample I received.
06/23/2017
Smells sophisticated, like wear this to a wedding not the beach or the corner store. Liked it.
06/22/2017
I really like this one!!! The scent is somewhat strong at the very beginning but becomes lighter as the day progresses. It's a wonderful combination of floral and clean. I'd highly recommend!
06/14/2017
I love it. But then again I love a lot of Salvatore Ferragamo scents
06/13/2017
I just loved it.
06/10/2017
Not what I expected. Doesn't smell good.
06/03/2017
Nice and sweet beginning that mellows to a soft amber musk. Good for summertime.
06/03/2017
This fragrance has an unexpectadly soapy quality in its top notes, and not in a good way. Nice after wear time, though.
06/01/2017
I ABSOLUTELY love THIS LONG LASTING FRAGRANCE! VERY FEMININE. I HAVE HAD MANY COMPLIMENTS ABOUT IT!
05/31/2017
This is one of my all-time favorite fragrances. I always receive so many compliments while wearing this. Great summer fragrance.
05/31/2017
Nice, sweet but not too floral scent
05/26/2017
fresh smelling
05/22/2017
LOVE!! Smells so good. Will possibly purchase the large size.
05/21/2017
I hated this fragrance. The first impression is nice but what stays is this awful basement smell.
05/20/2017
It's an okay perfume, not a favorite.
05/20/2017
Love this perfume❤❤
05/14/2017
My favorite perfume ❤️ Smells wonderful lasts a long time
05/14/2017
It smells good but it's Not kind of perfume I would buy
05/11/2017
I do not hate the scent of this perfume it has a wonderful smell but being I am a sales clerk I want my scent to last all day and it does not last .. that is the only negative thing I could say about this . If you like a floral fruity scent it is very nice and you will love it just does not last all day..
05/11/2017
Not too bad. The scent doesn't last a real long time and normally I'm more of a vanilla, woodsy, sweet type scent person. I'll keep this in my purse just in case.
05/10/2017
smells amazing. sweet but subtle. long lasting.
05/05/2017
I love my first new perfume. Smells so good!
05/03/2017
This scent is not bad but it definitely could be unisex. The more I wore it, the more I liked it but the scent does not last a whole day.
05/02/2017
This was the perfume I chose to take with my on vacation, and it was very fruity and lovely! However, it didnt last quite as long as I wished. Delicious scent for summer though.
05/01/2017
I wasn't a huge fan of this scent when I first sprayed it on, but after it sat on my skin for a while I liked it. However, it did not last very long on me.
04/29/2017
Now fruity/sweet enough for me! I didnt really like it! I gave it away to a perfum addict and she loved it!!
04/27/2017
Strong at first, then dies down and I love it! Every time I'd get in the sun or sweat a little, it would reactivate and was so yummy!
04/26/2017
While I though the description was good, I wasn't getting the passion fruit scent. I like that this is a light and airy scent, but it didn't last long. I would like to be able to detect this for a longer time.
04/25/2017
Incants shine is seems like it's a power struggle between what the bottle suggests and what's inside. I was expecting a bright, fruity, rainbow and instead was met with a very unisex, musky, household cleaner. I definitely get the citrus, but not in a good way. If you're looking for a unique, signature scent I would look elsewhere … I feel like I've smelled this back in the 90s. I don't get pineapple or peaches or even passionfruit, but the bergamot and cedar and musk seem to shine through on my skin. This may be for some, but it just wasn't my jam.
03/07/2017
it smells ok ...but, for a man though...Not quite what I expected...=)
03/06/2017
Incant didn't "enchant" me as the name suggests. It reminded me of a good smelling bug spray. Its musky, floral, and yet sweet smell would be great for the summer or working out but not really a winter smell. It's not bad but it's not that great either.
03/06/2017
It smells amazing.......
03/05/2017
Don't last long
03/05/2017
Reminds me very much of the Victoria's Secret bombshell. Doesn't last quite as long on me, but it's a good scent.
02/17/2017
Absolutely love this one. Sweet and lasts through the day.
02/06/2017
Not my favorite. I Love Incanto DREAM but Scent bird doesn't have that one so I thought that SHINE may be similar but it's not.
02/05/2017
I got all the smell good been here since 6 months.
02/04/2017
I really liked this one!
02/03/2017
Didn't fall in love with the scent. Will probably give away.
02/03/2017
Eh. Not my favorite.
02/03/2017
Smells great......one of my favorites so far.
02/03/2017
Love, love, love this one! The staying power is amazing!
02/03/2017
Love love love this perfume❤❤❤❤
02/01/2017
Really liked this one. Fruity and fresh.
01/31/2017
It smells so good I love it
01/31/2017
It smells so upbeat and fresh. I was surprised to have such a youthful smell. And the scent lasts and lasts
01/26/2017
I love this fragrance . So far I have been so very pleased with all the fragrances I have chosen .
01/25/2017
This one is my favorite so far... Strong but light as to not give me a headache... Reminds me of a hairspray scent... I love it...
01/22/2017
This a such a great everyday purfume. It's sweet, floral, fruity! I like that it has a soft scent that's not overpowering and I plan to buy a full size or at least another travel bottle.
01/08/2017
Just ok. Did not get fruity from this.
01/04/2017
Lovely scent! Would definitely be a perfume that I would purchase later.
01/03/2017
Love this scent A LOT! Such a clean smell, I would've never known about this scent without scentbird, awesome!
01/03/2017
My daughter loved it!
01/03/2017
Not the right kind for me. Didn't last long
01/03/2017
This scent isn't bad its just not my favorite or something I would wear .
01/03/2017
Looooooved this! Subtle scent. Only thing is it doesn't seem to last very long.
01/02/2017
Love this, very fresh and sweet..
01/01/2017
It is ok, but I am not in love.
12/31/2016
Love this one !! So fresh and sweet smelling! Not to overpowering!
12/31/2016
Never received it
12/31/2016
I haven't honestly used this perfume that muchbto give a true opinion. It is nice, just not positive if it is for me.
12/31/2016
It's an okay smell. Not really my scent of choice. However, I will use it.
12/31/2016
I haven't received it yet.
12/30/2016
Love love love this so light and delicious!
12/27/2016
I tend to use this scent alot.
12/25/2016
This smells more like a men's cologne than a women's perfume. The lower fragrance notes are way more dominant than the fruity ones.
12/15/2016
Wonderful scent! Has a light floral/aqua scent and is long lasting. Love this perfume!!
12/12/2016
Smells nice, does not last very long.
12/04/2016
Great clean scent.
12/03/2016
I really love this scent...although I don't think it lingers very long and find myself using the scent in the early afternoon.
12/02/2016
Very disappointed in this scent... I really like fruit and sweet scents this smelt overpowering flowers and was way to potent. I was excited to receive it because I was expecting citrus fruit and that is not what I got! If you are looking for a sweet fruity fragrance do not get this perfume.
12/02/2016
I like it kind of reminds me of an anna sui fragrance.
12/02/2016
Definitely not a fan. Scent was very strong and smelled like a mixture of rubbing alcohol and hairspray... yuck yuck yuck
12/01/2016
Love this perfume
11/29/2016
Very nice scent light and floral...
11/19/2016
Smells delicious =)
11/12/2016
One of my favorites
11/01/2016
Love! I put it on and it makes me smile! It's bright at first then gets a little musky and the scent just lasts
11/01/2016
Didnt really like this one. It smells like men's cologne.
11/01/2016
It smells very nice but has a certain after smell that doesn't agree with me to make it a permanent addition to my collection.
10/29/2016
Smells great. Not a long lasting scent
10/19/2016
This smells sooooooo good! And everytime I wear it I get compliments. It doesn't last all day so I've gone through the bottle, but I'd rather a scent that's subtle and needs to be reapplied then something too strong in the first place. This is my favorite scent so far.
10/04/2016
I love this scent!
10/04/2016
I usually love this brand of Incanto. The charmed one is my absolute favorite. But this smells cheap and like straight alcohol. Not what I was expecting.
10/03/2016
This is one of my all time favorites!! Such a beautiful scent love it!!!!!
09/03/2016
This is my second scent from Scentbird, I think I fell more in love with the lovelyness of the container than the scent! While it's lovely once you put on, as the day goes on I found it didn't last & I had to reaply often. I'm on the fence I'm afraid, while being a lovely scent it just didn't wow me.
09/03/2016
Definitely not for a grown woman. Its more for a teenager. My 13 yo daughter said I smelled like a baby that just finished a messy piece of candy. Dont wear it to a picnic because you will have bees chasing you around.
09/02/2016
Fresh and clean.
09/01/2016
Not a fan but not horrible
08/30/2016
I just recently joined Scentbird, but this is by far my absolute favorite so far!!!!
08/30/2016
Love it. Has tones that i just love. Def a purchase scent.
08/26/2016
Smells really good but it doesn't last long. I would definitely go through this perfume quickly!
08/24/2016
I like it a lot. Smells exactly like a pheromone perfume I used to buy. I'll be buying a bottle elsewhere.
08/12/2016
The moment I smelled this fragrance, I immediately loved it. It is sweet and floral. I sprayed my wrists and neck once at 7:00 am and asked my husband to "smell" those areas at 8:13pm. He said there was a very light scent left. I would suggest a mid-day touch up on this perfume.
08/12/2016
It's a very lovely smell. Fresh and a bit candylike but elegant. I like and enjoy wearing it a lot. The only downside is ot doesn't stay on for long, 1-2 hours tops.
08/05/2016
It's a wonderful fragrance. A fresh floral scent with a subtle warmth to it.
08/05/2016
I DID NOT RECEIVE THIS PERFUME, I GOT DOLCE & GABBANA LIGHT BLUE SWIMMING IN LIPARI.
08/04/2016
Scent faded fast. Didn't like the scent at all
08/01/2016
I love the smell but it doesnt last long at all :(
07/18/2016
I love this smell it light, but it packs a punch.
07/07/2016
It smells lovely, I have received many compliments for the scent. It can be an every day scent or one of those scents when you decide to step out. Regardless, you will smell unforgettable ( in the best way possible).
07/03/2016
I did not like it, but my daughter did.So it was not a total lose.
07/03/2016
Smells great will be buying a larger bottle
07/01/2016
I absolutely love it; )
06/29/2016
Beautiful and light
06/28/2016
I did not like it, i gave it to one of my daughters.
06/16/2016
It's just ok. Not a spring scent, I'll save it for winter.
06/08/2016
In the same fragrance notes family as the Incanto Charms but less sweet. Its fruity and subtle, but clean and almost has like a green tea scent to it. Very fresh!
06/07/2016
Didn't care for this scent
06/06/2016
I disliked it!! Not at all what I expected. I literally thought I was duped because I initially picked this perfume because of the fruity notes, but it smelled totally different.
06/03/2016
fruity perfect for summer
06/03/2016
One of my favorite scents ever!
06/02/2016
It smells good! It's just a tad too sweet.. I prefer fresh scents. If you like sweet smelling perfumes then you will like this one.
06/02/2016
It's just ok. Not for spring time. it's more of a winter perfume.
05/30/2016
It was okay. Not for me and it doesn't last very long😔
05/24/2016
This one was pretty good, but I was disappointed to not be able to smell the pineapple notes.
05/05/2016
This was "just ok". Smells light, clean, a little fruity. To me, it smelled like Suave shampoo from my childhood. Not exactly what I want to be rocking all day. I could not really smell the pineapple note at all.
05/04/2016
Flirty, fruity, and fresh! My favorite so far.
04/28/2016
Smells like Victoria's Secret "Bombshell".... Not bad, fruity, sweet, elegant...but not my favorite.
04/05/2016
Love the fragrance. Doesn't last long, but it's a nice clean scent.
04/03/2016
Possibly my favorite perfume ever! It's fresh! Sweet but light. Perfect for daytime wear. Love love love it!!!
03/19/2016
I love this light, refreshing scent.
03/18/2016
I love this scent. This Scentbird was a great idea. Now I will be ordering this soon. This gives you a way of testing before you buy. Most department stores don't carry all perfumes but with this you have pictures and testers. Love the idea!!! Just like I'm loving this scent. A small squirt goes a long way!
02/29/2016
I love Salvatore Ferragamo I do not like the new packing I would like the velvet bag back please Thank You. Not cardboard packing no good for business it's cheap
01/30/2016
I Gravitated towards this perfume as my first choice because i carefully read comments while i was deciding and one that stood out most to me was "Jenefers" because she stated that she "Love the pineapple notes" but i honestly smell nothing but alcohol.. I'm a little disappoint not only because it doesn't smell the way i expected it too but also because when i try to remove the vial only the top comes off causing me to waste more product trying to put it back on to pull the vial out. :(
01/21/2016
Ohhh my lord. I can't believe how amazing this perfume is. It's freaking perfect I'm so excited to even have this I want and need a life time supply. It's perfect, not to strong not top weak. Lasts all day it's just amazing
11/25/2015
I love the scent I got it twice!
11/11/2015
Love this perfume! I first discovered it when I passed by someone who had it and knew I had to have it. Love the pineapple notes!
10/29/2015
I love this it smells so good I will be purchasing the large bottle😊❤
10/21/2015
I love this scent. Very flirty. Romantic.
10/15/2015
I thought I would like it. Wrong. So not for me.
09/30/2015
It smells floral and fresh. Unfortunately that scent is not what I gravitate to. My friends like it.
09/24/2015
Not one of my favorite choices. it smells cheap and gives me a headache.
09/21/2015
Fresh, clean scent. Not heavy, nice for everyday wear.
08/19/2015
I really liked this right away. It really doesn't smell very fruity, more of a clean cologne-type smell. However, it isn't one that lasts all day on me personally and it seems to really fade into a scent that I don't care much for. Overall, I don't dislike this perfume but I don't think its one I would buy.