We are beyond thrilled and honored to feature the personal scented story of the super talented Sara Carner, artisan, visionary and founder of Carner Barcelona as an exclusive contributor on Scentbird's Blog. Sara talks about her childhood, about Barcelona as a perpetual scented leitmotif and the fragrances that honor her unique legacy.
My Story by Sara Carner,
Founder of Carner Barcelona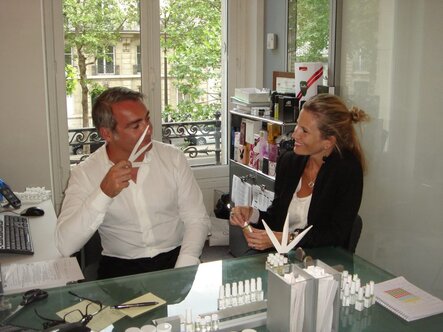 I am a perfume lover and I feel privileged to be able to work in a profession that fulfills me as much as it does and in which I can translate my culture and feelings through scents to the rest of the world.
There were many reasons that brought me to launch my own perfume collection. My childhood, my life in the USA, my love for Barcelona and of course, my passion for the world of scents.
I grew up in the countryside of Barcelona surrounded by Mediterranean vegetation; geraniums, fig trees, almond trees and pines were part of that landscape and are a constant inspiration for me. I remember being a little girl and collecting empty perfume bottles from my mother, and later, during college, I fell in love with Hermes fragrances, which even today are one of my references when I think about great perfumery.
I studied Economics and I followed a "traditional" professional path in finance and consulting, experiences that had nothing to do with perfumes, but that helped me acquire a financial background which is so important when starting a company. I soon realized that I wanted to move to a more creative and dynamic industry. I wanted to create something and to express my emotions. What could be better than fragrances? So intimate, so personal, yet something that can reach so many.
After some time,  I had a clear vision: I wanted to create a perfume collection that could connect with me, my memories and emotions. I wanted to connect it to my beloved Barcelona, and I wanted to use the best available ingredients and materials from local suppliers.
In 2009 Carner Barcelona was born based on the pillars of quality and craftsmanship.
In order to develop special and unique perfumes I needed the best partners.  So I knocked at Givaudan's door, I knew that working with the best of the best noses in the world was key, not only because I was ensuring the quality of the scents but also because they would give my collection instant credibility.
One of my first perfumes,  TARDES, created by Daniella Andrier, is about the importance of nature during my childhood; you can feel the warmth of a summer Mediterranean afternoon through its notes.
Later on, I worked with Sonia Constant. She developed CUIRS and RIMA XI.
CUIRS, is a soft leathery perfume that evokes the antique artisanal leather ateliers.  My great grandfather started a leather business back in the 19th century. During my childhood I was surrounded by the smells of tanned leather and wood barrels, and these distinct aromas were the inspiration for my perfume CUIRS, a tribute to the world of Spanish Leather.
RIMA XI is about the sensuality and contrast found in one of my favorite poems of Bécquer, a XIXth century Spanish poet. It's an intense floral spicy perfume that evokes the seductive, defiant, inaccessible love.
My next fragrance, EL BORN, is a  tribute to one of Barcelona's most intriguing and fascinating neighborhoods; it was composed by Jacques Huclier. I got carried away by the excitement of investigating every nook and cranny of the neighborhood dating back to medieval times and finding the smells that characterized it.  
The latest launch was COSTARELA, developed by Shyamala Maisondieu. I wanted to transmit that unique feeling of freedom that you experience when admiring the immensity of the open sea; a perfume that captures the marine Mediterranean breeze and the salty woody smell of the old boats ashore on the sand.
Five perfumes, five stories that talk about me, my emotions and memories.
Discover The Scents of Barcelona Through Carner Barcelona Fragrances, Available on Scentbird
Modern people looking for unconventional and high quality fragrances to match your style, Carner Barcelona is your go-to brand!
Explore Barcelona through Carner Barcelona fragrances, now available on Scentbird. Add them to your queue and begin your olfactive hedonistic journey.
Scentbird is a luxury fragrance subscription service that sends you a 30-day supply of a fragrance of your choice for $14.95/month.
You'll receive a selection of fragrances each month for $14.95, and add other perfumes you want to try to your queue for an upcoming delivery.
For $14.95, Scentbird is your monthly pass to fragrant elegance, chicness and refinement.
To join Scentbird or learn more about this luxurious fragrance please click here