Intoxicating with a rebellious edge, Commodity Platinum Leather is as seductive and ubiquitously stylish as your favorite fashion piece: a distressed leather jacket.
Commodity, the Fragrance House known for its clean, minimalistic olfactive designs delivers unique luxury, straight from a perfume bottle.
The creation of this marvel is hailed as a milestone in fine perfumery. Platinum Leather is following the minimalistic, yet futuristic line of fragrances, with a more balanced fragrant structure.
Its spiced leathery presence is both powerful and charismatic, revolving around the minimalistic nuances of raw, sexy, new leather smell.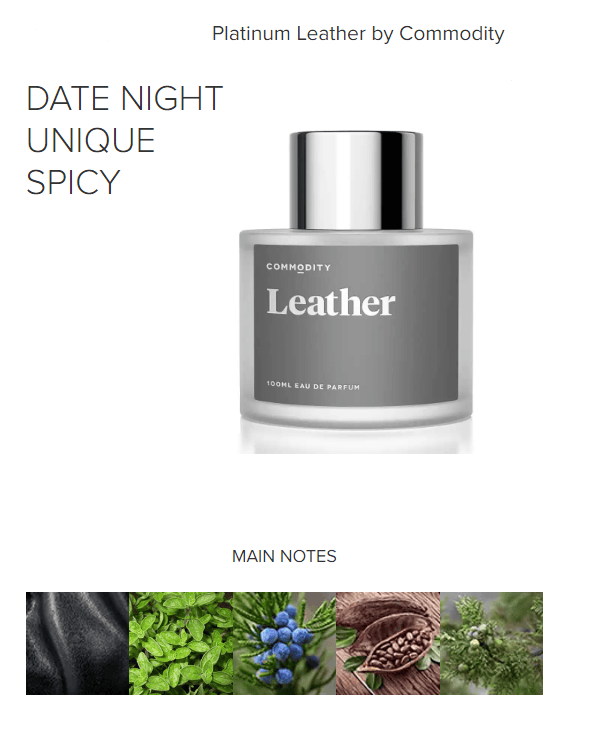 Successfully fusing the clean, exclusive and exotic notes with classical appeal, this particular Commodity fragrance moves in a rather unexpected, nonlinear way.
The collision of scented molecules is eclectic and electric: black leather, oregano, and juniper wood essence are the bearers of spicy sexiness, while the cacao, rich woods and raisin notes are anchoring the earthy nuances.
It's a scented equilibrium, with the woods and oregano coldness highlighting the leather warmth.
In its essence, Platinum Leather by Commodity is an olfactive gravitational force pulling you into its orbit…There is a coiled energy hidden inside the bottle, enlivening the skin, giving in to the scented sensuality.
Truly unique fragrant feat, a one-in-a-million unisex fragrance bound to get the word iconic next to its name.
TRY COMMODITY PLATINUM LEATHER ON SCENTBIRD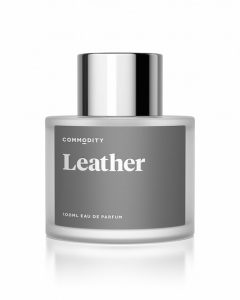 Like a one of a kind scented signature, Commodity fragrances are as individual as you are.
Grab yours and fit it in your personal queue with Scentbird.
Scentbird is a luxury fragrance subscription service that sends you a 30-day supply of a fragrance of your choice for $14.95/month.
You'll receive a selection of fragrances each month for $14.95, and add other perfumes you want to try to your queue for an upcoming delivery.
For $14.95, Scentbird is your monthly pass to fragrant elegance, chicness and refinement.
To join Scentbird or learn more about this luxurious fragrance service, click here: https://www.scentbird.com
SCENTBIRD, BECAUSE SMELLING GOOD IS JUST AS IMPORTANT AS LOOKING GOOD!