Chocolates, flowers and cute cards are a Valentine's Day staples, but if you really want to impress that someone special in your life and move beyond the cliche, get them something they will absolutely love.
Oh, and if you forgot tomorrow is Valentine's Day, do not go into panic mode, we've got you covered. We'll make sure they get the gifts even if you buy them tomorrow (Pssst, we won't tell anyone you waited 'til the last minute)

Scentbird Valentine's Gift Option N.1: GIVE THE GIFT OF SCENT



A Scentbird subscription is the gift that keeps on giving!
Get a 3,6, or 12 month subscription for her or for him!
Flowers are classic, but they can only last so long. Fragrance, on the other hand, is the ultimate gift, as it lasts and lasts, clinging to the skin and the memory forever.
That is why Scentbird gives you the option of enjoying scent for an entire month, eliminating the stress of picking the right gift and letting you enjoy this special day knowing that your gift is a real winner.
The best designer, niche and artisan fragrances all in one place, the best fragrance playground to find the perfect olfactive match. Or lots of them. The choice is theirs!
What's in the Scentbird 3,6, or 12 month gift subscription?  Each month (for the duration of the gift) the recipient will get a 0.27oz spray filled with the scent of their choice. That's 120 sprays, enough fragrance to apply twice daily for 30 days. The shipping is FREE, and with their first shipment, they will get a sleek case as a "welcome-to-the-Scentbird-family" present.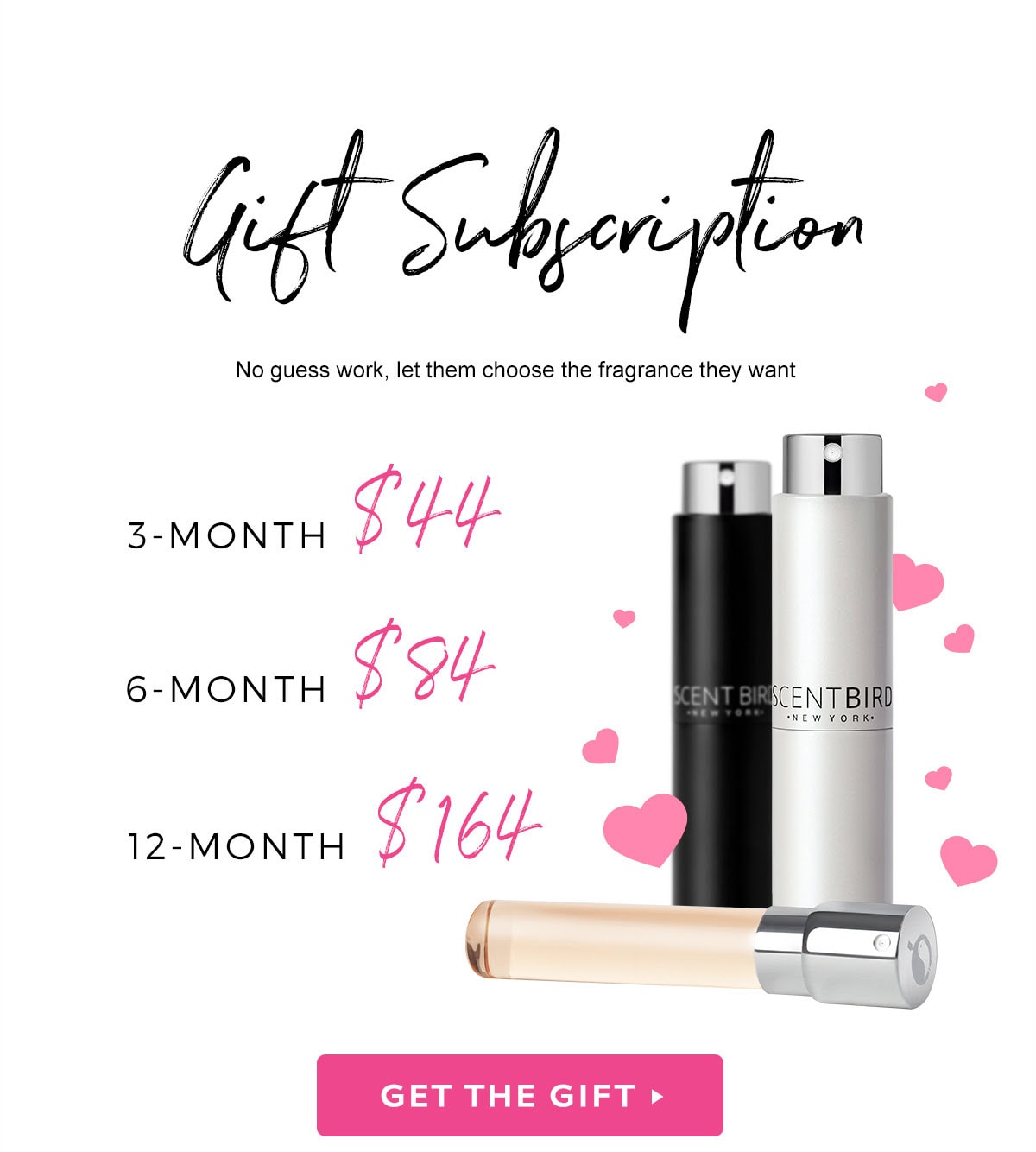 Scentbird Valentine's Gift Option N.2: GIVE THE GIFT OF FREEDOM
With Scentbird's gift card, the sky's the limit!
The gift cards can be used for any subscription, gift set or just about anything on Scentbird
If the giftee is already a Scentbirdie (member of our ever growing family), he or she will love the idea of having fun with some of the other products and services offered by Scentbird. So, she/he may enjoy upgrading his/her collection of Scentbird cases or even ordering a scent A La Carte, or two, or three.  
THE GIFT THAT KEEPS ON GIVING
Scentbird is a luxury fragrance subscription service that sends you a 30-day supply of a fragrance of your choice for $14.95/month.
You'll receive a selection of fragrances each month for $14.95, and add other perfumes you want to try to your queue for an upcoming delivery.
For $14.95, Scentbird is your monthly pass to fragrant elegance, chicness and refinement.
To join Scentbird or learn more about this luxurious fragrance service, click here: https://www.scentbird.com
SCENTBIRD, BECAUSE SMELLING GOOD IS JUST AS IMPORTANT AS LOOKING GOOD!