Tocca
Giulietta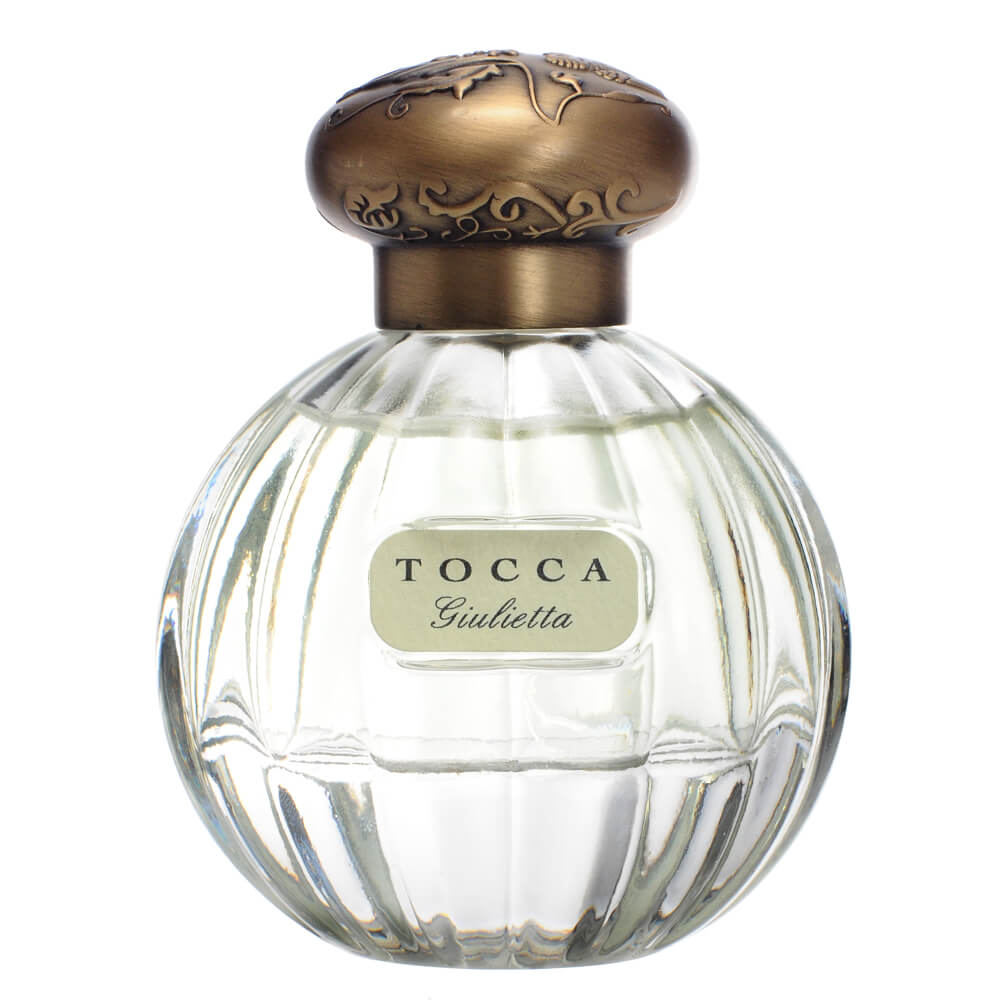 Get a 30-day supply of Giulietta
for
$
14.95
Notify me once this scent is available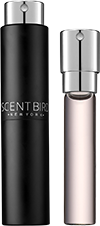 0.27 oz subscription

0.27 oz a la carte
Share and earn free perfume
Notes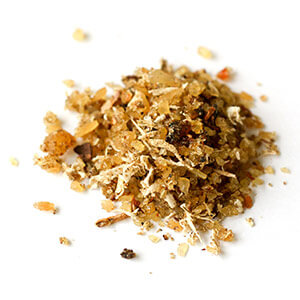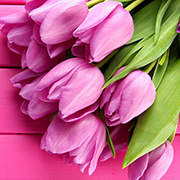 Description
Inspired by the love story of Italian director Federico Fellini and his wife, Giulietta Masina, Tocca's Giulietta is a sweet, floral scent reminiscent of the couple's holidays spent on the island of Corsica. Sweet top notes of ylang ylang, green apple, and pink tulips bloom into the floral delicacy of lily of the valley, vanilla orchid, and lilac. The essence lingers, leaving the skin with a hint of pink tulips and amber.
You may also like
Giulietta by Tocca Reviews
11/10/2017
I love this scent it's such a comforting scent and not too strong.
11/02/2017
I am in love with this scent! I habe loved every scent I have tried by Tocca. My only complaint is longevity. I can't wait to try the next one!
11/02/2017
I am so in love with the fragrance company Tocca, I love all 13 scents, the entire line my only complaint would be longevity, for a high-end perfume it should have lasting power but besides that THE ENTIRE LINE smells AMAZING, unfortunately I have to carry the bottle with me yo refresh.
11/01/2017
Soft and sweet without being sickly or too young. Poor to moderate longevity. A good option for the office. Just okay for me, but I can see how it would be a popular, easy-to-wear fragrance.
10/14/2017
Really liked this one! It's light and refreshing for everyday use!
10/04/2017
I loved this fragrance it was very light and refreshing and feminine.
10/04/2017
This fragrance is perfect for the summer, light and sweet. Long lasting floral scent with great staying power. Tried sample and loved it so much I ordered a full size. Top notes of ylang-ylang, green apple, and pink tulips, middle notes of lily of the valley, vanilla orchid, and lilac, base notes of amber and sandalwood.
09/23/2017
This was not for me. I love Tocca and haven't ever found one I didn't care for...but this just wasn't for me.
09/22/2017
love this scent. My favorite of all!
09/14/2017
I love this scent it's fresh light and perfect for spring. It has a powdery clean scent. There are scented hair sprays in all of the tocca perfume fragrances!
09/11/2017
This perfume smells like all the things I like about a stereotypical "grandma" perfume. It's feminine, but still mature. Unfortunately, it doesn't last very long on me (maybe around 3-4 hours?).
09/05/2017
This is one unique smell from a perfume it's a sexy but mild smell at the same time it's one of my favorite perfumes for right now
09/05/2017
This is a very light, unassuming scent. Very airy scented, not really strong.
08/27/2017
It's a more mature scent with a spicy undertone that I'm not a fan of. It settles down to a powdery scent-nice and soft if that's your preference
08/26/2017
I have always loved the Giulietta fragrance by Tocca and I was very happy when I found out about the travel size. I have never tried the other fragrances by Tocco and can't wait to try them all.
08/23/2017
This perfume is the kind of perfume you spray/use when your fresh out the shower and want to smell as such. This perfume is a bot strong initially, but once it settles it has a very clean, fresh scent to it. Very nice!!!
08/20/2017
I'm normally so not a fan of fruity perfume, but this one really works for me! It's so playful and innocent it's downright kawaii. An optimistic scent.
08/07/2017
I love how this smells. I do wish that Scentbird was much faster with their shipping, but love this perfume.
08/05/2017
It's a mature scent. Don't think I'll wear it much.
08/02/2017
Very feminine . I did enjoy the sent however it fades fast . I ended up switching to my new month before it was even gone .
08/02/2017
A nice clean scent
08/02/2017
It's an okay scent. I felt it was a little too overpowering and a little old grandma smelling for me. Not the worst but not my favorite.
08/02/2017
Loved the smell in the bottle and when I first sprayed it on myself but after 2 hours of running errands, I had a migraine and was nauseated every time I caught a whiff of myself. Even my husband agreed that once mixed with my body chemistry, it was not a nice scent. We think it has something to do with the amber.
08/01/2017
Love it. Perfect for work
08/01/2017
This is a lovely classic feminine scent. Safe to wear any place and any time
07/27/2017
Giulietta is all the fragrances I like to feel sexy/flirty during the day. I find that this fragrance last longer on me and agrees with my natural scent and body heat. I like how I get a burst of fragrance when I'm in movement.
07/22/2017
Clean and powdery scent. I will use my sample because the scent is pleasant, but I wouldn't purchase it otherwise.
07/15/2017
Reminded me of bathing in baby powder. Not the scent for me.
07/14/2017
Beautiful scent! Will purchase.
07/12/2017
Clean and powdery scent. It's not a bad scent, but it's not my favorite.
07/08/2017
I love this perfume!!! I received compliments. Yay!
07/07/2017
Bold clean smell like this one a lot
07/05/2017
Love it! It's fresh and light and perfect for everyday!
07/05/2017
I love this fragrance it's the second time I ordered it and it also has a matching later soon that is absolutely wonderful must have!
07/05/2017
I really like this - slightly powdery but also a bit of a melon scent. Sweet but not too sweet.
07/05/2017
Does not dissapointed! I purchased a rollerball of this fragrance from Sephora and have been smitten with this smell ever since. I love it!!!!
06/29/2017
The fragrance is ok on me, lasts all day, it's not my favorite. Smells a little bit like something my grandmother would wear.
06/29/2017
Shear elegance!
06/28/2017
Nice everyday scent, very pretty. But it really doesn't last that long, by lunch i barely smell it on my skin.
06/28/2017
Love this scent!!
06/27/2017
Tried this in a Sephora store. The person in the fragrance section recommended this based on stuff I like already. I fell in love and added it to my scentbird queue as soon as I got home.
06/27/2017
Love this scent! Perfect for everyday!!
06/24/2017
Not bad...light fragrance but has a slight soapy smell.
06/24/2017
I would love to write a review, but unfortunately mine was stolen off my porch. that's the world we live in, when you can't trust your neighbor. I am re-ordering. But this time it will go to my PO BOX!!!!
06/23/2017
Love this! My first shipment and am already happy I joined!
06/05/2017
Very Spring like...Smells clean & light! I love it!!
06/02/2017
I don't dislike it but think the amber notes are too strong with my body chemistry. I would wear it at night when I want a stronger scent.
06/02/2017
I like it but it's a bit too "green" for me. I think the amber notes are too strong with my body chemistry.
06/02/2017
This is by far 1 of my favorite perfumes it smells like peace I know that sounds kinda cheesy but it does
06/02/2017
too floral for my personal preference.
06/02/2017
Great spring & summer scent to me...smells powdery, floral, and fresh. Love everything I've tried from tocca so far!
05/27/2017
Definitely NOT for me! Very heavy powdery floral scent, when I like citrusy!
05/24/2017
Loved this scent! I am a fan of clean, fresh florals....after a while they all smell similar. But this one is unique.....maybe its the tulip. Great spring and summer scent.
05/23/2017
This is my favorite so far. Light, powdery scent; it's absolutely perfect for day or night! I just want to bathe in it! Honestly I don't want to wear anything else ever again. Love it!!!
05/03/2017
One of my favorite perfumes AWESOME
05/03/2017
Not my favorite. It didn't last very long on the body. It did have a pleasant small.
04/30/2017
The fragrance excellent I will order more
03/06/2017
Fresh, light scent! Great to wear anytime. I can definitely pick up the ylang-ylang and lily scents. Reminds me of clean laundry with a twist!
03/05/2017
This fragrance is very nice pleasant but it does not last. None of the fragrances from scent bird last. I'm starting to think they are watered down. I would buy the full size from the store and not scent bird.
03/05/2017
Very light, beautiful spring scent! I'm not familiar with Tocco, so will definitely try other scents!
02/17/2017
Not a big fan. When reading the other reviews, it must not mix well with my natural body scent. It just doesn't smell good. And it doesn't last, which in my case is a good thing.
01/31/2017
One of my favorites
01/28/2017
This scent just takes me somewhere. I don't know where it is but it smells of sun shine, waves, flowers and subtle fruity notes. This will probably be my go-to spring time scent this year.
01/24/2017
This was my second Tocca fragrance through scentbird. Giulietta is a pretty fruity floral that I think will be better suited to spring and summer. I haven't worn it much this winter, but do like it. This isn't as special or as long-lasting as Florence by Tocca, but both are pleasant, uplifting, office-safe scents, and Tocca perfume seems to be made of good quality stuff -- no sharp alcohol of fake sugar. I'd give 3.5 stars if I could.
01/23/2017
This was a recommendation because of my like of Viva LA Juicy, DKNY Be Delicious and Viktor Rolf Flower Bomb. It did not disappoint! Love it!
01/15/2017
Here's what my nose picked up: it's super sheer, not offensive, and floral with some sweet mingled in. It is not my favorite because it just doesn't pack enough scent for me personally and there is nothing unique about it. It doesn't turn my head and make me say omg wow but it's nice if you're young and want something soft & pretty over unique.
01/14/2017
Slightly sweet and floral with a touch of spice that comes in after. A very sexy fragrance.
01/11/2017
AMAZING!! One of my favorites! A soft floral and musky fragrance. Sexy!
01/05/2017
Nice and light
01/03/2017
Will definitely get this again!!!
01/01/2017
I gave four stars because I really like it but not my favorite.
12/31/2016
Little too old ladyish for me. It's not awful but I prefer this brands Cleopatra much more.
12/30/2016
I really love the smell of this perfume. It's not a weak scent, but it's not overpowering either. It's soft & feminine. It's my second favorite scent , the first favorite being Burberry Brit ♡
12/30/2016
Even though this is my backup scent, it's enjoyable. It's a little too mature for me, but it mixed well with my oils on my skin and wasn't too strong for me.
12/11/2016
Way too flowery
12/10/2016
Crisp apple and tulips. Floral and fruity. Great for spring
12/03/2016
This perfume is totally me. It is soft, yet exotic. I would give it five stars, but it has NO staying power. A pity this beautiful scent fades so quickly.
12/03/2016
A little to powdery for me.
12/03/2016
I liked this one
12/02/2016
Oy. Glade air freshener circa 1978. Not any better on my skin. There is one of these Tocca ladies I loved while smelling them in Sephora, but this one is not her. Better luck next time, I suppose. 😞
12/02/2016
Just ok..I prefer the other Tocca scents I've tried more.
11/30/2016
I ordered this because I received the hand cream from another subscription service. It's a nice scent..it smelled powdery to me, which is fine because I prefer those. Not overbearing, scent had decent staying time. It's definitely a nice fragrance to use in an office/daytime setting but I would not wear it going out at night.
11/24/2016
Delightful! My favorite from Scentbird so far!
11/14/2016
This is my favorite scent from tocca. It's crisp but soft with a touch of floral. I will purchase the full size.
11/05/2016
It's floral, but not too much. You can wear it to formal events or just for everyday use. You can smell the Ylang-Ylang and it is just enough to enjoy it.
11/03/2016
Great unique scent. Definitely an evening/Winter scent. I will get plenty of wear from this scent.
11/02/2016
Beautiful powder scent. It's lovely, but feels a bit old for me.
11/02/2016
Beautiful clean powder soft scent. Love it! My favorite from scentbird so far!
11/01/2016
Love this fragrance. As someone who has spent a lot of time in Corsica I am not sure about that correlation but it is a very feminine floral scent
10/30/2016
I like it, but it doesn't last super long which is a bummer. And also as my housemate not-so-nicely put it "it smells like old ladies that went out smoking"....I don't agree with that part, but I do get an older woman vibe from it.
10/24/2016
Love!! Soft and clean! Has a warm inviting smell.
10/13/2016
It was ok, but a bit too powdery for me.
10/12/2016
A really light apple scent that is sweetened by florals. Very pleasant.
10/04/2016
I like it, but a bit too strong of a cologne smell for me.
10/04/2016
A great clean, day time perfume. The scent is light and perfect for the office. I only wish the scent lasted a bit longer.
10/04/2016
I want to update my review. I am obsessed with this perfume. I even ordered a second one. And I have been shopping for the matching creams and lotions. This is so pretty and I want to wear it all the time! It wears off to fast which is why I now have the matching cream. Makes it last much longer!
09/30/2016
It's a pretty scent and dry down becomes slightly soft powder, which I like. Starts off strong but fades down just enough. Has lingering lasting floral and powder kinda like decorative soap you don't use.
09/19/2016
I liked this scent at first, enough to buy a full bottle. It is complex, fairly strong sillage, and long lasting. Something about it eventually didn't feel right anymore on me, either I grew tired of it or the scent dry down changed on me. If the notes listed are things you like, it's probably one you will enjoy. It's a classic perfume scent and pretty strong. Date night for older 20s and up would be my suggested crowd.