Salvatore Ferragamo
F For Fascinating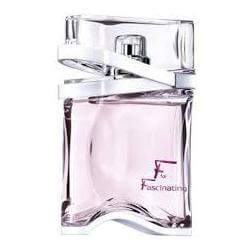 Get a 30-day supply of F For Fascinating
for
$
14.95
Notify me once this scent is available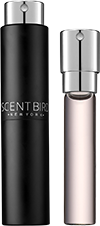 0.27 oz subscription

0.27 oz a la carte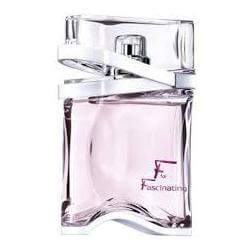 3.0 oz bottle
Share and earn free perfume
Notes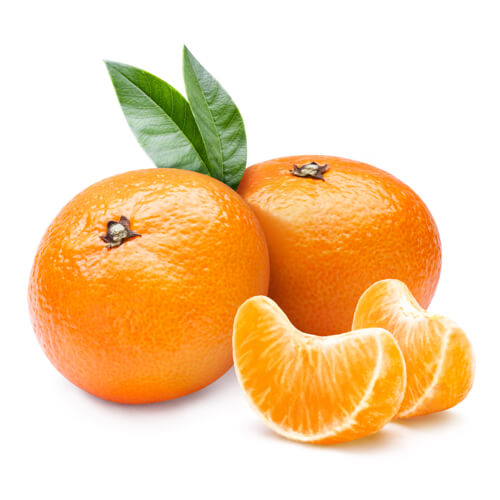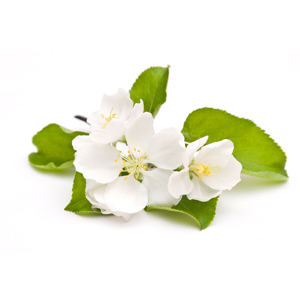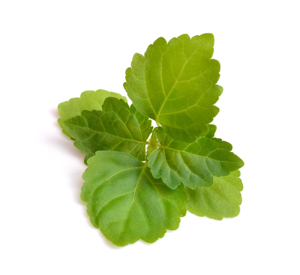 Description
F for Fascinating Night Eau de Parfum is the ultimate accessory for a Fascinating night, a refined and iconic floral-woody-chypre perfume. Dazzling Mandarin Sorbet intensified by a vibrant Pink Pepper opens the fragrance with a bright burst of light and energy. At the heart of the glamorous floral bouquet, delicate and carnal Jasmine, supported by voluptuous Rose, reveals with even more intensity all the complexity of its luxurious perfume.
You may also like
F For Fascinating by Salvatore Ferragamo Reviews
11/01/2017
I love perfumes like ed Hardy's and juicy Couture and I love this as well. So if you like those kinds of smells I think you will love this also
11/01/2017
This is worst than the Cartier I received... Horrible. I left it in the packing because it smells so bad. Gives me a instant migraine! If I could give 0 hearts I would!
10/30/2017
It is too floral for me. Not my style. Definitely not buying this perfume.
10/30/2017
It's too floral for me. Not my style.
10/29/2017
Not for me did not like the smell
10/20/2017
I really like this fragrance. I smell juice notes at first, and then spicy peppery yet clean scent in the dry down.
10/20/2017
I smell pear instead of the orange. Its really girly smelling like its almost to much
10/10/2017
I'm a bit torn on this fragrance. When I spray it on myself, it smells very strong and "old lady" like, but everyone else tells me it smells great on me. I feel it is very spicy while other people tell it it is crisp and clean smelling. I don't think I will purchase a full size bottle.
10/09/2017
Has a more clean soap smell on me. It's nice but not what im looking for!
10/03/2017
Extremely sophisticated just can't stop getting compliments.
10/01/2017
This one decent but too "serious" for me. I'll save it for specific occasions.
09/28/2017
Love love love it!!!
09/07/2017
Pretty and floral. Bold, and a little spicy/sweet. No one has noticed or commented yet, looses it's scent pretty quickly
09/05/2017
I like this okay. Not my favorite but not awful either. It doesn't last long - maybe three hours and it's gone on me. The patchouli is much fresher than I'm used to smelling and I like that. I don't think I'd buy a whole bottle but I'm happy to use what I got from scentbird
08/31/2017
It was really powdery when I first sprayed it. I didn't smell any hints of the mandarin. It was an ok smell for the office. It smells nice enough to use the rest of the sample, but I won't order it again.
08/31/2017
I love this floral sent!
08/25/2017
I love this. Smells rich to me and stays on all day!
08/22/2017
Did not like this.
08/17/2017
I ansolutly loved this months sent it light and freash!
08/15/2017
This scent is extremely light. And I love light scents. I nearly sprayed the entire bottle on and my boyfriend didn't smell anything. Not for me.
08/10/2017
just awful smells like old lady please never send this one
08/05/2017
Love this to the max!!!
08/05/2017
Lovely, strong, fascinating. This is the kind of perfume that when you walk into a room, people stare! Feels like wearing a beautiful, flowing dress!!!!
08/05/2017
Light and airie
08/02/2017
Very nice subtle fragrance.
07/27/2017
I Love this one! Nice floral/Citrus clean scent. It goes on strong but to me only seems to last about 4-6 hours
07/09/2017
I was not a huge fan of this one. Smelled like my mothers perfume. Although it did not smell cheap, just dated. It was very strong and I could see it lasting a long time.
07/04/2017
I don't really like it..it has the "old lady" smell..not for me
07/04/2017
I'm in love with this scent. Makes me feel sexy and desirable.
06/23/2017
Sorry but it's not for me. It definitely has a mature scent (i.e. old lady) I just cant with it. Like Rose and baby powder! A bad scent for my dynamic
06/22/2017
I love it it's very flowery and citrusy! I love the crisp scent!
06/20/2017
Not a fan. Very old woman smelling. No offense. Even my daughter smelled it and thought it smelled too "old" for me. Disappointed.
06/15/2017
I was nervous at first because it is out of my comfort zone as far as scents go but I really enjoy it. smells very sophisticated and lovely.
06/13/2017
I loved this sent so much I have to purchase a bottle of it!! Stayed on me all day and night.
06/11/2017
Very strong bold scent. Gave me a headache. Not for me. I like a lighter refreshing scent.
06/10/2017
This is a nice light fragrance, not super overpowering.
06/04/2017
this smells really similar to alot of other floral perfumes so it didnt really blow me away. especially since for the fullsize bottle you can buy a better scent for a cheaper price
06/02/2017
I got the same scent two months in a row.
06/02/2017
This is a lovely classic enigmatic mix of flirty citrus and floral notes. Has a nice long lasting scent that is perfect for daytime wear.
06/02/2017
Great perfume!
06/02/2017
Very clean refreshing smell, one of my favorites so far!!
06/02/2017
Disliked this scent! Did not have the sweet floral scent I was used to receiving from Scentbird.... very disappointed and bummed I can't get a replacement that I can actually enjoy.
06/01/2017
A lovely fun fragrance... Light and refreshing.
05/31/2017
I didn't like it at first... Then as it dried it was ok... When it dried, I couldn't smell it anymore. Almost like a knock-off :/
05/23/2017
First impression was a bit musky for me. The longer I wore it, it wasn't so bad. Probably won't order again but a good scent to have on hand.
05/22/2017
I love the scent. It's very elegant and light. Smells like a Sunday brunch, however it does not last. Within an hour the smell is gone. Something like a knockoff perfume. Wish it lasted longer.
05/05/2017
Delightful and light but doesn't last
05/03/2017
Not my favorite but it's ok
05/03/2017
Not my favorite scent.
05/03/2017
The scent is awesome. Nice and strong initially then it tones down. Very sexy and alluring, just wish it would last longer than 4-5 hours. I would buy a large bottle for sure and wear in the Spring or Summer.
05/03/2017
Didn't like. Floral scent too strong.
05/02/2017
It smells ok but it doesn't last long.
05/01/2017
Floral , citrus... not for everyday
03/09/2017
love this scent!
03/06/2017
Loved it! Not that I wear it on everyday basis, but for special occasions, it's perfect. Can't wait to purchase the full size!
03/05/2017
Smells wonderful. Not too strong and not too light. Just right.
03/04/2017
Smells like heaven on earth.
03/04/2017
This is a really pleasant scent. It feels light and energetic to me. Very floral, with just a hint of citrus. It's the perfect choice for a bright spring day - makes me feel cheerful whenever I smell it.
03/04/2017
Smell light and airy I love it
02/19/2017
A little fruity, a little floral, and oh so flirty! I love this scent!! I have been wearing it daily as my "go to" since receiving it and will most likely get a large bottle. It is such a beautiful fragrance, light, airy, whimsical and fun!
02/06/2017
Didn't like it at all
02/05/2017
It's ok... Just not for me
02/04/2017
It's not horrible but not at all something I would buy.. too strong and doesn't last long.
02/03/2017
I love this, it such a sweet scent. So far you guys have been 10 for 10 with the scents that you have sent me....
02/03/2017
Smells nice but a lot more musky and floral than fruity.
02/03/2017
Does not last at all. I have tried many perfumes in the Salvotore Ferragamo collection and this is my least favorite
02/03/2017
Too strong..it stayed on all day! Made me nauseous after a couple of hours
02/01/2017
It is a nice scent but a little too sweet smelling for me. Definitely happy I was able to try it before I bought it!
02/01/2017
Ciao by Vince Camuto is a very nice sweet scent. I would wear this scent in the spring or summer.
01/31/2017
I really like this scent, although the staying power is not quite what I would like.
01/21/2017
It was nice but had that slight hint of men's cologne
01/20/2017
I really enjoyed this scent. I was light and refreshing. The scent wasn't overwhelming and was classy. I would definitely purchase this one again.
01/06/2017
Just lovely. Very fresh and light, with just a touch of sweetness.
01/06/2017
I never received my product and I have not gotten a response back from Scentbird
01/05/2017
This is a great scent. It blends well with my body chemistry. It does seem to start off a little heavy. I don't need to spray it more than twice and it is plenty strong enough for me. I don't know if u=i am going to buy a large version of this one.
01/05/2017
The smell is very pleasant. It's not too heavy but I then again it's doesn't seem to last all day. I will certainly continue to use it but will not say this is one of my favorites.
01/04/2017
It is more floral than I thought it would be.
01/03/2017
It is very feminine, sweet, youthful. I gave it to my 18 year old she loves it.
01/03/2017
Love this new scent, it's perfect for me.
01/03/2017
Nice smell but not my favorite from Ferragamo.
01/03/2017
made me smell older than i am
01/02/2017
Definitely one of my new favorites. Will be ordering extra of this one
01/01/2017
Loved this smell it's my new favorite
01/01/2017
I love the scent fragrance; but the staying power was not long lasting like l wanted.
12/30/2016
too over powering for me
12/30/2016
Love the Fragrance.
12/30/2016
Not my scent! But this is what Scentbird is all about! My co-worker can't really afford to do this right now but usually the scents I don't like she does! Win! Win! I don't like the musk smell or not sure how to describe it but not something I like! Thank you Scentbird ❤❤
12/29/2016
smells amazing!!
12/03/2016
Beautiful scent! Very floral and fresh. I asked for the large bottle for christmas. It's my new favorite
12/02/2016
This is the second time I have this scent. Probably should order a larger bottle.
12/02/2016
This is a "fabulous" smell. It's been around for awhile but very nice.
12/02/2016
Loved my first scent, Black Opium!! Do not care for this one. Sorry.
12/01/2016
The scent has a soft smell ....I luv it....
11/04/2016
Fabulous and I will be buying the larger bottle of this one. Truly a wonderful scent.
11/03/2016
Love how it smells, very complemented by other people
11/03/2016
loved it everyday
11/02/2016
Love, Love, Love this scent!
11/02/2016
Nice smelling. Really like it
11/01/2016
I did not like this one at all, it is a little masculine , but not pleasant at all
10/31/2016
Did not like this one
10/31/2016
Smells like my grandma
10/11/2016
Too musky/zesty for me Those notes overpower any sweetness
10/07/2016
This is the perfect date fragrance. So soft and sensual. Grown woman style!
10/06/2016
smells like an old lady- per my husband :(
10/06/2016
Excellent fragrance... I love it
10/03/2016
More on the stronger side
10/02/2016
Love this fragrance. Soft smell.
10/01/2016
Zesty and Spicey...great fall/winter scent.
10/01/2016
F For Fascinating is a pretty, light fragrance...It reminds me of something I have smelled before, but I can't put my finger on what it is. I'm not crazy about this fragrance, though.
10/01/2016
A little strong but fades quickly. Not really my scent kind of to sweet for me
09/19/2016
Not a huge fan. Seems matronly. I think just it's not my style. First scent on the subscription.
09/13/2016
This may be a new favorite! If you've ever smelled Armani Code, it's a little similar to that. Nice staying power but not overwhelming. Light almost powdery scent with a little bit of a spicy undertone. GF *loves* it.
09/03/2016
Very pretty scent, just not for me
08/30/2016
I like it, but I don't love it. Very light smell.
08/30/2016
Sweet. A nice everyday scent.
08/29/2016
Not right for me so I gave it away.
08/17/2016
I did not receive this perfume I received Ana sui which I did not like.. flight of something ... anyway inhave smelled c for fascinating before and have been searching for it since it ran out. It smells Good and last long.
08/13/2016
Not very impressed... Granted, this was a "blind" sample as I had never smelled it before, but I love some of the other Ferragamo fragrances so I thought I'd give it a try. At first it smells very nice, but after I while, I hate it. It smells 'old-ladyish' and somewhat masculine. Not at all what I'd consider a floral fragrance.
08/11/2016
It smells very pretty. I love the after smell of orange. It's a little too matronly for my taste though.
08/03/2016
It was a great smell but a little manly , I like mine more feminine .. But still a great scent !
08/03/2016
Most amazing smell! It lasts all day without having to add more. Im definitely in love with this one and will be purchasing a full bottle. My husband sniffed me all night.
07/31/2016
I am so in love with the scend of this perfume, smell sofesticated.. I even plan to order the big bottle after I try the sample bottle...
07/30/2016
It's pretty intense but has a great after effect
07/30/2016
Love the smell.. Fresh scent
07/21/2016
Smells GREAT!!!!!
07/02/2016
I thought it smelled a bit matronly out of the tube, but when I spayed it on myself it started to smell a little softer and I even got compliments on it.
06/22/2016
I liked the scent a lot. I usually go for clean, fruity scents. This was a little musky too. My only complaint would be that the scent didn't last all day.
06/03/2016
Very lovely scent. It is sweet and musky in the best ways. It is strong at first spray but when it sets- heaven! Doesnt last super but lingers long enough for me.
05/07/2016
I didn't like this scent at all
04/30/2016
Classy and sexy!!:)
04/28/2016
This was sent to me by mistake (scent to me by mistake? lol!) but thanks Scentbird, for making it right... for what it's worth, I love the fragrance, it is a wonderful mistake. Definitely an evening and fall/winter scent. And definitely not youthful. But it doesn't smell "old". It smells sexy and grown-up. Love!
04/08/2016
It has too much gardenia smell to me. Kinda old ladyish on me but I smell clean.
04/04/2016
A bit stronger than I'd like but the scent is nice.
03/29/2016
I like this fragrance
02/29/2016
This smells awesome...
02/17/2016
I'm reading these reviews and wondering how in the world anyone could compare this to a cheap drugstore fragrance. This is such a unique, expensive-smelling scent. Very classy. Mature and sophisticated, yet in a sexy way. The first few minutes weren't the most pleasant. The smell was really overpowering. I picked up the slightest hint of a sweet floral but mostly a warm spice that made me feel like I had to sneeze. That being said, I didnt feel the urge to wash it off right away. There was something about it... It was totally intriguing. So every few minutes I'd go back to my wrist, and then after about 30 minutes I sniffed my wrist again and WOW. The beauty was there in the dry down. A light fruity scent, peach maybe? Sweet, but not sugary or candy-like. The sweet fruit mingled with a soft floral scent, and finishing with a light woody/musky scent... I've had this fragrance for nearly a month and wanted to wait before posting my review and I'm so glad I did. I really have grown to love this! It's going on my "buy" list.
02/03/2016
Really liked the scent when I put it on, but people were telling me how good I smelled all day. It mixes with my body chemistry well.
02/02/2016
A softer scent, but like it
02/02/2016
One of my new faves
12/12/2015
I really didn't like this perfume. The smell reminded me of cheap drugstore brands that I dabbled with in high school... I was hoping to smell the mandarin orange but even after letting the fragrance "sit" for a few hours, there was no change. Two stars only because it didn't give me a headache.
10/31/2015
Too flowery and juvenile for me. Description was good except no woody notes. Good for teens.
08/13/2015
Too flowery for me.
08/06/2015
Great, fresh, subtle.
07/20/2015
Love Love Love this!