Moschino
Cheap & Chic Petals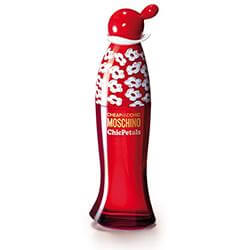 Get a 30-day supply of Cheap & Chic Petals
for
$
14.95
Notify me once this scent is available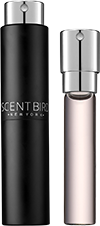 0.27 oz subscription

0.27 oz a la carte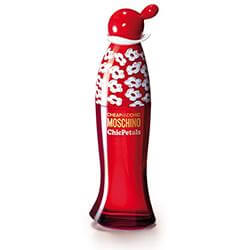 3.4 oz bottle
Share and earn free perfume
Notes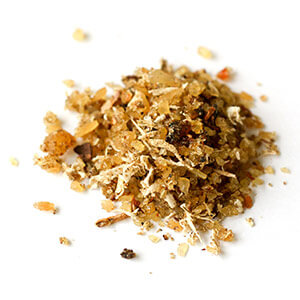 Description
Red ginger sharpens top notes of sheer and light pomegranate and wild strawberry, as the glossy shimmer of orchid petals and pale gardenia blooms in the heart. Subtle, soft iris and musk notes slowly drift through the dry down in this bewitching floral.
You may also like
Cheap & Chic Petals by Moschino Reviews
11/30/2017
My boyfriend loves the smell on me and I'm a truck driver so I spray it on something while I'm on the road for him
11/30/2017
It's a very beautiful scent. One of my all time favs
11/10/2017
This is my favorite scent yet! It's very flowery without being overpowering! Definitely not your grandmother's or even mother's floral scent. NICE!
11/03/2017
This is my favorite one yet!
10/28/2017
I am in love with this perfume! It is my favorite to date. It has a wonderful floral smell.
10/22/2017
I absolutely love this scent! It's light and floral but unfortunately doesn't last long enough. Definitely worth putting buying a full-size bottle
10/12/2017
It has a nice fragrance but doesn't last all day which makes me think it was not the real scent but a knock off pretty scent though for the 30 mins. It lasts
09/29/2017
I REALLY LIKED THE FRAGRANCE. IT IS LIGHT AND PERFECT FOR SUMMER WEATHER
09/08/2017
This smells like the perfume you'd find in dollar general or dollar tree, and trust me I know! I went there a lot when I was in elementary school and wanted to play with perfume. I literally tossed it in a drawer and ran to the kitchen to find coffee beans. DO NOT SELECT!!!
08/02/2017
Well Moschino has lived up to my expectations! Love this fragrance! Love the spicy tones and the fresh clean smell!
07/06/2017
Not a bad scent, just not my style. Glad I got to try it.
07/04/2017
This scent is so soft and light. Prefect summer fragrance!
07/04/2017
This smell is amazing!!!!
06/27/2017
This one smelled like every other generic perfume out there. I would defiantly never spend the money to purchase a full size of this bottle.
06/21/2017
Love this! very light and clean smelling. Not overpowering :)
06/08/2017
This fragrance was seemingly a bit more on the cheap than the chic side.
06/04/2017
When I first sprayed this perfume on me, it seemed extremely strong and would sometimes give me a headache. Once the power went away, it left a very subtle almost flowery scent which was pleasant. I'm not entirely convinced that I would purposely go out to buy a bottle of this perfume, but it is pleasant enough that I am enjoying using it this month.
05/27/2017
I really like the scent. It is not over whelming at all.
05/19/2017
I liked the scent somewhat, but it really relied on the cheap smelling side of the name.
03/06/2017
This perfume is not ok on my skin. It kind of resembles something cheap from a drug store. Maybe the name accurately matches this one. Unfortunately this is a miss for me :(
03/05/2017
I love sweet florals so I loved this! But it has a sort of... I don't know, what I've always referred to as "old lady" perfume scent that lingers, I wish I could better explain it. You don't get a hint of clean smell or a hint of citrus like some florals, which I like.
03/05/2017
It was okay, nothing special. I would not consider purchasing a full size bottle.
03/02/2017
I really love the scent of this one. It's light and pleasant to wear. I did notice it doesn't last as long as my usual (Tommy Girl). I don't know if anyone could smell it but me, and after about a couple of hours, I couldn't smell it either.
03/01/2017
Love it. Scent is sexy. Stays with you all night.
02/04/2017
Can't rate it never received it. Sent emails ignored rather spend the money buy a bottle than to deal with the bull shit!!!!
01/31/2017
a lil strong but nice afterwards.
12/31/2016
The scent is smells great! I wear it to work everyday. I wish they had the actual perfume and not the eau de toilette, it would last a lot longer. But it is definetely a keeper!!! So far Ive loved all the Moschino scents Ive received! Their perfume helps with my moods and make me feel beautiful!!!!!
12/31/2016
it is ok. lightly floral
12/31/2016
I like this scent but not all the time... It's stronger with the flower smell than I like...
12/06/2016
I love this fragrance, I've worn it every day since it arrived.
12/02/2016
I didn't like this smell!
11/29/2016
Not strong enough...the scent is OK but after spraying, couldn't smell anymore.
08/16/2016
I think this perfume was very nice, but too heavy for the summer. I think its a nice falls scent
08/07/2016
I really like this one. I was out of perfume and so happy when I opened the mailbox and saw the package and then I smelled it and was glad that I chose it. I may rethink my decision to cancel my subscription at the end of the year.
07/31/2016
This perfume is the perfect summer scent for me. It has a presence that sticks with you but is not too overpowering. Honestly it's just different but really pleasant. Definitely a favorite of mine.
07/25/2016
Smelled like a cologne more than a perfume to me.
07/06/2016
I like this one. Smells young and fruity
07/03/2016
This is my favorite scent so far! It is sweet but not syrupy, my only wish... that it lingered a bit longer!
07/02/2016
toilette sprays smell like alcohol to me.
06/06/2016
It smells yummy. Light and fruity and fun.
06/03/2016
I love the smell of this one but it doesn't last as long as I'd like.
06/02/2016
This smelled like a perfume counter. I couldn't find any notes of any kind and it was pretty cloying.
05/30/2016
I LOVE IT AND THE BOYFRIEND COULDN'T STOP SNIFFING ME! Just ordered a full sized bottle.
05/29/2016
Seemed to go on pretty strong but melts to a softer scent later. Will buy again.
05/06/2016
I liked this scent, but it's not my favorite. It starts out fruity and floral, but then dries down so that the woodsy ginger notes are predominant and the floral notes disappear. Smells very pleasant and would be good for work, but for me it was disappointing.
05/05/2016
smells really good and flirty... would definitely purchase again
05/05/2016
Light very young and feminine scent.
04/29/2016
Best choice for my first scent! I absolutely loved this. It smells so yummy and fruity. LOVE LOVE LOVE. I would definitely consider purchasing the larger bottle.
04/21/2016
I would like to try this product out and I am it will smell great on me
04/01/2016
It's cute. It's light. I like it.
03/29/2016
Awesome, very decent notes, a little heavy for daytime wear, no problem for me, l love heavy scents, and can wear them very well, I have received many compliments, I'm a big fan of Moschino !
03/29/2016
Don't care for it! It smells cheap and horrible!
03/29/2016
I am not a fan. Smells cheap to me.
03/21/2016
I absolutely love love love this fragrnace. It is weet smelling and sexy. The aroma is very pleasant and long lasting, but most of all, not over powering.
03/19/2016
It's a heavier perfume, I like lighter scents but it smells good and I've gotten a few compliments on it. A little heavy for me, maybe better for special occasions or at night.
03/18/2016
smells like cheap perfume to me...
03/03/2016
I like this...
02/29/2016
Smells deliscious
02/19/2016
Very pleasant scent, more of a daytime use. Makes me think of innocence and the girl next door.
02/03/2016
I love it! I am definitely buying the full size bottle!
02/02/2016
Wasnt what i was expecting definitely different from what I've used before
02/02/2016
This scent is AMAZING! I do believe that this is my favorite so far. I get compliments on how well this smells all the time.
01/30/2016
I love this! And so does everyone else when I wear it!
01/02/2016
Not for me. Very soft, it smell to sweet for my taste. Does not last at all.
11/20/2015
This scent is okay, like the name suggests it's very floral. It has decent staying power. It's nice, there just isn't anything special about it to me.
11/04/2015
Smells terrific! Just wish that it lasted longer on me ...
11/01/2015
This is one of my favorites!!! Very clean but still rich and sophisticated.
09/29/2015
Loved it perfect day time summer sent!!
09/29/2015
Nice scent but a little too strong on the floral which makes me sneeze
08/29/2015
Not my favorite, but not a bad smell. Just a tad too florally for me.
08/06/2015
It was very light and floral. Great summer scent, perfect for going out to brunch with friends.
07/01/2015
I'm in love with this scent that was recommended for me. It has been a pleasure to enjoy the long-lasting aroma throughout the day.