Juliette Has A Gun
Miss Charming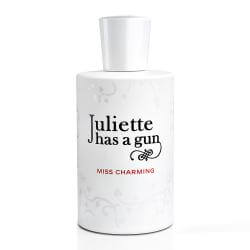 Get a 30-day supply of Miss Charming
for
$
14.95
Notify me once this scent is available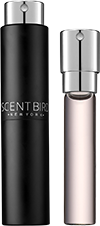 0.27 oz subscription

0.27 oz a la carte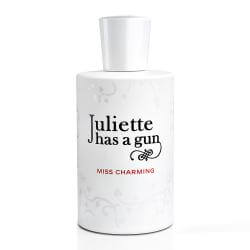 1.7 oz bottle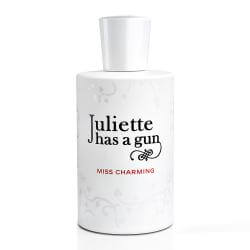 3.3 oz bottle
Share and earn free perfume
Notes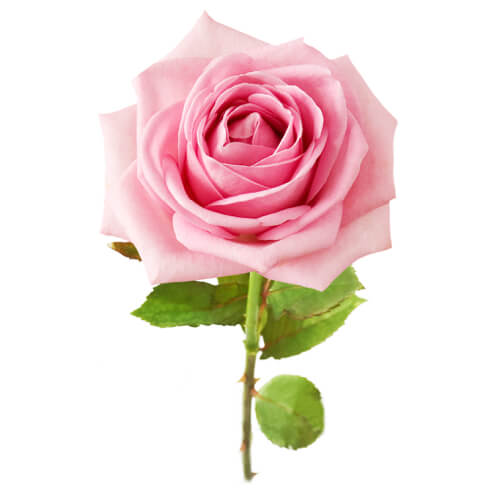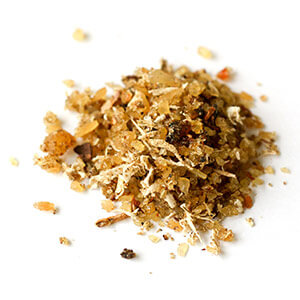 Description
The perfume of a virgin witch, docile and provocative, elegant and sensual. One instant, holding up the pressures of the world, and the next, crying host tears over the death of Enzo, her pet fish! A joyful interpretation of the Moroccan Rose, musk and airs of wild fruits... A fragrance that makes up ingenuousness and lucid.
You may also like
Miss Charming description
Picture yourself enjoying a long ramble down an old country road, with bursting, ripe blackberry and raspberry bushes, their skins warmed to a juicy sheen by the afternoon sun slanting through a canopy of arching trees. You pass an old farmhouse garden layered with rose bushes that flop over from the weight of their wet and redolent petals.
Juliette Has a Gun's Miss Charming is a summertime stroll in rural New England, where every scent is woozy and deep, and the sun's rays are like liquid syrup dripping down from the treetops.
The opening is a big straw basket of red and black fruits, with maybe a rogue plum or two pinched from over a fence. The fruit is intensely ripe and thick, a warm liqueur that completely coats the Moroccan roses in the heart. But the dark, wild fruit notes dissipate after a few minutes and are replaced by a soft, feminine, and translucent floral rose bouquet.
The roses open one by one until the white musk in the base wraps them up in a blanket of tea-like facets, allowing them to dry and turn appealingly astringent. This tea "accord" continues for several minutes in the drydown, for an introspective and austere end to a jammy, riotously ripe fragrance.
Miss Charming is a textural delight as it develops. Once again, Juliette Has a Gun puts as much attention into the fabric of this fragrance as they do in the strength of the individual notes. The mason jar filled with fruit preserves that the opening offers, through the delicate, pale rose petals in the heart, then ending everything on a perfect virtual cup of tea. This is the backroads beckoning to you from out of a perfume bottle, warm sun shining overhead and the dust kicking up under your sandals. Tuck it into your picnic basket and let it's warmth coax all the best berries out from the prickly brambles as you pass by.
Read more
Miss Charming by Juliette Has A Gun Reviews
11/10/2017
I loved this perfume! It's very light and I've gotten lots of compliments on it. Will definitely be trying it again!
11/07/2017
I could not believe how good this smells! It's fruity, floral, and just a hint of musk. If you like sweeter smelling perfumes that don't smell exactly like candy, this is for you. I have absolutely fallen in love with this one.
11/04/2017
I loved this scent, and got so many compliments on this! It has a heavy rose smell, but not too heavy. ❤️
11/03/2017
The scent is a little strong in the beginning, a little old smelling for me, But it does smell nice
11/02/2017
I loved it! Only took one spritz. I got a compliment every day.
11/01/2017
I enjoyed this fragrance. It has a nice smell to it. Not too strong. I would order a full bottle.
11/01/2017
Smells very fresh and floral but scent does not last very long
10/29/2017
Too strong rose scent
10/27/2017
One of my faves so far. I got stopped in the store and asked what I was wearing.
10/14/2017
I wasn't a fan of it. I thought I had ordered "Not a perfume" but I got this one instead and was disappointed. It didn't last very long and smelled like an older lady perfume. I won't be ordering this again. I got the first sample from Ipsy of the "it's not a perfume" and I absolutely loved it and can't wait to receive it next month!
10/06/2017
At first, I wasn't a fan. As I wore it, I grew to love it. It's a shame I can't order it more often.
10/03/2017
smells really nice...but too sweet on me, unfortunately. gave it to my mom - she loves it.
10/02/2017
My second favorite of Juliette has a gun! Fresh and clean!
09/28/2017
Nothing really stood out to me in this perfume. It smells good, but very similar to a million other florals. It lasts moderately long, very faint at about 6 hours, gone by 8. Not something I would buy, but I will use the sample.
09/26/2017
I enjoy this fragrance but it reminds me of my grandmother. It has some very musky floral notes that are reminiscent of lily of the valley.
09/26/2017
I freaking lovvveeeee this perfume.
09/22/2017
When receiving this fragrance, I was excited! I thought I'd take a chance and go with the positive side of the ratings, but unfortunately, I'm on the opposite side of the fence. The initial smell from the bottle was a bit fruity meets musk, but putting it on, I smelled all rose. I tried wearing this with different deodorant, thinking the combination was bad. No such luck. It definitely lingers all day, so if you like smelling like a rose bouquet, this would be perfect for you. It's just not a chemical match for me.
09/12/2017
I normally look for scents that are sweet in nature with the scent of fruits in the forefront, but this scent lacked just that. The rose and musk scents overpowered any and all fruity scents. The scent reminded me of a lotion (Rose Milk) that my grandmother wore. Unfortunately, this scent will go unused.
09/06/2017
I absolutely love this perfume. I plan on ordering full size.
09/05/2017
if you're looking for something to make you smell innocent yet womanly this is it, i love the smell and would probably buy the bottle
09/04/2017
I love this one - it has staying power. I find it to be youthful and fun. One of my favorites so far!
08/30/2017
The scent was very light and clean. definitely something good for summer or for during the day. not too strong either.
08/30/2017
I'm a 51 year old woman and I find this perfume too old for me, lol. I was so intrigued by seeing the fruits mixed with rose & musk. But all I smell is roses. NOTHING else. Just Roses. I have tried wearing it 3 times now, hoping my opinion will change. But no. Just no. It's a VERY strong, old lady smell. I like strong, floral perfumes. 2 of my favorites being Versace Bright Crystal and Versace Yellow Diamond. But this is toooo strong and overpowering. And it lasts for a long time. So disappointed because I really wanted to like it:(
08/29/2017
Smells lemony and peppery. Reminds me of the original Estee Lauder Pleasures. It's ok . not offensive or too strong.
08/29/2017
feminine and lovely
08/29/2017
Smells amazing. Smells like roses at first spray but dries down to a feminine floral scent. Very long lasting.
08/29/2017
This perfume is absolutely intoxicating! The smell of rose is instant but not at all overpowering and there are very subtle fruit undertones but over all this perfume gives me the warm sensation of being in love.
08/26/2017
Smells pretty generic, almost like a cheap perfume you would buy at the drugstore. Not necessarily a bad scent, just not very exciting.
08/24/2017
it smells gross , it all rose and makes me feel like im living in my grandmothers house... also it gave me a rash
08/22/2017
Just roses. That's all it smells like. If you want to smell like roses, buy this purfume. It's a little too boring for my taste.
08/19/2017
Smells good but it's dangerously close to crossing the line into smelling like an "old lady" perfume.
08/18/2017
Not too impressed with scent. It fades super quick and scent is not my favorite. Won't be ordering this one again
08/07/2017
this is my second JULIETTE HAS A GUN I have tried. Love the natural notes. Never too strong. Was a little taken back by the powdery rose scent at first but it all melds rather lovely in a few mins. I love NOT A PERFUME. Still a wonderful scent.
08/03/2017
I love this fragrance! When I first put it on I wasn't sure because I caught a hint of powdery old lady scent, but it's actually fantastic. It's so feminine, it makes you want to dress sexy and go out. My hubby loves this scent on me. I would buy a full bottle of this. It's light, clean, floral and sweet but not too sweet. And it lasts a long while. This is the fist time I've tried any of the Juliette has a gun fragrances and I can't wait to get some other scents.
08/02/2017
I love this fragrance so far! Everything I have ever received by Juliette has a gun has been a huge hit for me! Try it!
08/02/2017
I am in love with this fragrance I think I'm going to buy the big bottle f for my birthday 💖💖💖
08/02/2017
Absolutely LOVED it. Received many compliments when wearing it.
08/01/2017
It was pretty strong and not my favorite.
07/29/2017
I ran out of this perfume as soon as I got it. I loved it, I will definitely but the bottle.
07/28/2017
I enjoyed this scent.
07/26/2017
Love it. I thought it was a beautiful fragrance. Immediately you smell the rose but not grandma/old lady rose, just a bright, day time floral that puts you in a good mood. I got about a thousand compliments on it. Which led me to believe that Scentbird should just wave my subscription fee because I promoted the hell out of it whenever someone asked me what it was that I was wearing.
07/19/2017
LOVE LOVE LOVE. Juliette has a gun is my favorite collection!
07/17/2017
Absolutely loved it. It was the perfect mixture of all my favorite scents and out my boyfriend in a daze when I had it on because it smelt so good! Definitely would buy a big bottle!
07/07/2017
Loved this scent. It's a perfect whimsical day time scent!
07/05/2017
While it had a girly scent that I usually don't like, it smells amazing!
06/29/2017
It smells amazing and rich. I like the smell but found it didn't really last that long. I love perfumes and usually spray only about 3-4 sprays and it tends to stay. But this one not so much.
06/29/2017
Way too string of flowers. It smelled like tobbacco. Ugh wish I would of picked something else.
06/27/2017
It's smells strong but the scent fades right away, doesn't last long.
06/27/2017
It's a nice rose smelling perfume. The rose isn't overpowering, it's clean and light. I only gave it 3 stars because I just don't love it.
06/24/2017
I really like it but I wouldn't wear it for any occasion. It's clean, floral, and musky, which I love. Sometimes I get a whiff and it smells great, and then sometimes it smells either too youthful for a 22 year old or like air freshener in a furniture store. I would mostly only wear it around the house or out to run errands. I'll for sure use the rest of it, but I would buy it or qeue it again.
06/23/2017
Very strong floral it reminds me of another scent I have tried L'EAU D'ISSEY FLORALE and that was much lighter. Not a fan!
06/22/2017
I didn't dislike the scent, but it is definitely not my favorite. I will not order it again
06/14/2017
I really didn't care for this scent. I ended up trading with my Neighbor who also does scent bird. She seemed to like it.
06/12/2017
VERY floral. I would describe it as a powdery floral. Very strong when you first spray it, but does not have much lasting power. The perfume smells better after I have worn it for a while - it loses the powder smell and smells more like a light floral. Overall, it's just okay. I will use the rest of the Scentbird vile, but I would not purchase a full size bottle or repurchase this fragrance.
06/10/2017
Too floral. Almost smells like something little girls would wear.
06/07/2017
I really like this! It's sweet, floral, feminine. It reminds me of the air freshener they have around the junior's dressing at Kohl's. That sounds weird, but it fits this smell. Young and fresh. I don't know if it wows me enough to buy a full-size, but then again it's such a comfy smell I think I wanna keep using it!
06/06/2017
I like it! I am not really a floral purfume girl but I wanted to try something new. It kind of reminds me of a spring version of the woman's adidas purfume my friend would wear in 7th grade. All and all I am wearing it do if you want to try a new scent I would give it a whirl.
06/04/2017
Love it ! Smells clean and just enough touch of sweetness! Really great decent
06/04/2017
This is my favorite so far! I love rose scents, but this one has a little special something extra. So sweet and light. It's perfect for every day wear!
06/04/2017
It's nice but be careful I put way to much on and it gave me a headache. Smells like rose and musk, not my favorite but by far not the worst.
06/02/2017
I received lots of compliments but personally it was too powdery smelling. Reminded me of an older woman's perfume.
05/30/2017
This fragrance was just okay on me. I prefer Not A Perfume.
05/27/2017
I love everything about this perfume! Just the right scent not to strong and last all day. I will be getting me a bottle my other half loves it.
05/24/2017
This scent is clean, but VERY floral. There really aren't any sweet notes to it. There is a hint of lemon Pledge in there that stands out if you focus on it. Otherwise, it smells like wild honeysuckle, to me anyway. Won't be buying this again, Not really a fan.
05/20/2017
I was hoping this scent would be more sweet than anything but the floral overpowers the sweet. I'm not a fan of it, but others might be.
05/18/2017
Not for me unfortunately. Too sweet and floral
05/17/2017
Not for me, it's very floral smelling and sweet!
05/16/2017
This perfume is amazing! It has such a light and fresh smell to it, I can wear it for almost any occasion. Will definitely be putting it in my queue again
05/13/2017
This one worked for me...floral, slight sweet, but was hoping for more fruity. I smell mostly the rose, then musk. Longevity was decent.
05/12/2017
Did not like it . Too floral and sweet for me
05/11/2017
Love the scent. Last a long time.
05/09/2017
Has a powerful rose smell that I didn't expect. It's a nice smell that doesn't seem to last long. Not a favorite but I don't totally hate it either.
05/07/2017
Love this scent! Not old lady at all. Very unique and sexy. Great for everyday. The perfect amount of musk, floral and hint of sweet.
05/06/2017
I mostly smell rose. It's a very strong scent, more than a couple sprays would be overpowering to me. When it settles I smell a bit more of the musk. I don't hate it, but probably wouldn't buy again.
05/03/2017
It was okay, not something I would wear. Just a little to floral for me.
05/02/2017
It was ok.... a lot more musky than I was expecting
05/01/2017
Didnt like it, I will try again but it smelled like an old lady perfume to me.
04/30/2017
Amazing love this scent. I am buying a bottle when I'm finished
04/29/2017
I love this scent one of my favorites. It's stays on all day. I am definitely interested in buying it once I'm done with this tube.
04/24/2017
Sweet, flirty, and feminine, not overly rose, not overly berries, not overly sweet, which I was afraid of. One of my top 2 Juliette fragrances.
04/24/2017
OH MY GAWD this scent is amazing!! I have a hard time finding scents that I like and this one is seriously wonderful. It lasts all day, even post gym, and I have been getting compliments on it all day. Will deff buy again!
03/11/2017
Very flirty scent. Nice for the summer
03/06/2017
I am a HUGE fan of this scent, I find I can wear it for the office and a night out.
03/06/2017
Yuck. There are no words... I had such high hopes for this one. I had to wash it off it was so so smelly. Hopefully my choice for next month will be a winner.
02/23/2017
LOVE LOVE LOVE. Very bold scent. You definitely smell the roses. It almost reminds me of Tribu, a scent by United Colors of Benetton from like 1994. But this is SOOO much better. I'm so buying this.
02/21/2017
Different than my usual fragrance, but nice.
02/17/2017
Has a very floral and feminine aroma but will not be purchasing the full size.
02/07/2017
This is an amazing fragrance. Very pleased.
02/06/2017
Not a fan. Light fruits with rose and musk - i'm not a fan of musk and it's increasingly difficult to find a perfume thus far that isn't musky.
02/05/2017
Not awful, but a bit powdery for my taste.
02/05/2017
The perfume I chose is not what I got! This is the one I chose
02/05/2017
Have had 2 scents by JHAG, I love them both! Both are totally different from each other!
02/03/2017
Has a great smell just doesn't last long with me, still love it tho
02/03/2017
Very floral. I didn't like it at first but I grew on me.
02/03/2017
I like the scent. It smells clean and floral. Not my typical pick but glad I tried it.
02/03/2017
I love this one! So romantic and feminine! I love all of Juliette Has a Gun perfumes so far!
02/01/2017
LOOOOOVE THIS THE SMELL IS VERY FEMENINE AND ITS WONDERFUL FOR A DATE WITH YOUR SIGNIFICANT OTHER
01/31/2017
I am not too sure about this one, I don't really like it it but still wear it because my husband likes it. He likes the strong scent of roses... I would not buy the full bottle and do not recommend unless you are into the strong rose scent.
01/30/2017
dont really like it
01/24/2017
I just received this today! I love it, I think it is a very delicate scent.
01/08/2017
Not my style but not bad. It's pretty floral for my tastes. It does have good staying power as I can spritz in the morning and it'll stay through most of the day.
01/06/2017
I liked this. Very strong on the rose, so if you like rose scents you'll love this. Reminded me of Stella. Roses and citrus, VERY bright floral. I didn't really pick up on much berry essence. This would be good for warm weather and light cotton sun dresses! 4/5 as I would prefer it to have a little more amber or something to soften the edges a bit more.
01/04/2017
I like this a lot. Reminds me a little bit if Roses by Chloe.
01/04/2017
I really wanted to love this perfume. All of the notes made it seem like the scent would be a match made in heaven. It wasn't. This perfume has a pretty smell, like a frosty rose with berries on top. However, the musk and litchi showed up very soft on my skin (i.e. I could barely smell them). Also, the scent didn't last more than 1 hour on me, I couldn't smell it at all after 2. Overall, it might be okay to try if you like smells that stay close to the skin, but to me It's nothing special. I have cheaper perfumes that smell better and last longer.
01/03/2017
smells like the cheap barbie purfume you got in the 80's
01/02/2017
This was way too strong. My mom and I didn't like it at all. I can't really describe the smell. It was just too strong.
01/01/2017
This scent is delicious. It has sweetness and edginess to it! I would consider this more of a "going out" scent rather than a office or day scent.
12/31/2016
If you are a fan of rose you will enjoy this. It is a fresh true rose scent, unlike the rose that was in my grandma's powder room as a child. It is sophisticated but not dated. I find it to be quite nice.
12/31/2016
I really like this one. Not too sweet, not too floral, just the right amount of both. It's a nice feminine & flirty scent. I didn't think it was quite special enough to purchase at the price this brand is asking though.
12/31/2016
Love the fragrance - don't let the name be offputting - it's a fresh, clean, feminine scent. Try it!
12/27/2016
Didn't care for this scent.
12/27/2016
This perfume shipped to me before I could change my selection. I was prepared to be bummed as my first scentbird scent was "Not a Perfume" and I really disliked it. I was afraid I'd dislike all the Juliette scents, but this one is great! I like it a whole lot. I can still smell it on my skin 4 hours after I sprayed it. It is not very strong 4 hours later, but there are hints of it. I really do like this one. It's fruity but I do not think it smells too old lady or too teenager, I think it is perfect for the 30s and 40 somethings, and ANYONE who wants to smell a little flirty. This one will be in my rotation for a while!
12/08/2016
This is a lot more "rosey" than I thought it would be. I'm wearing it right now and all I can smell is rose.... and maybe a hint of something darker. If you're not a huge fan of "rose" in your fragrance, I might pass on this. Otherwise... if you like a strong top note of rose... go for it. It's lovely. Just rosier than I was expecting!
12/04/2016
I really like this scent. Very feminine and you can use it everyday. Soft and flirty from sure.
12/02/2016
Ive smelt better
12/02/2016
I REALLY love this scent, though I wish it lasted longer. It reminds me a lot of Stella by Stella McCartney. It's very fresh and springy. I plan to update my queue with other Juliette fragrances now!
12/02/2016
I wasn't too thrilled with this scent. When I first sprayed it, it had an overpowering smell of roses. It also was an almost artificial smell. It faded quickly and dried down into a faint powdery smell. It was not the scent for me.
12/01/2016
Very strong. Woodsy. Fall scent. Not my favorite
11/30/2016
This is by far my favorite perfume I have received from Scentbird!
11/20/2016
I am not a fan of this scent... the rose smell is very mature it does not compliment me at all. It has no other scent than rose.
11/19/2016
Love this fragrance. Very floral and feminine.
11/10/2016
On the first spritz it smells very floral.. U definetly smell the rose.. Wasn't really liking it since i don't go towards scents that have rose because i feel they have a more mature lady smell, but the dry down is very nice.. Sweet and powdery but not too much.. From my point it takes a little getting use to.
11/07/2016
Love this scent! Not too strong, definitely a scent for everyday. Put it in my queue twice and will probably purchase the full size bottle.
11/06/2016
I am not much for floral scents but I love this scent. It fades into a really nice musky scent and it is long lasting.
11/04/2016
Love this scent, it's a little strong so you don't need much, but I mostly love that the scent last on you all day, it doesn't fade :)
11/03/2016
It was ok. Not very long lasting. I liked the rose scent. It dries down a little powdery
11/02/2016
I liked this Juliette has a gun perfume because it was more on the floral side rather than a musky note. It wasn't too sweet and I could tolerate it so it wasn't too strong. I liked it.
11/02/2016
A little fruity for my taste but I've only had it on for about an hour. The scent starts of really floral but then fades to lightened berry scent. A lighter fragrance that doesn't seem like my taste but we'll see. I would definitely recommend this to a friend that likes more fruity scents.
11/01/2016
Love Juliette Has A Gun. It's smells yummy,and my husband loves when I wear it too.
11/01/2016
I have enjoyed this perfume. It stays with me for awhile throughout the day.
10/27/2016
This one was a little strong when i first applied it. Didn't really care for the scent at first.. But after it settle the fragrance went nice with my skin.
10/21/2016
Absolutely lover this scent! Compliments from my husband immediately
10/18/2016
Very surprised I liked this so much!
10/04/2016
This is absolutely one of my favorite perfumes! I love it!!
10/02/2016
I absolutely love it!!!! 😊
09/30/2016
Love it, nice and sweet and fruity
09/30/2016
Love it. Light and fun and flirty
09/30/2016
I love this perfume! It is accurately charming. It's more flowery to me than fruity, but it's delightful.
09/29/2016
I love the bouquet this perfume has. It took me a day or two to figure out that the rose in this scent is what made me obsess over it.
09/29/2016
Miss Charming is a fragrance that embodies a youthful, natural, and sweet woman who is nonetheless surprising. The charm of rose and ripe fruit plays over a bewitching base of musk. It's an excellent everyday scent that could become a signature for you. For me, the combination of musk & rose is always a winner. It is long-lasting, but never overwhelming, and very fun and flirty! Notes: Moroccan Rose, Musk, Wild Fruits. Style: Musky. Floral. Fruity. *Flirty*!
09/28/2016
I had to laugh after reading Scentbird's description of this fragrance...the "witchy" part is true! Only the "witch" here is my roommate...for stealing a spray of this EVERY chance she gets!!! I can't really blame her though...Miss Charming is a scent worth swiping! (now THAT'S a phrase to describe a perfume...worth swiping). It comes off as a powdery floral. Soft...sweet...and freshly energetic...wrapped up in rose petals. While I'd wear it throughout the year, I'd say this scent calls Spring & Summer home...Get it! It's a great staple for any fragrance wardrobe...
09/02/2016
I really love Sweetness and the Rose in this summer scent!!
08/31/2016
The rose, litchi fruit and strawberry really shine in this one! It's a very pretty fruity/rose fragrance. I'd say this one is a great one for spring/summer. It's a moderate scent and not overpowering.
08/31/2016
A fun, youthful rose-based perfume. I'd describe it as "cute".
08/30/2016
I really liked this scent. It's very fresh and clean. Perfect for Spring or Summer.
08/30/2016
I'very been a fan of all the "Juliette" fragrances so I may a little bias.Just love it.
08/01/2016
This one isn't new to me. I'm a long-time fan of Juliette has a Gun and Miss Charming for it's feminine sophistication. It's great for making every day feel special.
07/29/2016
Love the Mature scent
07/29/2016
I got this one by accident, but it was a pleasant surprise. It is a complex scent that changes multiple times before drying down to a nice clean fragrance. Not too citrusy, not too powdery, and not too sweet. I will definitely keep trying this one.
07/26/2016
I am enchanted by this perfume! Not a lot of longevity, but the accord is so bright and feminine. It certainly is charming!
07/23/2016
For Juliette Has A Gun scents, this is very light. It is a very feminine rose based floral with notes of berry undertones. When it dries down on me, rose is the most noticeable element. When you first spray it feels like it had a large sillage, but very quickly it is a low-medium sillage and as your body temperature starts to burn off the scent a bit, it really creates an intimate space sillage for the predominant aroma, though people semi close to you might be able to pick up a slight whiff. I do notice I have to reapply this one much more often than other perfumes from the same company, but I consider that a good trade for a lighter scent. If you live Chloe, Cartier goutte de rose, to an extent YSL Parisienne's mix of berry and floral, even the scent of rosewater then this is a great scent for you. It smells young and floral and fresh, does not smell "old lady" at all. On my body, I don't detect any powdery dry down at all either.
07/10/2016
I luv all of the Juliet has a gun scents but this one is like a date night scent. It smells like unique roses
07/07/2016
Get compliments when i wear this all time!! Different type of scent!! Not strong but no too light just right on. Would like to try different juliette has a gun
07/04/2016
Smelled soon good! used it everyday
07/02/2016
Strong is fine. Strong and not appealing...not so much =(
07/02/2016
It's really gross. Just a micro spray and i couldn't do it, it's really strong and smells old lady-ish
07/01/2016
Disappointing. Smells very old fashion.
06/29/2016
Let me start this review off by saying that I don't like rose scents. BUT I love what Juliette has a Gun did with Miss Charming. It's a new type of rose scent that is not boring. This reminds me of Stella McCartney's Stella - just lighter.
06/29/2016
I love it...smells wonderful!!!
06/05/2016
Totally not my scent...kind of bummed out. Oh well, there's always this next month.
06/03/2016
I absolutely love this! I love the feminine rose/floral scent!
06/03/2016
I love this brand but wasn;t a huge fan of this scent. I would love to try others
06/02/2016
Just not the calibur as the other scents i have gotten. Very dull and unexciting.
06/01/2016
At first. I didn't like it. I'm not big on rose smells. But it has this rose but soft musk like misty smell. I was getting so many compliments from people. Asking me what I had on. My sister niece and 10 year old daughter wanted me to give the my bottle. Oh no! I love it for myself.
05/25/2016
Miss Charming . . . not really. The rose in this mix is soft and rain drenched, a change from most of JHAG's dark, brooding rose accords. The sunny, simple, innocent rose of this brew mixes well with the musk component, but when the fruit is thrown in it sends this fragrance side-ways (and not in a good way). The litchi adds a tropical vibe that is very incongruent with the rest of the fragrance. As if Miss Charming was sharing a soul with a different perfume. All in all nice enough but workaday. Smell too similar to a plethora of brands found at discount stores for a fraction of the price. Sillage is on the low end of average. Longevity is sub par.
05/25/2016
Lovely. Feminine. Lots of rose if you like rose. I like rose and I reach for this one often. So does my teenage daughter. This scent can be worn for any occasion. Simply wonderful.
05/23/2016
Wanted to love this, but it was just ok. Really strong floral coming through.
05/20/2016
It is The Best Scent that I have EVER Smelled with Rose in it!!!
05/02/2016
I was unsure of this at first and rated it 3 stars as it seemed a little strong and better suited for night. After 3 days it is my favorite perfume and i wear it all day long!! The rose scent is not too strong and it does not bug my allergies. I LOVE it!!
04/30/2016
This brand is excellent, I've never been disappointed by one of their fragrances. Miss Charming is no exception. Love, love this one.
04/29/2016
I liked it for night time. It is really strong but unique.
04/27/2016
This is what I've been looking for in a signature scent. Floral but earthy. Slightly unusual. A little wicked.
04/26/2016
Love this perfume! Strong floral scent yet edgy. Many compliments already.
04/17/2016
A pretty scent, but fleeting in terms of staying power. Would recommend the Cartier rose perfume over this one, which smells similar, but has a little more lasting power and a warmer, sweeter dry down.
04/08/2016
wasn't my favorite scent, reminded me too much of soap instead of perfume, but it was still a pretty smell.
04/03/2016
Not a fan, kinda smelled like potpourri to me.
04/01/2016
I was kind of neutral when I first received this perfume in the mail, but the scent grew on me quickly I've been wearing it everyday since! It was really good staying power and changes from a powdery floral(which normally isn't my favorite) to a creamier fruity floral. I'll finish up my sample and might buy the spray again!
03/30/2016
Juliette Has A Gun Miss Charming      03/30/2016 I found out about Juliette Has A Gun - Miss Charming back in 2010. I didn't know what to expect but I loved the packaging. I was sad when I ran out and found out that it was a French perfumery. When I signed up for Scentbird you better believe that the first perfume I looked for was Juliette Has A Gun - Miss Charming but alas the perfume continued to elude me. I was over the moon when I found out that Scentbird carried it. I have gotten so many compliments on it and I personally love it's intoxicating and wildly original scent. it's absolutely one of my staple scents.
03/30/2016
I found out about Juliette Has A Gun - Miss Charming back in 2010. I didn't know what to expect but I loved the packaging. I was sad when I ran out and found out that it was a French perfumery. When I signed up for Scentbird you better believe that the first perfume I looked for was Juliette Has A Gun - Miss Charming but alas the perfume continued to elude me. I was over the moon when I found out that Scentbird carried it. I have gotten so many compliments on it and I personally love it's intoxicating and wildly original scent. it's absolutely one of my stable scents.
03/30/2016
This to me smells like a typical overly flowery scent. Don't care for it.
03/30/2016
Love this so much
03/30/2016
Love the smell. Light and airy
03/30/2016
Beautiful scent. Love ittttt
03/29/2016
Great scent, pretty and floral but with an edge.
03/29/2016
Love this! I am a big fan of JULIETTE HAS A GUN!! My favorite!!
03/20/2016
It feels like this is a smell that reminds me of overly flowery soap - that's the main smell I get. I'm sure there are some hints of fruit under that, but the rose smell is very strong in this, and it's just not my cup of tea.
03/17/2016
A little more floral then I usually gravitate to, but I like it! very different from other scents I have, which is why I think I am enjoying it. Also, all the women I work with have made a comment of how good I smell today
03/17/2016
Great perfume. Unique. Not for the timid.
03/12/2016
The musk comes out nicely to compliment the lighter berry scent, making it both fun and sexy. Longevity is great. It lasted all day through work until I washed it off for bed.
03/05/2016
My favorite so far!
03/05/2016
Nothing too special, a little disappointed since there is so much hype with this brand.
03/01/2016
Love everything by this brand!!
02/29/2016
I like this one. It is stronger than I had expected. Kinda soapy smelling.
02/25/2016
Too strong for me and a little too powdery for me.
02/22/2016
very pleased with this scent...to me, it's sweet, with a smell of old roses, which sounds odd, but i find it delightful...and i usually don't care for rose scents...i think this is beautiful and unique.
02/17/2016
It's a nice scent just not one I particularly would be keen to wear.
02/04/2016
To me, it smells like a lemon tea. It is very light with medium staying power. It's nice, just not my... CUP OF TEA.
02/02/2016
It is a nice subtle fragrance. It doesn't last long I have to reapply mid day. It is rose and floral and very feminine. It isn't over exotic but I don't think it is trying to be. I get lots of compliments.
02/02/2016
At first sniff, I didn't think I was going to like this. It had been out in the cold mailbox all day & the characteristics completely changed once it came up to room temperature. Its a spicy rose fragrance. I'd say if you like Stella McCartney or Black Opium you will find this appealing. My only negative comment is that it doesn't last long at all, I have to reapply after 3-4 hours.
02/02/2016
I love the smell, but the scent does not last throughout the day.
02/02/2016
Unoriginal, rose heavy scent, with no lasting power. Not impressed.
02/01/2016
Smells like a whole lot of nothing. Boring, no character or depth. I smelled it over and over to see if maybe I was just missing something, but no, its flat and dimensionless. Horrible scent, I've had face cleansers that smelled better. Avoid
02/01/2016
Amazing fresh scent !!!
02/01/2016
I LOVE how this smells when it first goes on. It quickly changes to pretty much just a rose scent, though, and then doesn't last long at all.
01/30/2016
This perfume was alright more flowery than I like
01/30/2016
I absolutely love Not a Perfume and was hoping this would be as lasting, but subtle and I was really disappointed. It's a nice enough fragrance, but when it's over $140 for a bottle, I don't want to have to spray more than 3 times. By 10am, the fragrance is totally gone from my skin and clothes.
01/13/2016
Love this scent - floral and optimistic.
01/06/2016
This scent kind of reminds me of "Maybe Baby" by Benefit, which I wore for years. It's a light fragrance with a little bit of sweetness. I'd definitely buy a full bottle!
01/01/2016
My favorite new scent!
01/01/2016
I like it, however I do not love it. My current obsession is Clean's Warm Cotton.
12/30/2015
Love this scent!
12/30/2015
It is rose which you can not recognize, I like it
12/29/2015
It's starts of a bit floral and it settles in very soft. The scent doesn't last as I wish it did. But I like it as a go to fragrance.
12/28/2015
Just received my first Scentbird package in the mail today. It contained Juliette Has a Gun: Miss Charming. It smells wonderful!! I can't wait to receive other samples and coupons in the future!!
12/28/2015
Love the scent but does not last long at all. :(
12/18/2015
I LOVE LOVE LOVE the smell.......HATE HATE HATE the almost non-existent staying power on me. I was so excited when I first sprayed it! If it would just last on me, it would be one of my all time favs
12/07/2015
My favorite scent to date. I'm not good at describing scents...I just wanted to give it 5 stars, because its smells amazing.
11/24/2015
It starts real strong but fades away quickly I really like the rose sent buy it's a little musky for me!
11/24/2015
Love this scent, so intoxicating
11/19/2015
Love it. Smells amazing. Sweet but not overpowering. Very fresh
11/07/2015
I love this scent, it's unique, sexy, with a bit of spice. It would definitely be a daily scent for me. I like that it also is a great day to night scent. Great for daily wear, but also nice for going out.
11/04/2015
Smells mature, formal, and overall just pleasant. If you have Stella, there's no need for this one. They smell the same.
10/30/2015
Love this brand and the perfume
10/30/2015
I loved this perfume...Long lasting and it EXACTLY as explained...Would totally recommend this perfume...!! :)
10/29/2015
Very gentle, rosey scent. I love these perfumes because they aren't cloying at all. Those who are particular with perfume will understand, sometimes you spray them and you want to sneeze. Very simple and refreshing. Everyday scent for me.
10/24/2015
This has been such a nice and unexpected find. I was surprised to learn this has rose in it, although I am generally a fan or this note. To me Miss Charming is very fruity, yet balanced. The berries come out right away and stay for at least an hour of wear. It is a bit strong at first, so three sprays with this is max. The scent is very lighthearted and I can see myself wearing it year-round. I like the sweetness of this perfume, it is a very fresh kind of sweetness, the opposite of what you get fro the likes of Prada Candy and Flowerbomb. An absolute winner in my book.
10/19/2015
Man, I have the worst chemistry for perfume. It smells lovely in the bottle, like sweet roses but turns to an old bouquet of flowers on my skin.
10/16/2015
I was looking for a "rose" perfume, this one is rose but without being overkill. I really love it & I used the entire 30 day supply. It also lasted a fairly long time but I always scent layer with a body butter/lotion of the same kind of scent.
10/08/2015
Juliette has a Gun is one of my favorite perfume brands -- this scent falls right in line with what I love about their perfumes: it is simple, classic and has a unique smell!
10/04/2015
i love the smell of this!
10/04/2015
Lovely floral, but a little bit too loud for me.
10/02/2015
I really like the way the more carefree topnotes are countered by the musk and other undertones, which would normally make this a really sophisticated and sexy perfume. Unfortunately, the main top note is REALLY dominant throughout the day and, while it doesn't smell bad, it is not what I would prefer either. The top note is not rose, it is something I've smelled before but I can't quite put my finger on what it is. I think other people whiffing you in the breeze are going to get mostly that sharp top note too -- you'd have to come in close to notice the complex/sexy undertones. Not a bad perfume per se, but not one I'll purchase either.
10/02/2015
Not a Perfume is one of my favorite fragrances. Miss Charming is underwhelming for me. Nice but not striking enough to purchase.
09/21/2015
Good everyday floral!
09/16/2015
This is a pleasant fruity and floral scent, but it has some woodsy and musk base notes that make it feel a little more sophisticated. It's still way too girlish for me, personally! But it's very appealing and if you like fruity perfumes, I recommend it.
09/12/2015
I bought this after hearing talk about it online. I love it! It's such a nice surprise to find these gems on scentbird. Highly recommend. I not great at describing scent but to give you an idea my usual favorites are See by Chloe and Juicy Couture Viva la Fluer.
09/05/2015
This is probably my favorite one so far that I've received through Scentbird. I love it.
09/01/2015
To me this perfume smells like powdery roses. It's okay, didn't knock my socks off though.
09/01/2015
I love this scent. By far, one of my favorites. It reminds me of Stella, by Stella McCartney, but with a nice rose note at the end. Very pleased.
08/29/2015
Beautiful rose perfume. It's not soap-y. It's not too dark. It's just... charming.
08/29/2015
Oh my gosh I love this!! The scent is light and sexy. It is a must have.
08/29/2015
I bought this without having smelled it before and I love it!
08/29/2015
I enjoyed the opportunity to try as Juliette Has A Gun, as it is on the expensive side. I found it to be unique, but a little strong for my personal preference. It is particularly strong when first applied. It does mellow after a bit. Overall, it is not for me. However, if you like something a bit different, that stands out, this may be just the thing for you.
08/29/2015
if you like rose base floral scents this one is for you... a nice everyday everywhere good girl with a hint of vixen...
08/29/2015
I love it as a everyday scent or that special occasion when you wanna just stand out .. it the perfect combination of fruity and sensual ..
08/28/2015
I dont know why but I didn't car for this one to much it was ok but not impressive
08/24/2015
Love this scent!!! I took a chance on ordering this for my first month. I wasn't sure if I would like it because I normally go for sweet florals. This is almost a sweet woodsy scent. It stays on and has amazing power to not fade. I simply love it!
08/20/2015
All I can say is amazing! I get compliments every time I wear this. It's not overly fruity or overly sweet. As a matter of fact, with the touches of roses it makes for a very sexy and flirty scent. I'll be buying the full size for sure!
08/18/2015
This is the first perfume of my membership and it did NOT disappoint!! It's a perfect floral for me as it's not too much, very classy and muted.
07/20/2015
"Wonderful sillage, long lasting, such a good smell. Love this one."