Harajuku Lovers
Lil' Angel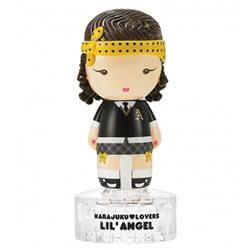 Get a 30-day supply of Lil' Angel
for
$
14.95
Notify me once this scent is available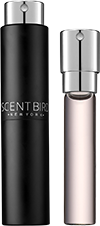 0.27 oz subscription

0.27 oz a la carte
Share and earn free perfume
Notes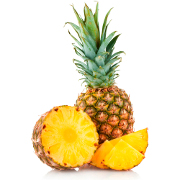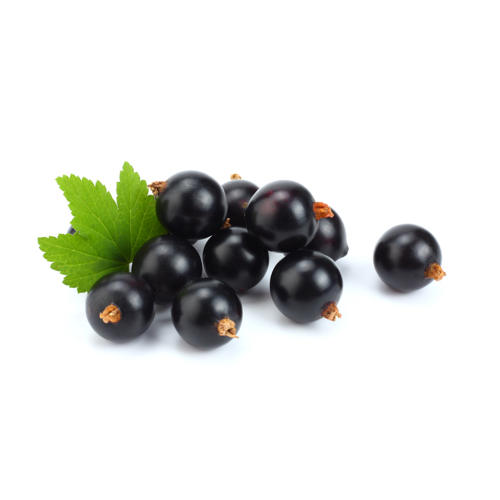 Description
From rock star and designer Gwen Stefani comes Lil' Angel, part of the Harajuku Lovers series of fragrances. A juicy toothache of ripe pineapple and berries pour out of this perfume over a sparkling, candied floral heart. A delicious, dime-store lollipop accord and crystal amber await in the dry down.
You may also like
Lil' Angel by Harajuku Lovers Reviews
11/03/2017
I reall like it smell great
11/03/2017
It has a great underlying fruity sweet scent but then all of a sudden it starts smelling like baby powder(which I hate) so it ruined it for me....
10/29/2017
very unique smell and last long!!!!
10/18/2017
This is one of my favorites. It's light and sweet!
10/15/2017
I did not like this at all. Terrible scent, the only thing good about is that it doesn't linger. Could this have been an old bottle that went bad?
10/07/2017
Smells like stale beer and sugared fruit. Not cool
10/06/2017
Smells like baby wipes
09/22/2017
This smells so nice! And it lasts a long time. I just put a spray on my wrist, and behind my earlobes, and I can smell it all day! I tend to go nose-blind to fragrances, so it's nice that this fragrance is so layered that I'm constantly surprised by the scent. Will definitely be getting a full bottle.
09/21/2017
I just got my new scent for Sept. I found it to be a little heavy at first but then it kinda settles nicely. The pineapple comes thru a lot. It reminds me of one of my elementary teachers. I like it not too over powering. Thank you
08/29/2017
This is a very subtle perfume. I really think it's a good mix of light berries and wood. It's is definitely a unique scent to me and my only complaint is it doesn't last as long as I'd like it to. It needs to be reapplied.
08/24/2017
I gave this one away. I heard a lot of good things about the harajuku line and ordered this one and music, but didn't like either one. Maybe I expected too much but I couldn't tolerate this scent, which was disappointing
08/05/2017
Love this scent...it is so gentle and subtle, not a strong smell at all but very pleasing. Even though the smell doesn't last long when I wear it it smells so good I'm always tempted to spray again.
08/02/2017
Smells like knockoff ed hardy and it legitimately grosses me out
07/26/2017
This one wasn't for me. There was something that reminded me of honey but in a really abrasive way. It does get a little bit better as it wears.
06/12/2017
Not a fan of this one. It has a odd smell
06/10/2017
Not a fan of the smell. Didn't wear well on me. Faded very quickly.
06/10/2017
I really like this perfume! When you first spray it, it seems like it would be floral (which I don't like), but once it settles on your skin it has a candy-like fruity smell! I love it. It's very unique and summery
06/02/2017
I didn't like it 😞 It smells to fruity
05/24/2017
I love this one. It is initially sweet but the sweetness fades into soft fruity notes with a hint of woodsiness.
05/17/2017
Liked it, but not my favorite
05/17/2017
Liked it, but not my favorite
05/03/2017
A lil musky for me
04/29/2017
All of her scents smell like brown sugar, including this one.
03/08/2017
Not my favorite. Pretty blah :/
03/08/2017
YUM!!! It's not overpowering and it has a hint of fruit.
03/06/2017
It smells different. I like it, but I don't love it.
03/06/2017
Smells really good. Not overwhelming. Would recommend it.
02/22/2017
This smelled like spoiled perfume. I'm not sure if the sample I received was in fact spoiled, or that's just the nature of the scent, but either way I was not thrilled with this fragrance at all.
02/04/2017
Very good scent. A little muskier than expected, but over all a pleasant addition to the collection.
02/03/2017
Love it I want more
01/23/2017
I was looking for an alternative perfume for Viva la Juicy and this one was perfect! I love the sweet, fruity scent it gives off and it's great for everyday wear or for any special occasions whenever you want to feel and smell sweet, fruity, and fun!
01/23/2017
I was looking for a perfume alternative for Viva la Juicy and this one was the one! Love the sweet, fruity scent and perfect for everyday wear or for any special occasion when you want to feel and smell sweet, fruity, and fun!
01/05/2017
This was has to be the worst perfume I've tried. I won't even try to wear this because it's too strong. Disappointing.
12/31/2016
This fragrance initially smelled to me like rum raisin. I enjoyed the scent, but it wasn't nearly as light and flirty as I would have expected. The scent is rich...I'd wear this on a summer night.
12/24/2016
Did not like it. It had a strong smell that stunk and that scent is mixed in with softer scents. I cannot tell what the fragrance was that smelled bad, but I knew instantly that it was not for me.
12/05/2016
Not a fan of this scent. It smelled like alcohol and had no staying power. Not a fan.
11/29/2016
It definitely wasn't for me but luckily my aunt liked it enough to keep it it smelled too sickly sweet
11/29/2016
Love this sent !!! Husband my long time favorite !
11/07/2016
Very strong fruity scent.
11/07/2016
Love this scent, it's light and airy l. Nice for sunny days or everyday wear.
11/06/2016
I don't like it 👎🏼👎🏼👎🏼
11/02/2016
It was nice, but not what I would normally use.
10/19/2016
I hate it! It stinks !!!
10/19/2016
I hate it stinks!
10/10/2016
smells good for a little while then starts to smell funny
10/01/2016
Absolutely terrible. I'm not sure if it's actually the perfume that's disgusting or if it's how the "rebottle" it. But it smelt just like watered down alcohol. Didn't smell like a perfume scent at all to me. I wrote the contact email over a week ago and have yet to get a response. Very very disappointed!
10/01/2016
This scent was terrible from start to finish. I've always been open to given scents a chance, but this had no pleasant point. Scents tend to change over time on the skin but it just got worse as time went on. It smelled more suited for an elderly person and reminded me of the scent of lingering unfavorable body fluids and oders. Smelling it on my skin turned my stomach and all around me agreed that it was a highly unfavorable scent. I am never this critical of a scent, however, this is the worst perfume I've ever tried. I'm thankful for the scentbird sub since I got to try this scent before purchasing the full size. Saved me some money.
09/10/2016
It's a little too sweet at first but I like it after about an hour or so. My fiancé loves it though :)
08/31/2016
Its very sweet smelling...a lil too sweet for my taste.
08/31/2016
It's a little too sweet for me. I prefer it after it's been in for a while. Definitely not my favorite
08/31/2016
I love this scent!
08/30/2016
I liked this fragrance but it smelled a little juvenile for me.
08/04/2016
Way to strong and honestly smelled more like it was ment for a man. Would not recommend.
08/03/2016
This smells like rotten pineapple to me. It's got that sickly sweet smell and I was a bit grossed out while I was wearing it, luckily it faded after around 2 hours on me.
08/02/2016
Absolutely love this perfume. It's soft and not overbearing. It reminds me of summer.
07/10/2016
Not my favorite. It was way too strong for me. If you like scents that aren't sweet smelling, this is the one for you.
07/02/2016
It's ok, definitely not my favorite, a lititle too strong and off (yes bug repellant) smelling for me. Didn't mix with my body chemistry at all.
07/02/2016
I like it! It isn't overpowering or smells "cheap"??? Maybe it is different on different people. It stays on quite well, and I like sweeter scents so it does its job.
07/02/2016
My 8 year old picked this for her birthday. It smells like cheap, but strong body spray. Honestly, i'm almost embarassed when she wears it! The bottles are cute, but that's all I can give it.
07/01/2016
Didn't like the smell. It smelled like alcohol
06/23/2016
I did not like this fragrance at all. It had a very strong scent that reminded me of urine.
06/22/2016
I really enjoy the smell of this! It just doesn't last long at ALL. 2 hours after I put it on and I couldn't smell it all. Unfortunate because I do enjoy the smell!!
05/04/2016
Nice smell with a hint of honey, it doesn't last very long, but it's nice for spring
04/23/2016
This is the second scent I have received and I love it. It's not overpowering. This will be my new every day scent.
03/30/2016
My daughter loves it
03/18/2016
I love this scent! It's nice and clean, not overpowering. Very feminine, a great "everyday" scent. Perfect as a refreshing travel companion.
02/29/2016
I really like the smell of it goes on strong when you first put it on and then it just mellows out I would wear this everyday
02/28/2016
This scent is my all time fav almost out of it the music sings to my nose love love wearing it great everyday scent
12/30/2015
didn't like the smell its too strong at first and bothered me
12/20/2015
This has been a favorite for years. It reminds me of a sweet wine. They made a new fragrance with this same name for HL but the second version wasn't even close to this scent
11/25/2015
I have loved this perfume for years. it was my 1st 'high end' perfume.. and i never hear anyone talk about it nor do i smell anyone else ever wear it. I always get asked 'what are you wearing.. it smells fabulous'.
11/24/2015
The perfume is a little to flowery for me and the scent didn't last.
11/24/2015
Too strong and overpowering.
11/19/2015
I own this and love it. I reminds me of wine. It stays on for a long time and smells fun. It's very summery and amazing
10/20/2015
Do not get this perfume. I normally enjoy the Harajuku perfumes but this one just smells horrible. It literally smells like pee.
09/03/2015
I can't take floral smells, and it had too much of a floral under tone to it for me. Oh my sinuses!
08/03/2015
This perfume is better after it has been on a few minutes. The top notes don't smell as good as they look in writing on me. After it has been on a few minutes I like it and it lasts a while.
01/10/2015
"I always ADORED the original scent of Aussie Hair products. BEFORE they changed it some time ago. You know the smell..that nutty, woodsy scent that takes many of us back to the 80's lady in us. I actually quit using Aussie when they changed that!Good thing I found Lil' Angel here...because mixed with my particular chemestry-It smells EXACTLY like it. It does on others I know that love it for the same reason. Its a wonderful, clean smell that I never run out of."