Cartier
Baiser Vole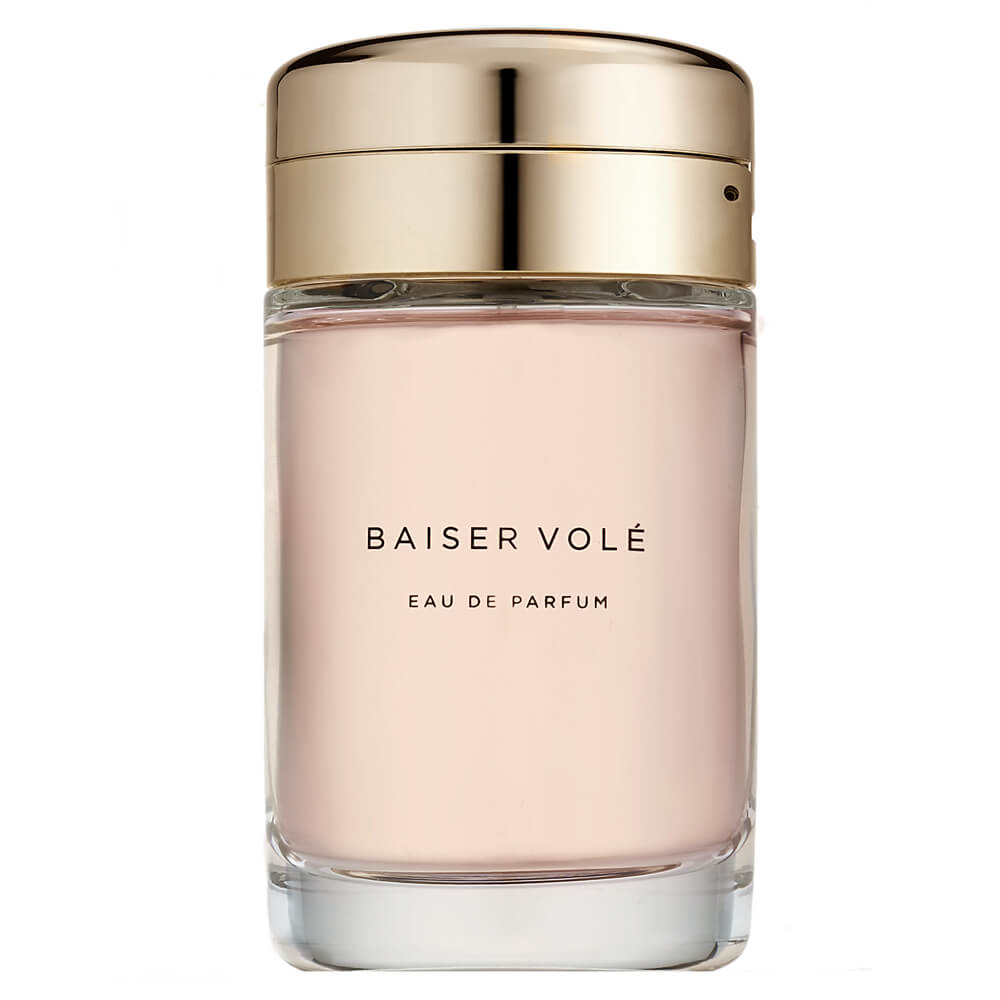 Get a 30-day supply of Baiser Vole
for
$
14.95
Notify me once this scent is available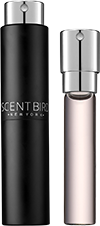 0.27 oz subscription

0.27 oz a la carte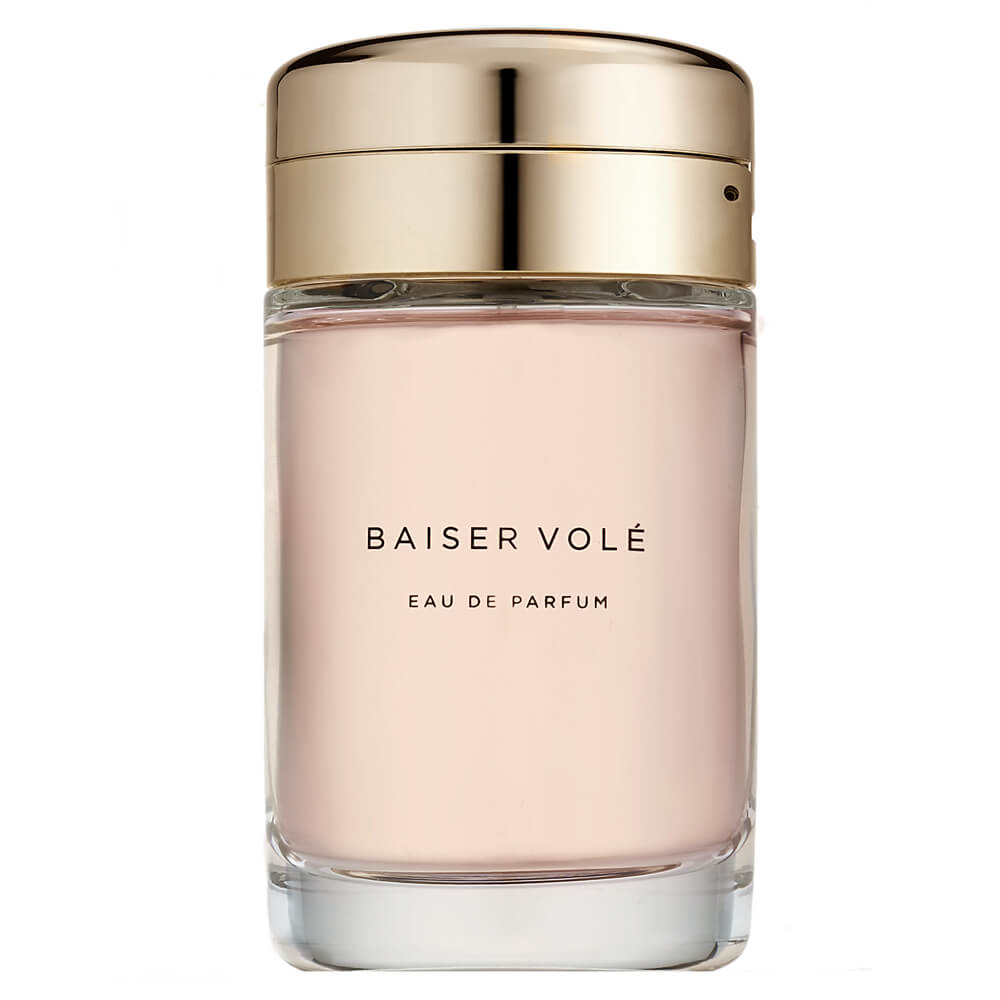 1.6 oz bottle
Share and earn free perfume
Notes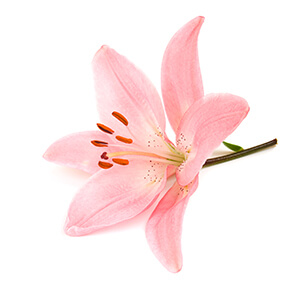 Description
Cartier's Baiser Vole ("stolen kisses") celebrates a stunning light green lily note, from the verdant texture of its leaves, to the powdery embrace of its petals. The dry down is nothing more than a drifting current of serene green stems in water, infusing this fragrance with a gauzy, tender, and moonlit feel.
You may also like
Baiser Vole description
Cartier's Baiser Vole ("stolen kisses"), is a perfume that places a light green lily note on a high, marble pedestal and keeps it there, to shine gently in a floral spotlight until it fades hours later, and floats off into the sunset on a limpid green lily pad.
Baiser Vole is meant to showcase the lily in all its glory, from the soft verdant elegance of the stem and leaves to the full powdery embrace of its petals. There is a touch of citrus at the top, but just as a grace note while waiting for the lily to fully open in the heart.
The citrus overlay evaporates rather quickly, and the young lily blooms in a slow-motion unfurling of cool, gently-brushed floral tones. Baiser Vole is a quiet, still perfume – a scent for when you're alone in a room watching the wind idly disturb the window curtains.
It's content to introduce itself to you and then leave you alone, gently busying itself in the background with turning its petals towards the sun outside. This is Baiser Vole's hidden majesty and its confidence. There's a meditative quality to the lily here, with absolutely no urgency or drama behind it in the least; a floral perfume for a Zen garden.
The powdery facets are diffuse and transparent – the Zen garden is in winter with a light glass of snow laid over the sand. If you love powdery scents that rise like cosmetic clouds from a backstage dressing room, Baiser Vole is not for you. It draws you in with the lightest, faintest touches into an endless perfect moment of scented contemplation.
The dry down is nothing more than drifting pools of green stems in water, and your reverie begins to close as the light in the window turns from bright orange to crimson and indigo. And as night descends, and the curtains are pulled in, the milky aura of the moon is all that is left on your skin as this stolen kiss leaves on the wind.
Read more
Baiser Vole by Cartier Reviews
11/19/2017
I wasn't really a fan of this perfume. It has a very strong floral scent. For me, the lily was just too overpowering. It is a sharp scent, so if you like strong floral scents, you will like this one. I ended up giving this to my sister.
11/19/2017
I love love love this perfume!!!! The smell is wonderful! I spray it on just to smell it. It's addicting!
11/11/2017
I actually gave it 3 stars and not one. I'm not sure what happened. I couldn't update my last review.
11/11/2017
People say it's floral. I love floral. This (on me) smells baby powder-ish. I don't like powder(y). However, I can wear it. I did feel like people were sneezing a lot more than usual around me at work. But, other than that... it's wearable. Soft, feminine, and not floral.
11/09/2017
It has a strong floral scent yet light for everyday use.
11/05/2017
I don't think I'll buy this one. It's nice, but too mature/powdery scent. Smells good, just not my taste.
11/02/2017
The scent was nice, but a little too mature for me. I'm 27 and ended up giving it to my mother in law who is 50. She seemed to like it.
11/02/2017
This perfume gives a light fresh sophisticated scent. Awesome for everyday use.
11/02/2017
Soft, powdery scent that lasts a long time. I would love to have a dusting powder and lotion to layer with the perfume. It would last all day long.
11/01/2017
I was very impressed with this fragrance. It is light and clean smelling with a bit of floral, it wears very lightly.
10/28/2017
Like it, not sweet at all
10/27/2017
It smells very expensive but like a much older women. I am 43 and it's too old for me. Very strong!!
10/23/2017
love love love this
10/16/2017
I was impressed with this perfume. It has great weight to it and it's smell is perfect for day and early evening. This perfume is delightful and I would definitely recommend it.
10/16/2017
I was impressed with this perfume. It has a great weight to it and it's smell is perfect for day and early evening. Also the scent stayed on me for about 8 hours. It is a very delightful fragrance which I would recommend.
10/14/2017
Fresh and feminine!
10/11/2017
This was my first option and I am soooo happy I picked it! This smells delicious even my husband complimented the scent! It smells very clean and classy not over powering, but still had a great lasting effect considering my skin doesnt do well with retaining perfumes. I'll most likely purchase the full size!
10/05/2017
Nice soft fragrance. I really like it but it doesn't stay all day.
10/02/2017
Very strong at first, and a tad too powdery for me. It's a nice scent, but not my favorite.
09/29/2017
Too intensely floral
09/22/2017
Lovely scent but too floral for my allergies.
09/22/2017
I really loved this scent! Long lasting and very clean.
09/14/2017
This is a very nice floral scent. I can mostly smell lily. It's not very long lasting.
09/10/2017
LOVE LOVE LOVE!!
09/06/2017
Light and fragrant. Good summer scent. But don't believe this is the one in my que.
09/05/2017
Love this scent
09/02/2017
I don't remember requesting this fragrance in the first place but I figured I would give it a try anyway. I didn't smell anything at first when you think the fragrance would be the strongest. Once it settled on my skin there is a faint hint of a pleasant scent. Nowhere near strong enough for me to pick apart what I smell. At least it doesn't smell bad.
08/30/2017
never received it.
08/29/2017
I was so excited o receive my very first Scentbird order today!!! I chose Cartier Baiser Vole. I had briefly smelled it at Nordstrom, but was in a rush to really decide at the moment if I actually liked it or not. It has a very refined, elegant scent. The cent is very light, but it has such a distinct smell...all that comes to my mind is elegance. I like it, a lot. I guess I will have to splurge on it when I have $150 just laying around. It's a beautiful. clean fragrance. :)
08/25/2017
This sent is very feminine and pretty when I first put it on, but as I wear it, it develops a cloying scent that I can't quite put my finger on.
08/24/2017
Spicy and feminine. I really like it.
08/23/2017
I enjoy this sweet, flirty scent. It initially reminded me of a mix between Chanel Chance and Dolce & Gabbana Light Blue - I wouldn't necessary layer the two fragrances but this one works well. 2 sprays lasts through the day for me as well. I wasn't expecting to love this one as much as I do, but the purpose of my joining the ScentBird community was to expand my horizons a little. Overall I liked this enough to buy a full bottle and use as my backup scent for the times I need to change it up a little.
08/21/2017
I like it ok. It wasn't a bad scent, just not for me.
08/17/2017
A little strong for me. I have to say I would not buy this.
08/17/2017
The smell is beautiful but SOOO strong! Would never buy a full bottle, but may save this spray tube for important work meetings or other special occasions.
08/12/2017
Nice and soft love it
08/12/2017
Really liked this one was very warm an inviting
08/09/2017
I absolutely love this smell. It's a light scent from the minute I put it on. Will definitely be adding this one again!
08/07/2017
This fragrance smells very strong and a little old lady-ish when you first spray it on. After letting it sit on your skin for a minute, it lightens up and smells beautiful.
08/04/2017
This scent reminded me of something our school principal wears. Think older, wealthier woman. Definitely not for me. Very strong.
08/03/2017
I love love love this fragrance. It is clean and sophisticated. Perfect for everyday wear or a night on the town.
08/02/2017
I have never had so many compliments on my perfume before. I loved how powdery it smelled. Strangers would tell me how wonderful i smelled.
08/01/2017
I was disappointed. This fragrance didn't last and the scent was gone in 15 minutes. I will cancel because I thought these scents were the real thing.
08/01/2017
This is a nice floral and soft scent. I like it, but I don't love it. It's a little powdery for my taste.
08/01/2017
This scent was light, sweet and flirty. I liked how fresh it smelt and that I could wear it to the office.
07/31/2017
I like it, but don't love it. It doesn't live up to the hype.
07/22/2017
This scent is really beautiful, however, a tiny smell through me off. I believe it is the green notes. Smells good in the bottle but not that great on my body. But it is a beautiful scent!!
07/19/2017
Love this scent. It's soft with just enough punch to catch your attention. Will purchase.
07/12/2017
I like this one. There's one in this line that has more of a rose smell. Both are amazing.
07/10/2017
Smells nice when it dries.
07/10/2017
Smells real nice once it dries well.
07/09/2017
Beautifully perfect
07/06/2017
I put this in my queue because I already know I like this perfume, however, the vial I received seemed like the perfume may have been sitting on the Scentbird shelf for awhile.
07/06/2017
I love it.always get complements on it.will buy the bottle of this.
07/05/2017
Loved this scent. I have gotten a lot of compliments
07/01/2017
I wanted to love this perfume and got it because a vlogger said it was elegant and "grown". I let it wear on my skin and it smelled lovely at first but after it wore down it was unappealing and I had to shower to remove the fragrance off me. It might be my personal body chemistry but this was not for me.
06/29/2017
My initial impression of this perfume was "Cheap, fruity alcohol." After wearing it for 6 hours, my thoughts have not changed. This is a very "Mature" strong sent. The only plus to this perfume was the lasting power. If it were a scent that I enjoyed smelling for hours on end, this would have been great. Not a fan at all.
06/29/2017
Doesnt stay on too long.
06/22/2017
It's rosy and powdery... reminds me of my great grandma's perfume... not my favorite smell
06/13/2017
This is my favorite so far!! Wear it everyday!
06/13/2017
Not what I was expecting. I actually initially thought I was sent the wrong fragrance the smell was so off-putting. But, oh well, I'm sure it's perfect for someone...just not me.
06/12/2017
Really light and fresh. Will be getting again.
06/12/2017
This was my first perfume of my subscription. It's light, fresh and very summery. The staying power isn't too long so I did me to reapply during the day. Overall, I'd keep this in my queue for future months.
06/10/2017
I did not get the perfume I selected
06/08/2017
Wonderful and soft!
06/07/2017
Light and beautiful
06/06/2017
This is the first month I have really enjoyed the scent :)
06/04/2017
Love this perfume! Smelled so clean and fresh, but expensive. Great summer scent. Addictive.
06/04/2017
Based vole is by and large the most classy and fresh perfume I've ever had the pleasure of wearing . I would be honored calling it my signature fragrance forever .... the citrus and floral notes are a beautiful symphony in perfect harmony together .
06/03/2017
Not what I expected, I'm 45 years old and I think I'm too young for this scent. Not my favorite :(
06/03/2017
This scent is very powerful and not at all what I was expecting. I generally go for floral notes, but this one is overpowered by something else I can't pick out.
06/01/2017
Definitely get the powder notes, mature, great for a night out, not for daytime heat though.
05/31/2017
This frangrance is a great "pick me up" type of scent to it in my opinion. I love the richness of the scent and the soft floral notes. It's been a favorite of mine for sometime now. I like to wear it on a luxurious night out!
05/30/2017
Too floraly- Reminds me of an old lady perfume. Not musky but just too much scent for my taste.
05/28/2017
This is a clean, floral scent. Lilies, powdery, and feminine. Great for day time and work. It is not over powering, only needs a couple of sprays. After a while, the scent transforms to a sweeter smell on me.
05/19/2017
Did NOT like this one. Very strong smell and very "old lady" smell. Very floral. I passed it on to someone else.
05/19/2017
I love this, it smells so good
05/12/2017
Smells horrible
05/11/2017
This is my first time ever trying this brand. The smell is nice, however, it's not for me. It does have a very mature woman vibe about it....
05/03/2017
Not for me! Smells "old lady" like
05/01/2017
I like this scent but not crazy about it. It has a hint of baby powder smell to me. I do like the fact it's not really strong and overpowering. It would be a good one to wear to work. More of a daytime scent in my opinion.
04/29/2017
This was the first perfume I received. It reminds me of white Diamond. Good perfume but not for me. Although, I don't mind receiving a random selection. Looking forward to my next perfume.
04/24/2017
I was really excited about this scent. Unfortunately, it's definitely not for me! It comes off kind of old lady(ish)
03/07/2017
Smells good just not long enough.
03/07/2017
It didn't last.
03/06/2017
Love this. Smells like real flowers, not flower names.
03/06/2017
A pleasant surprise..I don't think I will purchase a full size but it was great to try
03/06/2017
I love this scent, thank you Scentbird
03/06/2017
Of the many wonderful perfumes I've received, Cartier Baiser Vole is my absolute favorite to date. I plan to purchase a bottle. It smells fabulous.
03/06/2017
I love anything Cartier however this scent was just a little light & powdery for MY taste.
03/05/2017
Loving this fragrance 😍❤❤❤
03/05/2017
My favorite ❤️
03/05/2017
Smells absolutely beautiful!
03/02/2017
Loved it!! New fan of all Cartier fragrances now!!
03/02/2017
It's not a horrible scent but I'm not in love. It's a bit strong and musky for my taste.
03/01/2017
I think this is a great elegant fresh citrus scent. The best compliment I got when I wore it was "you smell Rich" !
02/23/2017
this sent is amazing!! By far my favorite!
02/23/2017
Nice sent, but not really what I was expecting. Floral fragrance.
02/05/2017
It's a very floral and mature scent. Got a few compliments. But I didn't think it was truly for me.
02/04/2017
A great simple everyday smell
02/04/2017
The scent is amazing. Nothing else like it. Very unique.
02/03/2017
My husband loves this perfume.
02/03/2017
Old lady smell! Very heavy. I had a patient of mine ask me if I was wearing my grannies perfume!!! Lol
02/01/2017
I looooooove Cartier Basier Vole! I actually got married in this scent and a woman smelled me and complimented me on the fragrance. She then proceeded to ask me what scent it was and when I told her she said she couldn't afford it...it was the perfect opportunity for me to tell her about Scentbird. Unfortunately, at the time, the fragrance was't available but I was patient and waited and when I checked about a month later it was. I couldn't be happier! Scentbird is the perfect way to get fragrances that otherwise may be out of your price range but that you just have to have. Thank you Scentbird for making this fragrance affordable for me...I love it and thanks to you, I can have it!!!
01/31/2017
An awesome pick to try!
01/31/2017
This scent is fir older ladies
01/15/2017
This one has been my less favorite. It is not a bad smell but it wasn't working for me.
01/10/2017
Not the worst thing I've ever smelled, so I will finish off the entire vial. But I will not ever purchase a full size. There's just something about it that doesn't work for me, but I'm sure there are many others who would love it! Not awful, but not amazing
01/07/2017
Starts off fresh and clean ... quickly fades to short and sweet Not a fan
01/04/2017
Love this perfume
01/03/2017
Light and powdery scent. Perfect for everyday wear.
01/02/2017
Love it!!!! The best Cartier fragrance
01/02/2017
Very nice scent, just not my style
12/31/2016
Does not smell good at all...well not to me at least
12/30/2016
This is my new favorite! I love how fresh and feminine the fragrance is. Baiser Vole makes me smell like I just stepped out of the shower. My boyfriend had never said anything about how I smell... Until now. He loves it. I just bought the full size bottle.
12/29/2016
My favorite so far!
12/03/2016
Love this scent. It's more powdery in me which I love and it last for hours.
12/02/2016
Like the scent... light. adult. fresh.
12/01/2016
I am absolutely obsessed with this fragrance, light, crisp, powdery, floral..I will def buy a full size bottle! or ask Santa!
11/25/2016
Lovely green scent with a touch of floral. Lasts moderate with reapplication at about 6 hours. Nice light scent.
11/19/2016
Baby powder musk scented. It's what I would describe to be an older scent (similar to shallimar or white diamonds) not terrible but definitely not light and fresh. I'd say more on the heavy spicy side.
11/17/2016
This perfume is the epitome of sexy! Want to surprise your man with a new scent ? THIS is the one that will blow his socks off. Definitely buying this one!
11/08/2016
Lovely floral, green scent. Great Lily fragrance, slightly powdery, bit sweet, creamy on the skin, lasts well....
11/06/2016
Love this scent. I will be buying the full sized bottle!
11/06/2016
love love love!
11/04/2016
This is a scent for a much older person.
11/02/2016
a very elegant scent. makes me feel classy.
11/02/2016
Too strong for me
10/19/2016
I have loved every scent that Scentbird has sent me. This one however I did not love. It smells like baby powder and like it might be something one of an older generation might like. I have been unable to were it=\
10/14/2016
This is a very pleasant smelling scent. It sometimes reminds me a little of baby powder.
10/06/2016
Very soft... I get nothing but compliments when I wear it!
10/05/2016
Thought It would have had more of a powdery scent.
10/04/2016
Nice soft scent. Not overly strong at all but doesn't stay with you all day either.
10/04/2016
not a fan it smells like baby powder
10/04/2016
I love the very clean floral scent!
10/04/2016
Love this scent! Very clean and not too strong.
10/03/2016
Just received my first bottle! I like it, but I'm not sure it lasts on me. We'll see. Love the trial size bottle!
10/02/2016
Just not a fan
10/01/2016
Love love this scent! I spritzed onto a scarf to test and fell in love immediately. Definitely a full size purchase in my near future.
10/01/2016
This reminds me of a fragrance from years ago. Not easy to describe, a little hard around the edges, though it lasts a long time it's just not that pleasant of fragrance. Not flowery, bright or powdery soft. I have used it 4 days straight to be sure and under different circumstances, definitely won't finish it.
10/01/2016
The scent just stay for little time
09/30/2016
Nice scent last a good 8 hours!
09/30/2016
An elegant, sheer floral that's sweet without being too sugary or heavy.
09/26/2016
I did not care for this at all. When I smelled it I immediately thought about an Avon lipstick..and an old woman smell. This was my first subscription and I was so disappointed.
09/19/2016
Amazing! This smells floral fresh and I love it! It's long lasting and leaves a trail. My husband loves it too.
09/18/2016
This perfume was not my favorite. It smelt similar to vaseline and an old avon powder my grandmother use to wear. Everyone is different, just because it didn't work for me doesn't mean it won't work for someone else. I gave it to my younger cousin and she loves it. This review is based on my personal taste.
09/17/2016
Love this fragrance! You will need to reapply often but the floral tones are strong and distinct! Then it lightens up to a perfect balance for work or play! Will be buying the full bottle in the near future!!
09/10/2016
I had a previous sample so when I started this I knew this would be my first perfume. It is classic and beautiful. I will select it again when I run out :-)
09/07/2016
This is a more unusual perfume than most. I like it a lot. It isn't heavy OR light, it's somewhere perfectly between the two.
09/06/2016
Love this, but the fresh scent doesn't last very long. Or maybe it's just me I dk.
09/04/2016
This is a crisp summer clean scent. Its a great daytime scent perfect for the work place or just having lunch with the besties, very refreshing :)
09/03/2016
It smells nice but to me it has a hint of alcohol smell.
09/02/2016
Love this scent!
08/30/2016
I didn't like this perfume at all! It smelled like talcum powder. Horrendous I am quite unhappy this was my choice. One star because it is the least amount of stars.
08/22/2016
Absolutely love this fragrance. Was a little strong at first, but quickly dried down to a wonderful floral scent that lingers.
08/22/2016
Beautiful. Gifted to my mom.
08/15/2016
I didn't love this scent. A lot more masculine than I expected strangely. I will be giving this tube away and not keeping for myself.
08/11/2016
I love this scent. Floral but not too sweet or overpowering.
08/07/2016
Great light floral scent. Will get again.
08/04/2016
A little too powdery for me, but it lasts very long!
08/03/2016
Nice spicy floral, fades from an intense scent initially to a nice floral light scent about 10-15 minutes after you spray it on.
08/02/2016
This scent was instant favorite. I wouldn't have been surprised if it was unisex. It doesn't smell overwhelming floral and is long lasting.
08/02/2016
Love this scent!
08/01/2016
Has a "green " smell to me, didn't really develop any floral notes on my skin. Lasts all day. My husband liked it.
08/01/2016
Lovely fragrance that lingers throughout the day without being overpowering. Great for a spring/summer day.
08/01/2016
Love it. Scent is yummy.
07/31/2016
I did not like this perfume it's very strong but the sent to me is not inviting.
07/21/2016
Lovely, light, everyday fragrance however the scent doesn't last long in my opinion.
07/18/2016
Very floral. I like it, but not for everyday. Even though its floral, it has a deep scent that makes me think of fall or a cashmere sweater.
07/17/2016
One of my favorites. It's light, floral, and feminine.
07/06/2016
I love so this perfume. Every thing I wear this I get so many compliments. This is my signature scent.
07/06/2016
This is a perfume that I probably would have never bought in the store thinking that it wasn't right for me, but I have gotten soooo many compliments on it. I love this subscription!!!
07/06/2016
This was ok. Some perfumes just have something in them that says "old lady," too me. This is slighty like that. Not my favorite not terrible.
07/05/2016
So far, this perfume is in my wheelhouse: a powdery, yet clean floral that isn't too heavy and nice for everyday wear. I agree with others that it does not last long, but I find that most lighter scents do not. I get at least 6-8 hours of wear out of it--the scent lingers, be it on my skin, or on my clothing.
07/04/2016
Omg this perfume smells so good! I am in lobe with this beautiful fragrance!
07/01/2016
Its okay not the best
07/01/2016
My favorite so far . Love it
07/01/2016
I love it! I'll be purchasing this one for sure!
06/21/2016
LOVE this one! I have ignored new samples for two months because I love wearing this one so much. It is pretty, yet light. Perfect for summer. Perfect for people who want to be modest with their perfume as well. Not overpowering at all.
06/16/2016
it smells great at first spray and then it"s gone.. so disappointing.
06/07/2016
This is a very floral and clean scent. Smells a little mature but not like an "old lady" scent. Wouldn't recommend if you're under 30.
06/05/2016
Smells good but doesn't last much
06/03/2016
Fresh, light, phenomenal floral. Smells like a breezy walk through the garden
05/29/2016
Its too strong for me i feel nauseas when i wear it sorry
05/20/2016
I went in expecting a very green kind of lily scent, which it was ... for five whole minutes on the skin. It went super powdery afterward, and faded very quickly on me. It came off as a very old lady kind of scent in general, very disappointing after all the great things I heard.
05/03/2016
It smells amazing.. But doesn't last all day.
05/01/2016
Lovely scent. Has a floral scent but warms up to a lovely rich robust scent that lasts throughout the day.
04/30/2016
Such a pretty, feminine and elegant scent...lasted 6hrs..will buy the large bottle
04/06/2016
love this scent already owned it but wanted one for my purse
03/31/2016
The scent smelled great nice and clean.. The only thing is it doesn't last most of the day. So I had to reapply at least once. Other wise its definitely an adult fragrance
03/31/2016
Not a very big fan of this one! It reminded me of my grandma's perfume back in the days.
03/30/2016
In between light and heavy, didn't last all day but very pleasant smell
03/30/2016
I loved the way this perfume smells it has a soft smell.
03/30/2016
Blaise Vole, or Stolen Kiss, is in a word amazing. It's very feminine, and in the middle between light and heavy if not leaning slightly heavy. But not too! It's difficult to describe the feeling of this scent, only to say I can't imagine anyone not feeling beautiful and sexy when wearing it. Before this, I could only stand one perfume, and now this may be my standard.
03/30/2016
Love this scent! It doesn't last all day but I just take my little bottle everywhere I go to reapply. It's very floral and feminine.
03/29/2016
THIS IS SO BEAUTIFUL, I LOVE IT
03/29/2016
I'm not sure what I was expecting, but this just isn't for me. I like my scents sweet and warm most of the time. In the spring and summer I go for something a little lighter, so I thought I'd give this a try. To me it smells like a rich old grandma. The mix of powder and green doesn't suit me. I say green, not floral, because to me it smells like cut grass or something. Lawn clippings and powder.
03/19/2016
I dont know what it is about this scent but i dont like it
03/01/2016
A green lily that is elegant, sexy and unique. This fragrance could be worn year round but I think it is particularly beautiful and unexpected in winter.
02/29/2016
Great fragrance!
02/29/2016
Pleasant, clean and office-friendly. Nothing revelatory here, but it's grown-up.
02/19/2016
honestly I don't love this perfume. I feel like it smells like either soap or a grandma.
02/18/2016
It's definitely not a perfume I would have normally chosen but I'm glad I did.
02/10/2016
Gorgeous, light, airy scent. It's love.
02/09/2016
Very heavy floral scent. Way too strong for me.
02/06/2016
I absolutely love it
02/05/2016
Love, Love, Love it!!!!!
02/05/2016
It's a very pretty, floral scent. It actually reminds me of spring, but a little heavy for everyday.
02/03/2016
VERY woodsy - it's like i got all up in some bark, moss, toad stools, etc. There's something that I like about the scent, but I don't think it's for me.
02/03/2016
Wonderful scent
02/02/2016
Light scent. Wonderful for everyday. Love it
02/02/2016
Awesome scent!
02/02/2016
Feminine and floral, slightly sweet, but with depth.
02/01/2016
It's a fresh scent, very sexy. My husband loves it, definitely want a bottle.
01/30/2016
To sweet and strong for me.
01/23/2016
Although it's a pleasant smell there is a smoky powdery undertone that just rubs my the wrong way. I wish the scentbird three word description would have included "powder" and I would have avoided this one.. Smells better after time though...
01/22/2016
This perfume starts with a blast of the most gorgeous smelled. I was actually enraptured by it. Unfortunately, the fragrance fades just as fast. Gorgeous scent, with no lasting power for me.
01/22/2016
This perfume starts with a blast of the most Lily I have ever smelled. Then it fades..very fast. Gorgeous scent, but doesn't last on my skin. Such a shame..I would have bought it.
01/21/2016
This scent is very powdery and also strong floral undertones. If you like a powdery fragrance, I think that Bvulgari Omnia Cristalline has a more pleasant composition.
01/16/2016
This smells like grass mixed with baby powder and a hint of musk. I don't think it's old lady like others might have said. It's light and would work for workout or for daily wear. You'd have to have some really particular base sent to make this one work for you. I personally am not a fan. It's Cartier, so try it. Personally, I'm using the last of on my solo trip to Turkey where I want to avoid male attention.
01/06/2016
Very "old lady"
12/31/2015
Love this scent for everyday use.
12/30/2015
Way too powdery for me. Gives my husband an instant headache.
12/30/2015
smells very good, has a light smell not too heavy!
12/30/2015
I wanted to try a brand I haven't tried before however I did not realize this perfume has a strong scent of lily. Although I love the appearance of lilies I do not like to smell them. I will pass on purchasing this in the futue but it was nice to try a high end brand perfume!
12/29/2015
DIDN'T LIKE IT SO MUCH
12/26/2015
This scent smells so pretty and feminine. It's unique and doesn't smell like every other scent out there. I love this.
12/21/2015
Very Intriguing. I was skeptical but once it settles on your skin it is beautiful. It is one of those scents you can take a deep breath in and it won't flare up your sinuses. Very fresh.
12/18/2015
Love it! It's soft and beautiful. A great scent to wear to work on a daily basis.
12/08/2015
I love it! It's soft and beautiful, and I am so happy I chose it!
12/06/2015
This was alright. Not my favorite. Strong at first and once it settled it was nice. A bit mature for me though.
12/06/2015
I liked it, just a little too sweet formy taste
12/03/2015
i love this perfume! It's clean yet powdery and warm. It's regal and classy yet works well for everyday. My favorite time of the year to wear this would be spring and summer but it works well in every season. It reminds me a little of my grandmothers favorite perfume, but with a modern subtle twist. I'm very happy to find such a beautiful scent. The name of it translates to stolen kiss. Such a lovely and softly feminine scent.
12/02/2015
MY FAVORITE SCENT EVER.. I bought the gift set soon after my first spray.. It's light and lasts almost all day long..
12/01/2015
Lovely scent. It's very soft and classy!
11/30/2015
Hey nice, light smell. Not overwhelming
11/24/2015
I love this scent! It's light and classy. I just wish it would last a bit longer. Over all it's definitely something I would get in a full size bottle.
11/24/2015
With the initial spray I wasn't sure what to think but once it settled on my skin I loved it.
11/20/2015
I have to admit that I didn't like it at first spray. "Em..I don't know about this." Yet? 20 minutes later, I find myself seduced by this scent. Very feminine, elegant, fresh and sophisticated. I want to put on a cute pair of heels, a floor length dress, diamond earrings and lash extensions with this scent. I love it but it's not my favorite. My heart belongs to Lavanila, Chanel chance and Bvlgari. Then again, that's the point of scentbird...try new things. This first perfume delivery was a win.
11/17/2015
Absolutely delicious.
11/15/2015
This is a very nice scent. Light, feminine and classic. I am going to enjoy adding this one to the mix. :D
11/05/2015
I LOVE THIS SCENT.. My personality to the Letter
10/30/2015
MY FAVORITE EVVVEEERRRRRR!!!!!!!!!
10/30/2015
I love this perfume, it doesn't have lasting power.
10/29/2015
This smells amazing. I've received many compliments on how nice it smells. :-)
10/29/2015
Pretty scent. Doesn't have the lasting power I need.
10/22/2015
Absolutely love this gorgeous scent
10/20/2015
I am obsessed with this scent. Love!
10/20/2015
If it's Cartier, I'm there! This is such a pretty and delicate scent. Definitely on my top 5 list!!
10/16/2015
I love this scent. Too bad it only lasts two hours at most because it is a light scent. It is also a spicy and powdery scent but it smells very nice. I recommend it!
10/11/2015
Soooo soft and pretty. Does not last long tho.
09/30/2015
I love this perfume! Probably my favorite scent I have ever encountered. It's smells good with my body chemistry and lingers longer than most others. However, it is not an overpowering perfume by any means. I don't feel like this one could be over used. If you like crisp clean and floral give this a chance.
09/29/2015
What can I say? Cartier... No other words necessary! Very soft yet aromatic fragrance. LOVE in a spray bottle!
09/27/2015
I love this perfume! It smells amazing! It is strong but not too overpowering where it will give you a headache. I don't find it to be floral but it is fresh and a little powdery. I usually do love more floral scents and even though this isn't floral I find it to be one of my favorites. It has musk in it and a spicy/ peppery scent that you I smell more than any of the other notes and I love it!
09/24/2015
This smelled musky to me at first but after spraying a couple times I didn't smell any musk at all and more of the green notes. It smells good and is light and elegant. I like it!
09/03/2015
Yes! Perfect choice
09/03/2015
Wasn't something I thought I would like by smelling in the bottle. But it is great scent on me. It has a classic, vintage vibe but still is young and fresh.
08/15/2015
Baiser Vole has a distinctive smell that I don't particularly like, but everything about it makes me want to like it. The name, the intriguing bottle, and the long wear...it peeked my interest, but sadly, it doesn't suit me.
08/04/2015
fantastic fragrance. Smells so good and longlasting
08/04/2015
fantastic fragrance. Smells so good and longlasting
08/03/2015
Absolutley beautiful!!
08/03/2015
Absolutley beautiful!!