Bvlgari
Bvlgari Extreme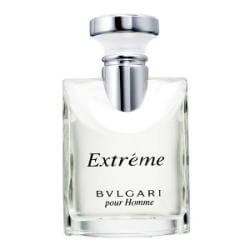 Get a 30-day supply of Bvlgari Extreme
for
$
14.95
Notify me once this scent is available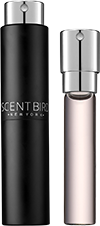 0.27 oz subscription

0.27 oz a la carte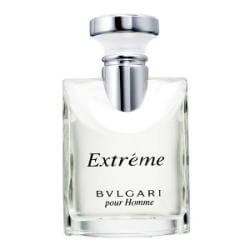 3.4 oz bottle
Share and earn free perfume
Notes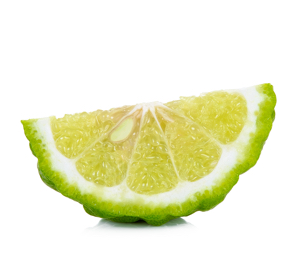 Description
Bvlgari Extreme is a citrus scent with sweet spice undertones that create an elegant confidence. Top notes of pink grapefruit and cactus embellish each other's zesty, green personas while a potent cardamom note rises from the heart. Amber and white freesia over vetiver and woods smooth out the sharp edges.
You may also like
Bvlgari Extreme description
Bvlgari Extreme starts off delightfully with a clever combination of pink grapefruit, cactus, and bergamot for a sweet, spicy, and slightly green/slightly citrus opening.
The pairing of cactus with grapefruit creates a mysterious and compelling beginning – the cactus is spicy/sweet and is an engaging bridge note between the tart grapefruit and sheer, zested bergamot. It's inclusion in the top notes gives Bvlgari Extreme an original profile right from the start, and paves the way for your senses to appreciate the spices in the heart.
Cardamom makes a strong impression as the top notes fade in this fragrance. Its heat comes up right at the top, edging around the sweet, green, milky cactus note. The cactus and cardamom are an incredibly dynamic pair in this fragrance, and one of the main reasons to wear it. And when the pink grapefruit factors in, Bvlgari Extreme manages to make a seriously masculine statement without false bravado. There's a spicy, stylish restraint in this fragrance that exudes an in-control, debonair confidence that elevates the entire composition.
Amber also makes an appearance in the heart of the scent, along with a light white freesia note, and they both complement and polish the fire from the cardamom. The plush velvet edge of the freesia note is just the right tone to highlight both the electric spiciness of the cardamom and the plump, vanilla warmth of amber. By the time the base notes develop, Bvlgari Extreme has settled into a casual, friendly groove with an expectant rhythm to it; like the hush and snap of a brand-new needle dropping on pristine vinyl.
The dry down is a mellow blend of vetiver, benzoin, and woods to smooth out the final act, but they're grace notes. The real attraction of Bvlgari Man Extreme is the cardamom and cactus at the beginning. Sweet, green, spices and plush floral undertones power this fragrance, and its casual elegance and uniqueness will win you over at once.
Read more
Bvlgari Extreme by Bvlgari Reviews
10/19/2017
Pretty generic. Maybe it's just me, but I get a "frat-boy-jerk" vibe from the scent.
10/11/2017
this is my absolute fave !!!!!!
09/28/2017
This is my favorite fragrance out of the dozen or so that I've tried.
09/28/2017
My BF wears this all the time & I love it. Unique sent but not overpowering.
09/23/2017
Very inviting scent. After one smell I was intrigued. It's masculine but not overpowering.
09/03/2017
Great smell, has that manly hint to it but can definitely smell a little fruit at the same time
08/31/2017
This is awesome fragrance that is awesome and will light up the room. Asking , is it you? Yes it is!!!
08/30/2017
Great, clean smell. Would recommend for anyone.
08/17/2017
Initially, I didn't like this scent, but it has grown on me, literally. This scent mixes well with my natural smell. What I like most, is that one spray, right above my chest, last all day long. It's my favorite scent so far.
08/09/2017
Was very surprised how well this scent works when it dries down. Fell in love with the pleasant cedar wood scent it has!
08/05/2017
Probably not something I would have bought in the store but after a few days it grew on me, it's not over powering and stays with me most of the day. Got lot's of compliments.
07/25/2017
I do like the fragrance but the grapefruit seems to over power the tea a bit. In the non Extreme version, Bvlgari Pour Homme Soir it's not as over powering. It's still good overall.
07/18/2017
Very nice cologne, nice smell
07/05/2017
Blah. My husband and I were repelled right away.
06/11/2017
For the first scent of my new subscription....I couldn't be more pleased. Light, fresh, and perfect for summer.
06/10/2017
Smells great. Would highly recommend
06/03/2017
this fragrance is a pretty great smelling cologne but it does have a weird scent after a while that makes me not as excited to wear it. i can also see why it could give a head ache but overall it can be used as a casual cologne or date night but im not too sure if i'd wear this everyday.very citrus like flower like
06/02/2017
This smells really bad. I'm extremely bad at describing the scents but this one is nauseating. A friend described it as almost smelling like cigarettes.
06/02/2017
Too floral and sweet for my taste. Almost smelled like a women's​ perfume.
05/27/2017
it smelt good to a point . but at the same time a little to strong for me ! i will not get it again but is not a bad smell just a smell thats not for me . it smelt good to other when i did wear it ,but it drove my sinuses crazy . for the compliments i did get is why i give it three hearts and for it bothing my sinuse three . if it smelt bad and bothered me it would have gotten a 2 heart but it did not .
05/26/2017
Pretty average cologne for me. Crisp scent has notes of pepper and smoke and actually smells like 2nd hand cigarette smoke on my arms. After an hour or so, I feel the scent calms down but I won't be getting it again.
05/23/2017
Nice to go out with
05/11/2017
Good, clean smell
05/10/2017
I love the crisp smell of Bulgari Extréme, I had a great deal of compliments. I just may queue it up for the rest of the year! Lol....just kidding Scentbird!
05/09/2017
My husband hated it. So did I. It smelled like a bug spray. Made my stomach turn. I had ordered it for him but it was a no go.
04/30/2017
Starts off a bit strong, but mellows out and smells great as the day progresses.
04/29/2017
This is not the scent I got and I didn't like what I got.
04/26/2017
its a no for me. makes me sick to even smell it.
03/05/2017
Ahhhhmazing ! I absolutely LOVE this fragrance!❤❤
03/05/2017
nice fragrance
03/03/2017
Never had it but I'm sure it's good
02/27/2017
Nice smell, doesn't last that long.
02/24/2017
smells awesome super citrus!! had to buy a full-size bottle after having this sample.
02/23/2017
My husband thought it smelled like dirt. I thought it smelled girly.
02/04/2017
Nice scent... Good compliments from the ladies.
02/04/2017
When allowed to mellow the overpowering start to the cologne finished well, but could not get over the strong start and I don't know if people are smelling me the same way. Not a favorite of mine but I don't hate it
02/03/2017
Great scent, enjoyed trying something new, great masculine scent, great add to the rotation.
02/03/2017
very very nice!
02/03/2017
Initially the scent was a good compliment to my skin. Unfortunately the fragrance is not long lasting. Smells excellent but doesn't last
02/01/2017
I love this scent. It is sexy and sensual and fresh.
01/30/2017
It's ok but not sure if it's a cologne
01/29/2017
Love love this smell. But most important it passed the wife test. She loves this!
01/14/2017
Citrusy and woody. Fresh, clean smell - like eating an orange after a rainshower in a pine forest.
01/12/2017
I initially liked this scent a lot. After about a week I am really honestly sick of it. It's a very awkward smell, kind of smells like a masculine Charlie type smell my grandma would wear.
01/07/2017
Did not like this very much. Wasn't at all what I expected.
01/03/2017
Well I'm getting mine replaced I'm hoping you won't have the same mistake/problem that I had the first time of overall when I did get to use this cologne the first time I used it before it all drained out it was an awesome smile I will recommend this product to anybody
01/03/2017
Very nice, clean scent.
01/03/2017
I have sent them a email because the one I got drain overnight and I was not able to use it for my cologne and they've yet to tell me anything about being able to replace it I think about canceling my orders with them because I don't think it's right if I'm going to get something from them and not be able to use it and then them not replacing it I would give them zero hearts but it doesn't give you that option I'm really pissed off that they refuse do anything about give me a new cologne or anything for their fuck up and they refused to replace it so they lost me as a customer
01/02/2017
Very nice easy to wear
12/31/2016
Lemony at first. Then settles into a nice woody, leathery, and warmer scent.
12/30/2016
Not a very manly smell.
12/26/2016
The deeper darker side of cologne. More of a night out.
12/07/2016
https://cdn.scentbird.com/assets/subscription/close-0b6f2461aea8377e767e942f1503c7b3.svg
12/07/2016
Light, fresh scent
12/05/2016
It's very my style & on point!
12/04/2016
Love love love
12/03/2016
Personally I enjoy the attention it brings and the long lasting scent.
12/02/2016
Smokey but clean but didn't last long.
12/02/2016
Scent was nice normal BVLGARI, but didn't last long not what I am use too from BVLGARI.
12/01/2016
Smellls amazing for a day trip or night on the town
11/29/2016
Will you please let me order some damn cologne
11/15/2016
I really like the scent.
11/03/2016
Very light and sugary my daughter said it smelled like cookies
11/02/2016
One of the best!
11/02/2016
great sent for men love it
11/01/2016
I love this scent. Fresh and clean.
11/01/2016
Smelled too smoky for my liking.
10/30/2016
I love this scent I always get complaints
10/29/2016
It was not one i liked.
10/20/2016
Great scent for dates
10/12/2016
Excellent fragrance but not long lasting. I put it on in the morning and by lunch it is so light you don't notice it...and neither does anyone else. Would be perfect for date night as Scent Bird suggests.
10/12/2016
At first I got a sense as if this scent was dusty and old. I've never smelled the actual cologne outside of repackaging by Scentbird. After about 5 minutes I smell a nice light fresh and citrus-y scent which I like. But I like cologne that has more power and longer lasting. Others have complimented me on it and because of this I will give 2 out of 5.
10/07/2016
It smells fresh an clean but a bit strong.
10/07/2016
Smell does not last, have to respray every few hours. Very unhappy with this cologne.
09/19/2016
I want to try it
09/12/2016
Great scent..it's perfect for all occasions
09/07/2016
Awesome mingle fragrance
09/04/2016
This Cologne is a perfect blend... if you're going to work, going out on the town, or just spending time with your friends... it it exactly what I was looking for. The site is very helpful in searching for what I am looking forward to sampling before I purchase it.. very, prompt and courteous service, going the extra mile to ensure my satisfaction... I recommend this site to anyone that is looking to purchase a new cologne/perfume, but worried if you'd like it... So sample it at a fraction of the price!!! Thank you,
09/04/2016
Awesome cologne
09/03/2016
It had a nice scent. But smelt like a cologne more suited for someone in their 40s, not 20s.
09/02/2016
Very nice scent but didn't stay with you long enough for me. Good for going out but not an all day wear.
09/01/2016
Subtle and fresh. Liked it a lot
08/31/2016
Great deal, compact colognes that smell great and can take anywhere.
08/30/2016
Horrible smell! Avoid this cologne.
08/30/2016
It was ok nothing special
08/29/2016
My favorite cologne ever made!
08/08/2016
I love it and my wife too. Fresh clean scent for any occasion.
08/02/2016
It's not bad, too much of cedar-ish/wood scent for my taste.
08/02/2016
LOve It!!!!!!!!!!!!!!!!!!thank you Scentbird
08/01/2016
Clean scent, many compliments.
08/01/2016
This scent was recommended by scentbird according to what scent I enjoy. This couldn't be the furthest from what I like. It's too strong, and not gentle scent at all. Gives me headaches.
08/01/2016
Liked it pretty well!
08/01/2016
Well it was to my liking, but it really didn't last long through out the day.Wish it would haved.
07/31/2016
It smells good, but it doesn't last long to me. The cent is undesirable in a good way.
07/29/2016
Very nice and great smell!!!!!!!!!!!
07/13/2016
The first couple of days I tried it on, I wasn't to thrilled about it but after three or four days of trying it I really started to like the scent and especially my wife, she loves how I smell. I would definitely recommend this fragrance.
07/07/2016
Very nice scent, though it didn't last a long as I would've liked throughout the day.
07/06/2016
One of my least favorite scents to date.
07/05/2016
A very nice, fresh smelling citrus scent. The longevity of the scent is very nice. A must try!
07/03/2016
Beautiful balance of freshness and seductiveness.
07/02/2016
Great smell and scent lasts a long time.
07/02/2016
Great smell. Lasts long. Satisfied 💯
07/02/2016
I love the scent. I get compliments almost every time I wear it ❤️
07/02/2016
This cologne had a good scent but weak projection and longevity.
07/01/2016
Excellent scent! Clean but spicey notes! Love it!
05/29/2016
Like it, it's a bit citrusy but over all it's great for a fresh scent after the gym or simply to feel fresh during the day Scent doesn't last that long but its great at beginning
05/05/2016
It smells like my ex boyfriend.
04/29/2016
its a good scent ! but its not for me. its a light scent i think i can smell it but nobody told me anything.
04/29/2016
I haven't gotten it yet
04/06/2016
Light and not long-lasting but pleasant and easy enough for everyday use.
02/29/2016
I LOVE IT!!!!! it smells soooooooo gooooood
12/30/2015
It's a nice clean scent. There are others I like more, but this is quite nice.
12/30/2015
Very Light fragrance.
12/29/2015
This is an incredible scent...highly recommended.....
12/29/2015
I Love this one. Definitely one ai'd like to purchase!!
12/08/2015
Loved it. Would bathe in it.
12/04/2015
its smells refreshing
11/30/2015
I love it. It was perfect for me. Not to soft, but not overbearing and it all commands attention when I enter the room.
11/28/2015
This one is great. And long lasting
10/30/2015
Not a big fan of the citrus.
10/30/2015
I could smell the wood notes and a few older guys complimented me on it. Although I didn't like the smell when I was sweating.
10/16/2015
I like the top notes, they are bright and spicy, and invigorating. A classic masculine that almost sparkles upon impact. The middle feels mature and calm yet still surprisingly complicated. The base and dry down however, were a little disappointing. One dimensional woodiness that left wishing for the freshness to return. Overall, I liked it, but I'm not in love.
10/06/2015
Sweet and citrus smell, perhaps a bit too sweet for me. I don't smell the wood notes. Nice but not ready to repeat.
10/06/2015
Smokey, Classy and some nice tea notes. Luv it!
09/30/2015
My first scentbird scent, and so far so good. My girlfriend thinks it smells nice, so 5 stars!