(MALIN+GOETZ)
Dark Rum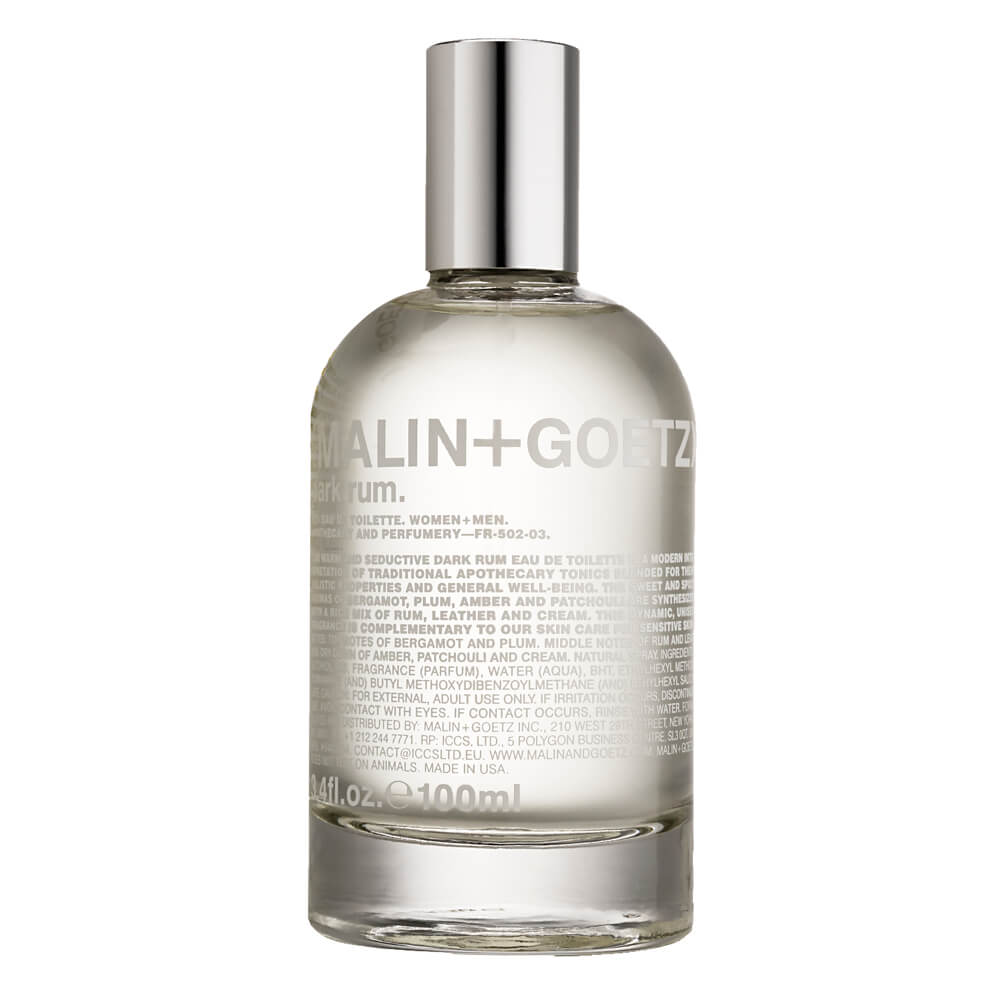 Get a 30-day supply of Dark Rum
for
$
14.95
Notify me once this scent is available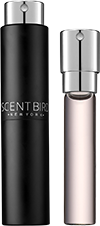 0.27 oz subscription

0.27 oz a la carte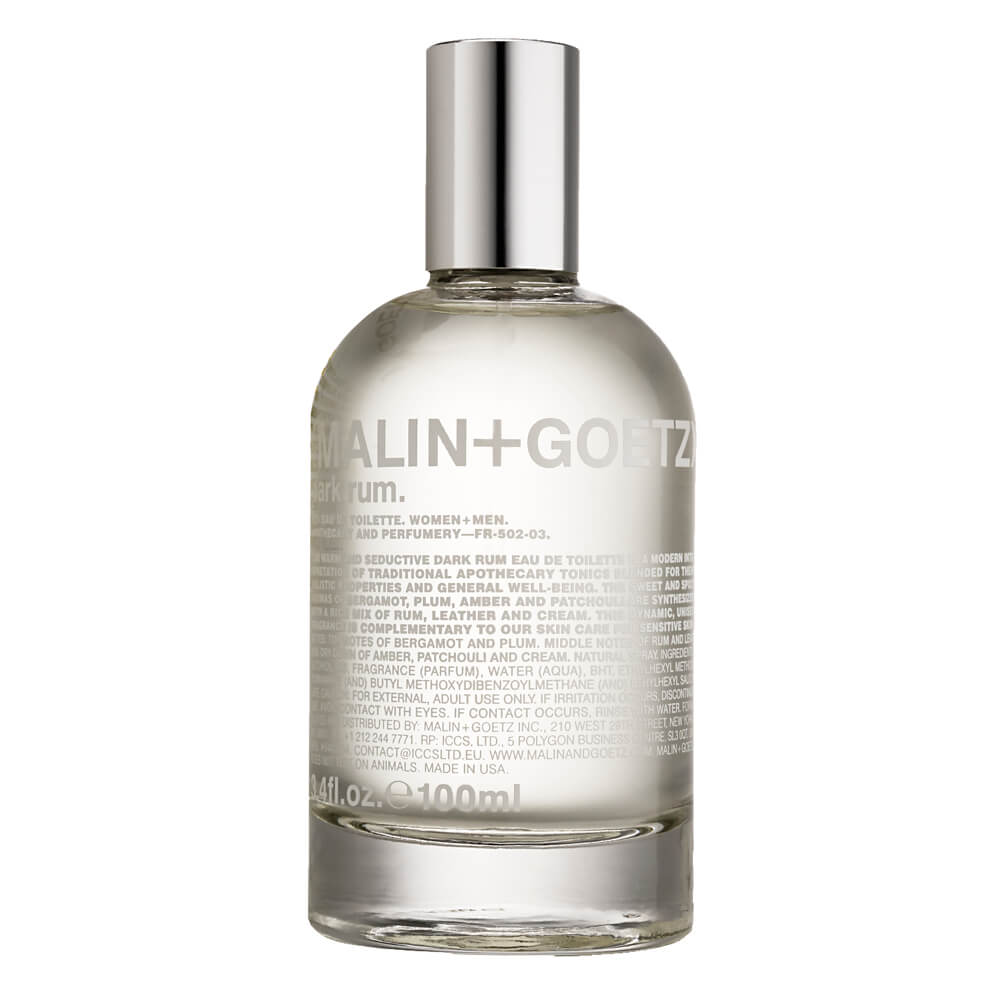 3.4 oz bottle
Share and earn free perfume
Notes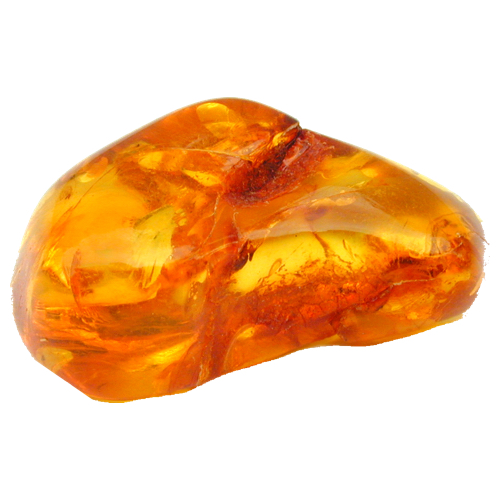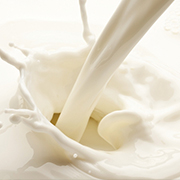 Description
(Malin + Goetz) Dark Rum is a sophisticated and daring scent featuring zesty bergamot and plush plum leading into polished leather and lightly spiced rum notes. Dark Rum is the ultimate in nonchalance and refinement throughout its evolution - the final addition to a detailed, tailored profile.
You may also like
Dark Rum description
Leave it to skincare titans (Malin + Goetz) to create a rum-based scent that is fresh, clean and approachable. There aren't any pirates within 100 yards of this fragrance, and instead we get James Bond in a tuxedo. (Malin + Goetz) have swapped swarthiness for sophistication with Dark Rum, and it's much better for it.
The perfume starts with a pop of bitter bergamot and plum that fade quickly into the heart of rum and leather accords.
And the heart is where Dark Rum shows its sophisticated edge. There's more of the barbershop than the barrelhouse in this perfume. Both the rum and leather are polished and new; the liquor is not laid on too thick, or with tablespoons of sugar dumped on top. The leather smells shiny, tailored and unworn.
Dark Rum is also unique in that the leather note is the stronger of the two. The rum accord darts around the periphery in a dusting of light, rounded spice that's amplified by the plum in the top notes. And after a few minutes, the bergamot and leather bind together and create an almost soap-like facet, that only lends more clean-cut energy to the heart of this fragrance. Everything about Dark Rum is in fact, light, carefully constructed and elegant. The only darkness might be from James Bond turning the light off in his personal, top-shelf liquor library.
The dry down is where Dark Rum gets a little roughed-up, as a sharp, herbal patchouli note springs out from behind the smooth, bespoke leather. The brand-new leather accord and spiky patchouli note square off for a few moments, but in the end, the unflappable equilibrium returns as amber and a milk accord (!) arrive to resolve the friction. Dark Rum is the ultimate in nonchalance and refinement throughout its evolution. If you think all rum scents are about crossed swords and sloshing kegs, this scent will cure you of your outdated ideas.
So whether you're a top-secret international spy, (or just often taken for one because of your personal style), Dark Rum is the final addition to a detailed, custom-tailored profile. You'll save the day either way.
Read more
Dark Rum by (MALIN+GOETZ) Reviews
11/21/2017
I picked this scent based on its shared similarities to other scents I love (I.e. Tom Ford Black Orchid), but this smells nothing along those lines. This scent is not for a woman in her early 30s.
11/21/2017
I was very intrigued by the notes that this scent had to offer. However when I tried it, it didn't live up to what I expected. It smells nice but doesn't last very long. This would be a pass for me.
11/20/2017
This scent is one of my favorites. I love Tom Fords Black Orchid and tried this one based on the similarities. This is one of my go to fragrances!
11/20/2017
Yale's! This is the perfect date night scent! I love how unique this smell is. It's nothing like I've smelled before. I definitely wouldn't say it's manly at all, it's more sensuous. The rum is there and so is the leather, but the other scents combined makes this perfume the perfect little mystery! I wish I had a big bottle of this! I will be buying one! Don't pass up on this scent!
11/20/2017
Delish. Enjoyed the moment of first scent.
11/17/2017
This is also one of my favorite every one I work with seem to like it's as well as I Get compliments on it . And the notes go well with one an other
11/16/2017
This has been my favorite fragrance from Scentbird so far
11/15/2017
It's not my favorite. It is more masculine of a scent than I was expecting.
11/14/2017
THIS!! HERE!! I fell in love with it as soon as I opened the package. I love deep dark smells on me, even more that its colder. It last all day without reapplying. If I spray it on my scarf or jacket there is no need to reapply until after I wash it.
11/14/2017
Great travel scent
11/13/2017
its hard to find a scent that stays with you all day that isn't heavy. This is light like a summer scent but works well in the fall as well. If I didn't need another reminder that it was good the sweater I was wearing with it on there "mysteriously disappeared" and ended up in my girlfriend's closet.
11/11/2017
Never in my life have I received more compliments in regards to my scent. I almost don't want to pick another cologne. Another poster, Justin, said it's perfect for colder months. I agree 100% percent! This is going to be one of my new winter favorites.
11/08/2017
I love love love this it's my absolute favorite
11/06/2017
This is one of my favorites that I've ordered. It's such a warm cologne that lasts and you only need a spray of it. Definitely recommend it.
11/06/2017
This is an awesome fragrance. I've been told it has an essence of hair grease. Similar to a "Blue Magic" hair grease - never in negative criticism however. This is a fragrance that I will purchase in time and wear in the colder months. Even safe enough for the warmer months. It's very sweet - a sweet dark rum with vanilla and an apple. Just one Apple. Definitely worth it.
11/05/2017
This is such a beautiful scent. I can smell each of the notes, which is amazing. As the name suggests, it is a boozy fragrance. Nice for fall. However, it leans too masculine for my personal preference, but I would recommend this fragrance.
11/04/2017
I'm going to be honest, my experience with this fragrance was pretty good especially when it hit that woody leathery note. women really liked it...
11/03/2017
Super love the soft but,grow man feel about it,it's a head turner to!
11/03/2017
I absolutely enjoy this fragrance, a bit fruity but dark and slightly boozy. It really cuts through the cold weather, and has a pleasent presence. Projection is 10/10 for the first few hours, but slowly begins to fade to a skin scent in my opinion. That being said I would still get this scent again, and recommend it for anyone.
11/02/2017
This is the best smelling colonge I have ever worn!
11/02/2017
Today is the first day for me using this brand. And I must say, I have had quite a few comments about it. My wife doesn't like it though. Which is a shame because I really like it. I usually go for the more citrus approach. But this has a more elegant, sophisticated smell. Not the type of smell you'd expect from a truck driver. Though I am still trying to figure out what notes are what, even with a stuffy nose, I can still smell it like it was freshly sprayed 6 hrs ago. The wife hates it because it lingers like Joop. Though I don't think so. All in all, 5 out of 5.
11/02/2017
Love this scent. Warm, but not heavy or overwhelming. The smell reminds me of sitting in an comfy leather chair in my favorite coffee shop. My only complaint is that it fades a little quickly, but it smells so good that I can't even be mad.
11/02/2017
Great Cologne, the smell is very soft but does the job. I think I will select something stronger next time.
10/31/2017
I actually like this, but I'm not over the moon for it at all. I'm hunting for really good fall/winter scents, and based on the notes described I had high hopes. This is WAY more fresh than it is woody. It's very clean and bright, actually verging on "fabric softener." I would spray this on in a transitional month before the cold, or lightly before going to the gym. Would not wear it for evening or date night. Nice one to try out, but not special enough to add to a permanent collection.
10/31/2017
Smells so good - just wish the scent would last longer. I've already added this back in my queue for next month, this scent will be in regular rotation for me.
10/31/2017
Great smelling cologne, one of my favorite scents that I will purchase a bottle of.
10/31/2017
Just simply amazing!!! I love the fresh scent of this fragrance. Very smooth and sexy.
10/30/2017
Beautiful smell - a touch more masculine then I normally like, but I look forward to trying it for the month. The smell is not overpowering, but it has the woodsy with a little spice of a smell then I generally love. This was my first scent, and I am pleasantly happy about the first go!
10/30/2017
By far the best cologne I have ever smelled in my life. My girlfriend and her friends love it.
10/30/2017
At first I though it was more floral than I expected, but once it settled on my skin I liked it a lot. Subtle scent, and doesn't last too long.
10/29/2017
Slightly strong pepper scent but the dry down is clean masculine scent. I do like it but not in love.
10/28/2017
I really like this... except that it doesn't seem to develop a complexity like many other perfumes I love, and it doesn't last very long.
10/28/2017
It's Dark, sweet, and a little spicey. Perfect for date night and just a casual day at the office.
10/28/2017
Strong, rich, dark, sexy but masculine. Great for Fall!
10/28/2017
Dark Rum took me by surprise with its mysterious sent. It really does make you think of that Dark Rum, expensive leather, wealth and status. At first, it smelled very masculine. Kinda like a sexy, wealthy and sophisticated man. But I've been using it here and there and I actually love it for me. It makes me feel and smell deep, dark, sensual, and mysterious. I wear black clothing all the time so this really did work well. Normally I prefer lighter, fruity scents but this one grew on me quickly.
10/28/2017
Was very impressed with this cologne through the entire process of the different notes becoming more pronounced. It's sutle and that's good especially for the work place.
10/28/2017
I love how soft it is. Not too strong and over powering. Good for day time. Description is very accurate. If you're not into florals this one is for you.
10/28/2017
It smelled like the description described, but for me the smell was too faint. I put on more, and it made no significant difference. I would have gave it a 4 stars, but what's a fragrance if even you can't smell it most of the times?
10/27/2017
This one smells good, but is not remarkable to me. Also, it doesn't last.
10/27/2017
First scent! Wow! The bergamot and the rum pair really well together. I was disappointed that this is an Eau de Toilette. Scentbird, being a scent company, should have a more clear indicator wether or not a scent is an Eau de Parfum or an Eau de Toilette. EDT's are water based, do not last long enough to combine with your natural oils, and are considered in many industries to be inferior to oil based EDP's (perfume). At first I was also disappointed that this scent was too feminine. But the subtle leather finish really rounds off the bouquet into something fantastic and it's a clean, yet woody and spicy fragrance that i'm happy to have for the start of autumn. Great scent!
10/26/2017
I picked this scent bc I LOVE this frangrance in Malin+Goetz candle. However it's doesnt transfer the same scent in a perfume form. It's not a bad smell but a little to masculine for my liking. With that sad, if your in the market for the perfect candle.. buy this scent!
10/25/2017
Great fresh scent. Like others say, it doesn't last too long but when it's there it's great.
10/23/2017
This is my absolute favorite scent! It is mysterious and sexy and unique!
10/22/2017
I like it just doesn't smell that great on me. Love the smell in bottle.
10/20/2017
Oh my god. I literally just got off a 12 hour shift at 10 from the hospital and came home to this and a perfume from my fiancé. Let me just tell you guys how happy I am. I literally smelled these wonderful scents as soon as I opened it up. It's so fresh that I felt like I was about to hit the clubs. It's one of the best ones I've gotten so far....!!!! Definitely going to pick up a bottle of this here soon
10/17/2017
I am obsessed with this. However a full size is insanely expensive (150 dollars on Malin + Goetz's website). It wears beautifully and toes the line between feminine and masculine with plum, vanilla and tobacco/leather notes. It's perfect for fall and I enjoyed wearing it in the summer as well on cool nights.
10/16/2017
NOT HAPPY WITH THIS COLOGNE AT ALL. IT IS VERY FEMININE, I THOUGHT IT WAS PERFUME.
10/13/2017
Very sexy scent with a twist!
10/12/2017
It smells nice but lasts maybe 40 minutes. Its good for after the shower right before you have sex.
10/10/2017
This is my favorite!! My husband absolutely loves this scent on me. it doesn't last as long as I would like it to, but it is a great smelling perfume.
10/10/2017
The scent is very strong in very a masculine sort of way. I figured as much since one of the notes is leather but i said hey let me give it a try. Sorry to say its not for me.
10/09/2017
This was my first fragrance and so far my favorite. I LOVE it!
10/07/2017
I love this perfume. I feel powerful, sophisticated, and beautiful when wearing it. When you first put it on you smell the leather and after it blends with your natural oils the plum notes come out. It smells amazing.
10/06/2017
Beautiful scent, the rum and plum play well together, and the leather is prominent but not overpowering as well. Doesn't last as long as I would like.
10/06/2017
Clean smell, not masculine enough for my taste and few complements no a good pantie dropper though. I'll try deeper in Fall season for possible different grab.
10/05/2017
Third shipment from ScentBird, and I really like it. Unisex, but still manly. Doesn't project too much and definitely doesn't last long enough, but great scent.
10/04/2017
smells so good!!!!
10/04/2017
Didn't really like this one. It has a sort of clean smell, like old spice soap or something. Not my type of scent. If you like clean scents, you'd probably like it.
10/03/2017
Very nice cologne. Just got it last night wore it all day at work today. It is a sweet cologne that definitely smells like rum also smells elegant like expensive cologne. Definitely a fine choice you won't go wrong with dark rum
10/03/2017
Decent cologne; a bit too feminine for my taste.
10/02/2017
Love the smell of this! Wish it lasted a bit longer... got multiple compliments early in the eve, had to refresh with extra sprays as evening went on. Love it's smell... Definately sporty, yet classy at the same time... A definate what I consider a "yacht club" scent.
10/02/2017
A pretty good scent. The grape notes pop out most to me and it has a very sweet smell to me. Not to over powering either.
09/29/2017
My fiancé got this scent for September and OMG I am in Love all over again. I love this scent on her. It's very masculine to me and the combination of that and her natural scent is intoxicating 😍❤️😍❤️
09/29/2017
Very sweet. Just a little on the feminine side, I think. Doesn't last long, either. But it wasn't horrible.
09/28/2017
This does NOT give me the old lady vibe. It's dark and complex, and I love the way the scent shifts on my skin as time goes on. It's pleasantly strong and long-lasting...one spritz inside my wrist two hours ago, and I'm still getting whiffs. It started out a bit masculine, but the dry down is lovely, and you really get the cream and leather scent. I've been exploring heavier scents lately, and this did not disappoint. Reminds me nothing of my grandma! I'm thinking old time saloon, creaking leather boots, and the sweetness of rum. This is the perfect fall scent for my cowgirl chic vibe.
09/28/2017
Smells like old lady
09/28/2017
It really does smell like Grandma. I tried and my FH tried it and it was bad on both of us. It really does have a Chanel No. 5 with something else smell. Just not what i was expecting.
09/26/2017
Not good - this literally smells like my grandma. Not masculine at all.....very disappointing...now I am out of cologne to use this month!
09/26/2017
I liked it.....but I have to say it smelled alittle metallic like a cheap cologne
09/25/2017
Great fragrance. Only downside was that it wore out quickly, like some of the other reviews stated, within an hour or two. A great fragrance nonetheless.
09/20/2017
I like it, because it is unusual and interesting. The main notes are good. But just to let you know, it is sweet.
09/17/2017
Rum scent comes through but not longevity
09/17/2017
The rum scent comes through, but no longevity.
09/12/2017
Shit smells bomb. Can't wait for next month
09/11/2017
I ordered this for myself, but its too masculine for me. I gave it to my husband and he smells like leather and cream. This is the second bottle i ordered of it. I never want him to run out of it!
09/09/2017
I love this scent. It's fruity and manly at the same time (or maybe I'm not that manly). I don't wear it to work, but I spritz my bedding with it. Something about waking to this scent triggers confidence. Good stuff.
09/08/2017
My first thoughts on this fragrance were nice and sweet, although weak in its silage. My wife said that it smelled like bug spray, but that it dried down to a mediocre scent. My final thoughts are that this one is just too sweet to be alluring on any level.
09/08/2017
Loved this although it is toilette not parfum. Strong and woodsy, masculine
09/07/2017
I absolutely love this scent! I usually don't go for unisex or even remotely masculine scents... but OMG , this perfume is anazing, I can't get enough of it. The downside is that it doesn't last long at all, an hour or two, and you'll have to reapply. Wish they could fix that, because this seriously smells sooooo damn good! ♡♡♡♡♡
09/06/2017
I like the smell okay, but it smells more on the manly side than unisex. Smells a lot like joop.
09/05/2017
Great scent, just not great for me. Unique and sweet, barely masculine. My woman didn't like it on me. Also when i get a unisex scent that I think is to feminine I usually pass out on to her, this time she thought it too manly. Lastly, I smoke, which kills the silage and longevity on this juice. It'll fit somebody perfectly.
09/05/2017
Love this fragrance but it's definitely a masculine scent. Coming from me that says a lot because I typically love the more unisex scents. It is amazing and has a sensual quality to it. It smells to me like a toned down " Joop". Very nice for a man.
09/05/2017
Very nice, but very masculine for a unisex fragrance. I gave it to my son and he really likes it.
09/05/2017
IT'S A VERY WARM AND SPICY SCENT. GREAT FOR FALL. SMELLS A LITTLE MANLY BUT ALSO FEMININE. I TRULY DID ENJOY THIS SCENT.
09/05/2017
First purchase with Scentbird and I fell IN LOVE- had to order this fragrance in the full size bottle 💜💜💜
09/01/2017
Very masculine. I liked the smell, but I gave it to my son to wear because it was too manly for me.
08/31/2017
The leather OVERPOWERS the rest - This is a mans fragrance
08/31/2017
This fragrance first reminded me of laundry detergent or fabric softener. Once settled on the skin it smells much better and more sophisticated. Definitely a unique smell though.
08/30/2017
I loved this scent, however it didn't last long on me.
08/29/2017
Very good smell, not very strong, but still one of my favorite
08/29/2017
It wasn't that's Strong It was very light smile
08/28/2017
Not a good scent. Was reading reviews and saw that several people like it. I guess it wasn't for me. It seemed more like a perfume for an old lady more than a cologne for a guy.
08/24/2017
I gave this away, it wasn't a complimenting scent. It's not even for a mature generation, it just causes headaches
08/24/2017
This is pretty much the perfect fragrance for year round wear. It is spicy enough to be a winter cologne but it also has just the right amount of a sweet fruity undertone to make it through the summer months. It is too expensive to be an everyday wear but if you are looking for a go to scent for those especially close occasions, this one will be flattering in any situation. And it's absolutely such a distinct fragrance that it is guaranteed to pair a scent to a memory just as intoxicating as Dark Rum itself. This cologne was custom made for intimate conversations. My only complaint about this fragrance is that, like love, the desire for more always outlasts the experience. But then again, maybe that is true love in its most simplistic form...
08/23/2017
Super sexy scent. Very spicy at first, then it settles into seduction, warm and dangerous..... Love it, will be buying full bottle.
08/21/2017
Smells amazing....but it doesn't last very long...very masculine. This is perfect for winter time
08/20/2017
This is by far one of my favorites!!
08/19/2017
I love the smell and it lasts all day on me not to mention the size of the cologne is very good....
08/15/2017
Like the rum smell
08/15/2017
At first sniff, enjoy soulful deep notes of a spiced rum balanced with the slightly sweet plum and a creamy smoky vanilla. I did not read that it was unisex when choosing this scent. No matter. I LOVE IT, and want the full size. I would wear this any time of year - at night, especially when feeling sexy, mysterious and fierce is on the evening's docket.
08/13/2017
Dark, sexy smell... a little masculine but didn't realize it was unisex until I read some of the other reviews. It will smell great on my husband! He loves it on me, too.
08/10/2017
Do not like this fragrance at all. It is very strong when first applied. I have to hold my breath. Disappears fast which is great because of how much I don't like it.
08/09/2017
Not my favorite a little heavy boyish scent for me.
08/08/2017
Very masculine scent, but not overpowering. Highly recommend.
08/08/2017
I was afraid this would smell like perfume, but it has quite a masculine scent. I definitely recommend.
08/08/2017
In love with it ! A must try
08/07/2017
I'm a huge gardenia lover & love Michael Kors line & others that have similar notes, however this one is my favorite now, and it smells nothing like my usual go to. ❤️❤️❤️ This one!
08/07/2017
Loved this one sweet and spicy.
08/06/2017
The fragrance is very clean with mild spices. I like it a lot, but like others who have mentioned about it not lasting long, I have noticed the same thing. It's not over powering, but it does go away too fast.
08/05/2017
well, I wasn't really a fan of this one, very potent, spicy and masculine..in my opinion .
08/05/2017
Smell was weak and didn't last long ....most likely never again.
08/05/2017
Amazingly fresh perfume! Starts out like fresh laundry and dries down to a sweet leathery finish. The only downside is that it does not last long. I like wearing this on the weekends but it's sexy enough for a date night downtown.
08/05/2017
This is a guy scent for sure. It smells nice on my husband, is kind of strong so one spray is more than enough. Smells more like leather and less of the rum though.
08/05/2017
This scent is ok. Not one of my favorites and probably would not get it again.
08/05/2017
Smells great for a few minutes, but the scent vanished way quicker that I expected. I was left feeling like I had no perfume on at all. Disappointed.
08/03/2017
It was okay. A different scent than I'm used to. Probably wouldn't try it again.
08/02/2017
This is not at all what I thought it would be. The smell is a bit hard to describe although I do not think it fits me at all.
08/02/2017
I love the scent of this cologne. It is by far my favorite that I've received.
08/02/2017
My favorite so far. A great classic smell.
08/01/2017
My cologne Dark Rum. Very classy smell. I love it. You should give it a try. You will not regret it.
08/01/2017
Leathery awesomeness!!
08/01/2017
I wasn't sure how I would like this scent but it's amazing. I saw Ashley from YouTube do a review on this one and she was right. It's a perfect fall scent but also go for night. The rum scent itsn't over powering. Really nice leather touch reminds me of licorice and I don't like the candy lol
07/30/2017
Fresh, clean, yet masculine without being too heavy. Carries nicely through the day without fading quickly.
07/29/2017
Warm yet mildly refreshing, a great late summer, early fall scent. Not chemically, synthetic smelling as the name might lead you to believe.
07/29/2017
Love the sweet smell with a hint of musk. Could possibly use a little more musky scent for the men. But definitely one of my favorite unisex cologne ever. If you like commodity gold you'll like this
07/27/2017
This one has a mild woody scent that is almost sweet. Definitely not overpowering.
07/26/2017
At first spray I wasn't impressed but after letting it settle I really liked it. One of my favorites for sure.
07/26/2017
This is the best scent I have tried here on this site.
07/26/2017
Definitely a more masculine scent, but I knew that going in. Turns out to be one of my favorites.
07/26/2017
My first Scentbird and I love it! The combination of Rum, plum, and leather is for perfect date night even though I wear it to my desk job. I will have to get a full sized bottle.
07/24/2017
Very true to the name .. Can smell the Rum !
07/24/2017
This is probably my favorite scent I have tried from this site. You really only need to use it sparingly since it is so strong, and it lasts well. It is spicy and sexy, and I get so many compliments when I wear this out at night. I will honestly buy the full-size once I run out of some of my other perfumes.
07/22/2017
Favorite smell ever. Smells sexy, milky and like rum.
07/16/2017
This was my first delivery since signing up. Im not a cologne connoisseur, But this smells really good. I only used one spray and that lasted around 12+ hrs, Not sure if it could be a daily cologne but i will be buying a bottle for special occasions.
07/13/2017
it smells great. My girl friend loves it. but the dark rum fades away too fast For me. Still a great Cologne. Can't wait to try next one.
07/10/2017
Was a little too heavy for me. I forgot to choose my selection and was sent this automatically. I am going to be more diligent about making sure I choose soon enough.
07/10/2017
Love this scent! I thought it was a little heavy for summer, but would make a great fall or winter fragrance. I have gotten so many compliments on this!
07/05/2017
I love this! I tend toward more masculine scents, and this is perfect. Has enough of the floral hint to keep it from being too masculine. The combination of wood, leather and rum is genius!
07/02/2017
Absolutely love this, dark & sultry. Intoxicating!
07/01/2017
It smelled dark and sultry when I sprayed it on. I liked the way it smelled when I sprayed it on my clothes so it didnt break down with my personal body chemistry. It smells more like a male scent however. I loved it but not on women.
07/01/2017
I love this fragrance! It's a mild smell but smells great. It reminds me of rum, leather, and berries mixed together. I know weird combination but the smell is amazing!
06/29/2017
Great smell. I enjoyed that it's not too overwhelming. Fades out just enough for me.
06/29/2017
Rated this a three for women - definitely a dude scent that I would give a 5 to.
06/28/2017
I really enjoyed this scent, although not at first smell. This didn't standout to me until I actually tried it on. It's an excellent fresh and clean daytime scent. I LOVE putting this on after a shower on warm summer afternoons. It's very casual and non intrusive, and sort of reminds me of fresh linens? Clean and sweet smelling. Will buy this again.
06/27/2017
This perfume smells fantastic. It has a nice clean scent that last for a long time.
06/27/2017
Put it on about 20 minutes ago and just a tiny spritz put forth a lot of fragrance, although it is lightening up. It's clean, and a bit citrusy, with a slight powdery undertone. While I prefer more masculine fragrances, this is more masculine than uni-sex in my opinion. However I think it might smell great on my son. So he has a new fragrance! Win/win!
06/27/2017
Very nice. I wouldn't classify it as unisex but it smells very nice. I love it
06/27/2017
I agree with Barry's list below, pretty much dead on. If the sent lasted longer/stronger I would give it 5 hearts and purchase a bottle as well.
06/27/2017
Too manly for me.
06/26/2017
Definitely a disappointment. All I get out of this is fabric softener. I smell like a dryer sheet.
06/25/2017
It was a very strong man order
06/24/2017
Definitely masculine, but softens up. It's fresh and clean. Not super heavy. Perfect a date night.
06/23/2017
I forgot to add, this scent has a similar smell to Issey Miyake Nuit D'Issey.
06/22/2017
Warm and sophisticated. Although it is regarded as unisex, it is definitely more on the masculine side. I can't pin point it, but its musk notes do have a nostalgic feel that seems to immediately place it in a classic category. It tends to be subtle after wearing it for a few hours. I received it in June, however, to me it seems more like a fall fragrance and that's when I will most likely pull it out, apply it a few more times, and consider the 3.4 oz bottle.
06/21/2017
Really like this. The rum and fruit notes are balanced enough so its masculine enough. In my estimation for a unisex fragrance it tends a little towards the masculine range, but its just quite nice. Would work fairly well as a year round fragrance as it doesn't smell overly seasonal. It lasts a decent amount of time, but its oomph fades fairly quickly which is a good thing as it won't overpower anyone near you either.
06/21/2017
It's so subtlety sensual! I love it. It almost smells like downy fabric softener with rum mixed into it. So light and clean.
06/21/2017
This is one of the most unique scents I have come across. The rum is strong in this one but that's not a bad thing. I rarely wear it, mainly cause I can't decide when to wear it, if that makes sense. If you're looking for different, look no further.
06/20/2017
This is a great scent, almost an edible scent.
06/17/2017
Love! Lasts all day
06/16/2017
I'm sorry. I had high hopes. The notes sound so exotic. But it fell nothing short of fresh laundry. No.
06/13/2017
Perfect scent to wear on a snow day.
06/11/2017
Love this! Long-lasting, unique, and sexy.
06/11/2017
Musty and sexy. It's unlike scents I usually go for. I like thing with amber notes and this hits it! Not a light scent and I probably wo t use it until the fall.
06/10/2017
well, it was my first try at the site. I had no idea. I'm going on 2 weeks now and I love it. I carry it with me and spray at least 3-4 times a day. I would buy a full bottle if I had the extra money.
06/10/2017
Somehow it changed my rating, definitely not for me
06/10/2017
Not for me, smells feminine
06/07/2017
I adore this perfume. I honestly can't pick out exactly what is in the perfume, but it has this sultry sweetish smell and it very romantic yet complex. I am very happy with this selection. Would consider buying a larger bottle. It's extremely unique, and that is what I look for in a scent. Something no one else is wearing. My only negative is that is doesn't last very long. So, I spray it on my clothes and hair.
06/07/2017
Clean with a hint of spice
06/04/2017
Absolutely amazing got so many compliments!!!!!
06/03/2017
I'm not sure how I feel about it. Initially it's very masculine, which I don't mind, but it changes on me after a little bit, which I don't mind either. 😝
06/02/2017
I've never heard of this perfume but I love rum! Very lite, flirty. One of my favorites. Two sprays in 8 hours. First perfume my BF really like.
06/02/2017
Love, love, love! Don't be thrown off by the initial masculine smell. It's yummy!
06/02/2017
Nice scent but doesn't last. Hard to tell you have it on after an hour.
06/02/2017
NOPE. Once again it's not my cup of tea.
06/02/2017
Definitely unisex. The plum is very notable in the opening and quite nice, I like the dry down but I couldn't even smell it at arms length after a few minutes on my hand, though other people commented they could smell it.
05/31/2017
Cologne is on the milder side for me. Long lasting scent and not overpowering. Great for office job and a casual date night/bar setting.
05/30/2017
One of my favorite scents. Fresh, sweet, and still deep and warm.
05/24/2017
This is seriously the best smell I have ever had on. I keep catching whiffs thinking "what is that smell? It's smells so damn good! Oh it's me!!" It smells like a fruity but yet sensual smell.
05/23/2017
this is a mans scent!!!!! Its called DARK RUM why are women getting??? don't do it ladies. smells magnificent on me. But if I smelled it on a chick I would not appreciate it.
05/20/2017
reminds me of fahrenheit.
05/18/2017
Dark and seductive. Great fall and winter scent. Wear any time.
05/17/2017
This is boozy but not overly so. The plum adds a fruity warmth, which I love. Not my go to for everyday use, but definitely for special occasions or when I want to stand out.
05/17/2017
This is amazing!! I get sooo many compliments and it lasts all day long or night if your going out!
05/11/2017
I love this scent! The only complaint that I have is that it is not sold in department stores.
05/11/2017
It isn't perfect for me...but I think a lot of people would really like it! The first notes are sweet, like a really sweet rum, but it dries down into a really beautiful soft fragrance. The sweet is what I don't like, so I have to wear it awhile to get to the part I like. Try it out if you like sweeter or more fruity fragrances and want something really unique
05/09/2017
Defiantly will pick up a bottle of this
05/06/2017
This was a nice scent, but it was a little light for me - it had a more feminine smell than I was expecting.
05/05/2017
LOOOOOOVE! That is all :)
05/05/2017
Definitely has a masculine edge, but right at the end it has this sweet hint on it. My husband liked it, so that's a plus. Liked it, very different from anything else I've worn.
05/03/2017
Way too manly for me.... doesn't seem unisex but like a guy's cologne which as a chick I'm not opposed to wearing but I have to be in the right mood and I do prefer something a bit more unisex. I could really smell the leather and booze which was nice.
05/03/2017
I am absolutely amazed at how dead on the descriptions of the fragrances are. This scent smelled exactly how I thought it would & I am excited about this new find. It's soft, not too dark, sensual and warm. It is definitely a date night fragrance or even a happy hour with the girls scent.
05/03/2017
Dark Rum is truly a unisex scent - I love the fragrance - but so do my adult sons. It's fragrance develops differently with each wearer. I think you may just be surprised.
05/03/2017
Smells ok. My second to least favorite selection so far. Not what I expected.
05/03/2017
Loved it so much i ordered it twice.
05/03/2017
Disappointed because I was looking forward to this for a few months. It's definitely more of a masculine scent. It smells of male shaving cream. It's very nice on my man though, which is fantastic because he's hard to please. It was a scent I had hoped we could share, but I'm glad I could let him have it. He's very excited about this, so I'm happy.
05/02/2017
This fragrance is too strong for me. It smells like a mans cologne.
05/02/2017
I really love the light but complex mix of this. Perfect for date night or at the office.
05/02/2017
I absolutely love this scent. It has a strong masculine scent, being a unisex fragrance, but soft enough for a woman at the same time. The dry down is glorious; you can really pick up the cream note. Probably my favorite unisex scent to date. Obsessed and will be purchasing full size.
05/02/2017
I did not realize it was a unisex scent smells a little masculine !
05/01/2017
Not really a musk fan. Too masculine.
04/29/2017
I have received the sent twice. I love this scent
04/29/2017
Love this scent very subtle on me manly but sweet.
04/29/2017
It's everything and more...this long lasting and Beautiful fragrance is my all time favorite...it enhances my inner and outer masculinity
04/26/2017
love this smell, very sophisticated, but it doesn't last long on me. I have to reapply through out the day.
04/25/2017
I don't dislike it, however not one of my faves. Not as feminine as I would like my perfumes to bed. It does smell good though, just not my type of scent to buy.
03/12/2017
I did not think I would like this because I usually go for a sweet scents but I love this one. It melts into my skin beautifully and lasts all day from 1 spray.
03/11/2017
I enjoyed this scent, great for everyday use, it's less 'refined' or 'mature' as some, but I found it easy to wear without worrying about what others would think
03/11/2017
Too sweet smelling
03/11/2017
Actually really like this one. It's a little hard to explain. A very musky/ spicy smell with a little bit of vanilla maybe? Would wear out at night. Maybe on a date or out clubbing? Very complex and unique scent.
03/11/2017
This cologne was too sweet/fruity for my taste. Agree with another reviewer about the scent evaporating quickly.
03/09/2017
A hint of spice and sweetness, reminded me of Tomford black orchid at first spray, a lighter and sweeter version of it. Soon dried down into a powdery scent. Lasts a few hours and that's it. I wish I smelled this before getting it on SB, nothing impressive. Don't think I want to risk buying anything again before I get a chance to sniff the fragrance. 2 stars for its medium longevity.
03/09/2017
I loved it the moment I smelled it. It's a mix of sweet, leather and woods. It lingers through out the day.
03/08/2017
This scent is very spicy. If you prefer light scents this is not the one for you. Unfortunately I couldn't wear this one.
03/08/2017
Good & Strong Scent Smell, its give Fresh feel, better to use when meeting someone or going for Clubbing.
03/08/2017
This was purely captivating!!! I fell in love instantly. I don't know if it is because I am a rum drinker and my mind just was like "Oh, it's rum, so let's just love it" or the scent was just beautiful, but I was gone.
03/08/2017
I didn't like this as much as I thought I would. I expected something more "organic". This is very sweet.
03/07/2017
THIS IS THE SAME SCENT I GOT LAST MONTH
03/07/2017
didn't like it at first since it starts off a bit sweet. As it dries the leather and rum scent stand out, a light musk.
03/07/2017
I love this scent. It has a nice light musk that lingers throughout the whole day. I have gotten many compliments on this scent.
03/07/2017
I like to try out transgender scents because usually if it's to masculine for me I can usually pass them onto my hubby. Unfortunately I didn't care for this scent at all, it is far to masculine for a scent that is meant to be worn by either gender. Still wouldn't care for this one even as a strictly male fragrance. This one just wasn't for me so when I tried passing it on to my husband he was also is not a fan of this one. Sadly this months pick was a poor choice all around for my taste (and my husbands) and went directly into the trash bin. Live and learn!
03/07/2017
Goes on very masculine and spicy but softens into a mild powdery blend.
03/07/2017
It smelt like it was made just for a man. Not for me.
03/06/2017
My wife smelled it first and loved the scent..... Little sweet for me but it is what she likes that matters.
03/06/2017
This wasn't quite what I expected. A little on the masculine or at least gender neutral side....Wasn't the favorite I thought it would be...
03/06/2017
It smells nice, but is a little too sweet for my tastes.
03/06/2017
Love this scent! Smells so good. Sweet but sensual and woodsy!
03/06/2017
It's just ok , not crazy about it .
03/06/2017
I like the the scent, but it has a more masculine smell. I gave it to my husband to wear. Overall I like but I suggest spraying it very lightly.
03/06/2017
Too sweet smelling for me. Like burnt sugar.
03/06/2017
It's a nice perfume...would I buy a full size? I don't think so. It has an interesting scent but it is quite masculine to me. I've been spraying it just to cover up scents recently. I would like to try other Malin + Goetz scents in the future.
03/06/2017
Sweet smell I do like the smell but reminds me of a note in there that would be more for men rather than women. Whenever I sprayed it and smelled it on my I felt like this should be for a man rather than a woman scent. But it is very nice.
03/06/2017
Smells good, but definitely more appropriate for a man than a woman (at least on me)
03/06/2017
Definetly a sweet smell, but clean.
03/06/2017
Very strong, cloying sweet. Gives me a headache!
03/06/2017
This one I really enjoy, and people give me compliments on it. It has a rich scent to it. I wished I had more of it. I can smell it some at the end of the day.
03/05/2017
i LOVE this scent
03/05/2017
Nice! Smells more like for a man though so I would have to pass. I love the sweet smelling fragrances. That just didn't do it for me.
03/05/2017
I got the same perfume two months in a row. And its very strong for me.
03/05/2017
Was not my favorite
03/05/2017
I like it well enough, but it is very strong and so I don't wear it often.
03/05/2017
it was ok I like polo better
03/05/2017
Awesome scent, it just doesnt last long... Definitely getting a whole bottle 😎😎
03/05/2017
Not a very strong scent
03/05/2017
Hate it! It should only be for the lady's . Smells like cheap potpourri or old lady perfume ! Noting dark rum about it!
03/05/2017
Not a fan. Smells like a cleaning product to me.
03/05/2017
Nice unisex smell. I will probably get a bottle
03/05/2017
This is a dark kinda sweet scent. It reminds me a bit of Halston that I used to wear back in the late 80's . I wouldn't wear it every day, but I like it and I'm glad I bought it.
03/05/2017
Doesn't project
03/05/2017
Being my first unisex fragrance, I liked it a lot. It is sweeter than most others but I like that aspect. Smells really good too.
03/05/2017
Not for me. Way to strong and masculine for my taste.
03/05/2017
This scent is more for a man than a woman. Every time I put it on (which I'm not going to waste my money), I regret having selecting this.
03/05/2017
I love this fragrance!
03/05/2017
This is my third shipment and all 3 samples I got so far are all manly. Not for me. If next months is the same then I'm going to have to cancel.
03/05/2017
Love the scent, but I chuckled when I read another review that said it faded quickly and needed to be reapplied. It's true. It's not a "nose blind" issue, it doesn't last.
03/05/2017
Not as strong as I thought but reminds me of grape soda
03/04/2017
Omg I want this
03/04/2017
This scent is amazing!!! I can't get enough of it!!
03/04/2017
[I like light, clean, flowery scents...] Didn't like it.. powdery(?)...spicy... woodsy... not for me.
03/04/2017
Some people have said this becomes powdery, but I did not have this experience. This is a warm, caramel/vanilla scent on me and is my new favorite. I don't do florals and the warm, sweet scent is not too heavy for the office but also sexy for a night out.
03/03/2017
This perfume totally caught me off guard. I was expecting something warm and almost masculine, but it is actually rather powdery and grandmotherly. I will wear it, but only to work. It makes me feel like a prig.
03/03/2017
At first it's spicy then it gets powdery notes, I like it.
03/03/2017
Great scent - very sexy!
03/03/2017
A nice sweet woodsy scent. Would work great for guy or girl, just isn't one of my favorites on me.
03/03/2017
Too sweet, almost sickeningly so.
03/03/2017
My absolute favorite now! Get so many compliments. It is clean and warm at the same time (almost impossible to find). Sophisticated but not girly. Nothing masculine about this perfume as I would have expected. As intoxicating as Tom Ford, Black Orchid :)
03/03/2017
This is my new favorite! I get so many compliments because everyone says it smells 'clean' but also warm at the same time! Is that possible? Very sophisticated but not girly or overpowering. Definitely not masculine, as expected. LOVE LOVE LOVE!
03/03/2017
This is definitely not a feminine perfume. My husband finds it a little too feminine for him but I actually love it when I mix it with one of my more girly scents. It tones it down into a wonderful daily scent!
03/03/2017
Smells wonderful kinda reminds me of the smell of the perfume called poison
03/03/2017
its ok at first has a nice smell but then it kind of reminds me of a men's cologne scent I can't put my finger on it. Its sweet but again has a note that reminds me of men's cologne which I don't want to smell like.
03/03/2017
Love it wished it lasted longer
03/03/2017
Very strong rum and sweet scent.. 3 sprays lasted me 10 plus hours. The projection on me was a good 3ft for the first 6hrs, after that it was skin scent that lasted all day. I got a couple compliments from women and some guys wanted to know what it was. Not a signature scent for me but for some guys I can see where it would be. I can see women wearing it but it's better suited for men
03/02/2017
I like the scent as an everyday fragrance it's different lots of compliaments
03/02/2017
I thought it was too masculine for me. I would say this is not for women, but it will work for my husband. I don't recommend for a woman.
03/02/2017
just love this scent!!! Haven't found one that sticks with me all day and this one finely does and the wife loves it.
03/02/2017
Love it! I will definitely be buying a bigger bottle!
03/02/2017
Smells slightly floral, kind of sweet. Scent lasts a long time.
03/01/2017
Love this scent it could definitely be for a man or woman
03/01/2017
Smells so good. Light, not too overpowering. My favorite one yet,
03/01/2017
loved it! clean and sexy!
03/01/2017
Surprised by its subtle sweetness and leather. This is perfect for a cool morning or chilly sunset. Its a great sophisticated scent.
03/01/2017
Smells like a men's cologne
03/01/2017
Love love love this scent! It is slightly sweet and very young and just perfect
03/01/2017
Just received and l love it! Not so moody that you can only wear in the fall but also fresh...its seductive and l can't stop smelling myself!
03/01/2017
A little too musky for me.
03/01/2017
Amazing scent! Rich, sexy and unique. It is definitely a unisex fragrance, but does lean on the side of masculine. I could see both men and women enjoying this, though. It doesn't seem to have the best longevity and at its price point, that may be a deal breaker for some, however; I intend to buy a full bottle of Dark Rum in the near future.
03/01/2017
At first a bit of an unusual scent, not a bad scent, but after wearing for a bit is lessens to a very soft scent.
03/01/2017
This scent is so interesting! I can't tell if i love it or hate it..
02/28/2017
Love this perfume it has a little hint of a powder smell.♡♡
02/28/2017
This scent was not at all what I expected. It smells very masculine with a hint of fruit. This scent seems like it should be better suited for a man. I was really looking forward to this scent but I feel very disappointed.
02/27/2017
Way too masculine for me. Smells like an older men's Cologne mixed with soap. I was so excited about this one. Maybe my boyfriend will like it.
02/27/2017
I enjoyed Dark Rum. It has a sweet spicy smell. My husband thinks it smells like a good cigar (not sure I like that comparison lol)
02/27/2017
Lighter sweet scent, yet a bit of spice. Really like it. If it turned me on to wear it, it's a winner. :-)
02/26/2017
This smells nice in the bottle, but when I tried to wear it, it just ended up smelling like laundry detergent on me.
02/26/2017
Love this scent! I tend to lean toward a more woodsy fragrance and this one is AMAZING! Perfect for day or night. I wore it to a wedding recently and many people complimented me on the smell. Will definitely order again before I run out!
02/26/2017
I did like this one. Very different but even my husband liked this one.
02/24/2017
Not my favorite...... but my cousin loved it
02/24/2017
It wasn't that I disliked this scent, it just never bloomed after I sprayed it on me. It's too weak and after drying smells like talcum powder. I never got even a hint of rum, might be nice for a woman, and for the summer months. I will not purchase or put this back in my queue.
02/23/2017
Nice, smooth appropriate for both male and female. Not too strong. Long lasting
02/23/2017
I love this perfume so much that I don't want to try anything else lol!!!
02/23/2017
I don't like plus its not what l ordered.