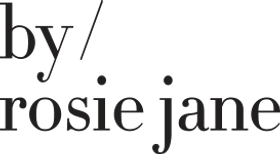 Rosie Jane Cosmetics was founded in 2010 by Rosie Jane Johnston, international celebrity make-up artist who worked with Sophia Coppola, Courteney Cox Arquette and many more. This vibrant red head and mother of 3 has created a collection of perfectly simple fragrances, multi-use beauty products, and things you need in your every day life.

It started with one product, Rosie Jane Cheek Gloss and the idea to establish a line of cosmetics that would encourage natural beauty and be easy to use with formulas that are long-lasting and comfortable to wear. Rosie Jane Cosmetics are naturally based and does not support animal testing. "The time I feel most beautiful is after a day at the beach when I have no make up on, wearing a sarong and a sun kissed glow. Rosie Jane is about feeling that natural confidence all the time," explains Rosie Jane Johnston.

by/rosie jane founder Rosie Jane Johnston is a native Australian now living in Los Angeles. Each fragrance is formulated by Rosie in her Silverlake studio. BRJ products are cruelty free, Paraben, sulfate, phthalate & phosphate free. Made from recycled and recyclable packaging. Combining natural fragrance oils, essential oils and absolutes to create unique scents for each season. by/rosie jane is an apothecary/lifestyle brand combining luxury and the perfection of simplicity! Made in California.