The combined wrath of all the ancient Gods is just a caressing breeze compared to the unleashed rage of the unsatisfied brides to be. And who can blame them? So much on their plate, so little time. Planning a wedding is no walking in the park; however, with the right guide in your hands, it can be truly fun. Below is a list of six wedding perfumes that will make your special day so much more glamorous. The best part? You get to bottle your special wedding memories and access them anytime when you are feeling  a bit nostalgic.
Tadashi Shoji is the absolute king of the silk and chiffon universe, and what better way to complement your wedding gown, than with a perfume that has its roots inside Shoji's abundant mind. Only one drop of Eau de Rose by Tadashi Shoji and you suddenly will feel like you've been teleported into the land ruled by pink unicorns, sensuality and everlasting rainbows.
The perfect match for an outdoor summer wedding, this perfume is so luscious that even the flower bouquets will be envious of the bride.
Successfully creating a fine balance between modern and classical perfumery, Eau de Rose packs plenty of femininity and charm in a fragrance bottle. Captivating and fresh, with a dose of exotic mystery, this inaugural Tadashi Shoji fragrance is bound to make a lasting impression.
For the winter fantasy wedding, we suggest toning down the cold with a warm mesmerizing scent. The new Carven Le Parfum by Carven Parfums perfume is a perfect alchemical marriage between mandarin blossom and hyacinth flower. Since the scent is beyond seductive, it is best if you avoid mingling with the priest and the rest of the groom's unmarried pack of friends. Inspired by the Parisian sophistication, the bottle of this perfume is just like the bride – so exquisite, it takes your breath away.
Carven Le Parfum is a constellation of scented atoms plotted across a celestial fragrant sky, a perfume imbued with sublime beauty, unleashing sensual response the moment it is released into the air.
Le Parfum possesses a certain amount of hushed superiority, the one a fragrance can possess only when made with such intricate mastery and proudly displaying the Carven name.
Perfect for brides to be!
Bright Crystal Absolu by Versace is one of the few perfumes in the world that can compete with the enthralling ocean breeze and actually improve its smell. All of that, because of its enthralling note: magnolia. Many people associate this flower with innocence. In some cultures the brides are not allowed to have a magnolia bouquet at their wedding, as it is a common belief that they will lose their innocence (spiritual) in the marriage.
Thankfully, we are free from magnolia-centered prejudice and can wear this fragrant masterpiece without remorse. The fruity notes in this fragrance fill you up with crispy air floating amidst a floral meadow. The perfume is so powerful and poetic, it will be a perfect fit for your marriage vows. It seems Versace has found a way to bottle Yesenin's best love poems.
If you have been craving cookies and chocolate but have been staying away from all this goodness in order to fit into your wedding gown, this perfume is your savior. You will get your sweet fix just by smelling the sparkling mix of raspberry sorbet, pomegranate, and yuzu.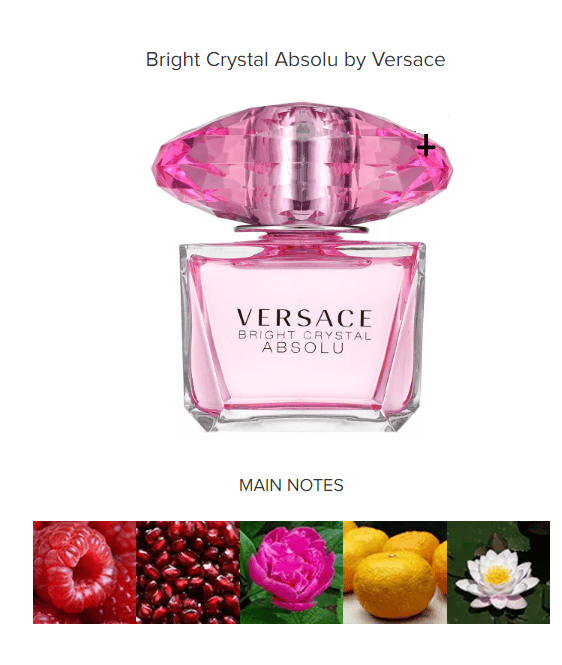 There are brides that want everything to be minimalistic. Their reception would be a concoction of mini canapés paired with mini wine bottles and a delicate cake with miniature bridal decoration on top. On the other side of the spectrum, you have brides who love making a statement: they want lavish decorations, tables overflowing with delicacies, flower arrangements of gigantic proportions and of course, the most grand and jaw-dropping dress they can possibly lay their hands on.
If you are craving a grande perfume to match the scale of your wedding, there is a sure way to satisfy your hunger and that is Midnight Oud by Juliette Has A Gun – the majestic mixture of rose, saffron and oud oil. The perfume's ego is almost royally big, while also so subtle that it enables the bride's personality to fill up the entire room.
Midnight Oud touches the skin with a butterfly kiss, leaving a trail of desire, craving for more, like an unspoken end to a story narrated by Scheherazade.
A scarcity in nature, pure premium oud is lavishly used in this composition by Romano Ricci. Paired with delicate rose, Midnight Oud speaks of luxury that possesses our senses, making us feel good in our own skin.
The note of luxury in this Juliette Has A Gun composition is the allure, courtesy of Romano Ricci.
One of the prerequisites for the happily ever after – "Something blue" – is now a perfume. Might be a bit of a cheat, but surely gets the job done. Moreover, depending on whether you use it before the wedding day or not, it could either fit the bill of "something old" or "something new". Well now, it's a treasure indeed.
Please, do not steal the perfume in trying to score the "something borrowed" part, even though it is enticing idea. If you pick this scent as your wedding companion and ally, be prepared for a mixed feeling of walking down the aisle and the runway at the same time. This perfume is very fashion forward and presents an immaculate blend of mandarin, vanilla, and lychee – enough to satisfy the most demanding lady.
The free spirited brides cannot be tamed with boring perfumes; they need something that captures their bohemian essence in the same manner that a tiger captures its unsuspecting prey. Luckily for those of you who understand that marriage is just like the Internet connection (sometimes fast, sometimes slow and most of the time taken for granted), Etat Libre d`Orange developed the Remarkable People perfume.
A rendez-vous of champagne and curry tree flowers, this perfume is a reminder that all preparations aside, this day is about glancing into your groom's eyes and knowing you will be happy to walk hand in hand with him till the end of time. Not to mention it smells sooooo nice!
The scented happily ever after
Saying yes to your wedding perfume is not something that should be taken lightly. After all, fragrance is an important addition to the ambiance and the overall mood of the wedding. Remember, every instance someone leans over to give you a kiss is your opportunity to create magic. Make it count.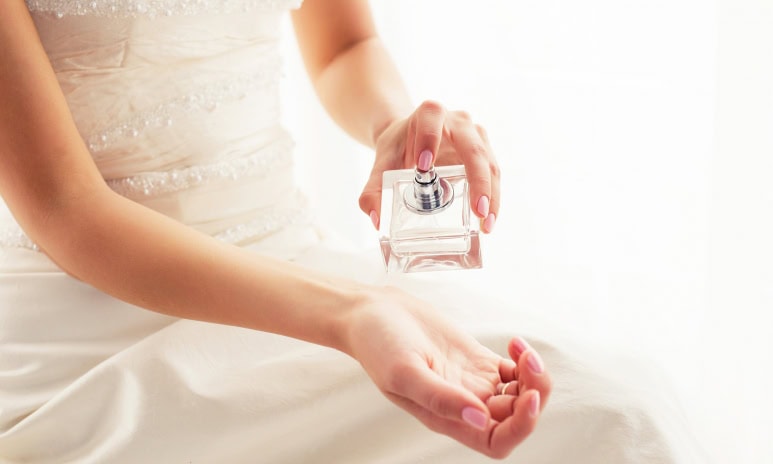 Scentbird: Specialists in Olfactive Memories and Wedding Perfumes
For $14.95, Scentbird is your monthly pass to fragrant elegance, chicness and refinement.
In case none of my prepositions say wedding day memories to you, then please make sure you browse through the entire fragrance collection offered by Scentbird.
I am certain you will find your wedding perfume which will remind you of your perfect day every time you wear it!
In case you are not acquainted with Scentbird, it is a luxury fragrance subscription service that sends you a 30-day supply of a fragrance of your choice for $14.95/month.
To join Scentbird or learn more about this luxurious fragrance service, click here: https://www.scentbird.com