Issey Miyake
Nuit D'Issey EDT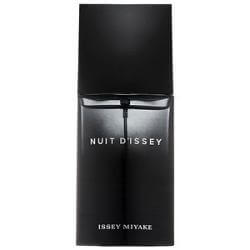 Get a 30-day supply of Nuit D'Issey EDT
for
$
14.95
Notify me once this scent is available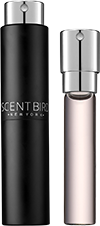 0.27 oz subscription

0.27 oz a la carte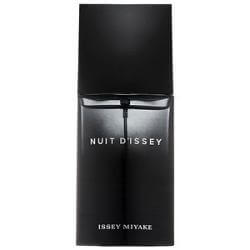 4.2 oz bottle
Share and earn free perfume
Notes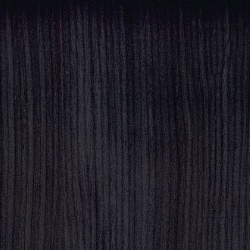 Description
Take a journey into the imagination. Dive into the night, where nature and sky become one in the reflection of the moon. Senses are enhanced and emotions deepened through the powerful force of natural attraction. This fresh, woody, leathery fragrance adds a powerful and mysterious note to the Issey Miyake collection.
You may also like
Nuit D'Issey EDT by Issey Miyake Reviews
11/20/2017
Definitely a pungent cologne. One spray was all I needed for a day. Not the biggest fan of the fragrance, but that's just personal taste.
11/20/2017
I absolutely loved this scent. It has wonderful notes and is very woody and Smokey to me. It was exactly what I wanted and what I like.
11/10/2017
It was pretty good.
11/08/2017
Great scent for fall/winter. It lasts a long time on me, but parfums typically do. YMMV. Received a lot of complements on it, it is "masculine" but it is certainly not your father Drakkar. It's a classy scent that doesn't overpower the senses.
11/06/2017
Received this as my first fragrance this morning, and I am very impressed. Only sprayed it on my wrist but the fragrance is masculine and has a sweet smell to it. Definitely earns its place under the date night category.
11/04/2017
This stuff i was and still very impressed with the scent. Very well made holds a scent for a long time and lingers well.
11/03/2017
Theres nothing better than a scent so manly, got it for my boyfriend and wow... just can't stop smelling his neck 😄
11/03/2017
Enjoyed this new scent, but after wearing it several times I've noticed the scent doesn't have the staying power I'd like it to have. For me, that's it's only down side.
11/02/2017
One of my favorite fragrances I've received yet as its comming to fall its great deep scent but not so deep that its overwheliming..I love this service in will continue to use for a while to come!!
11/02/2017
Not my favorite But not bad not a lot to really say it is a nice smelling cologne but with out the wow factor
11/02/2017
I don't think I ordered this one but maybe I did. I thought I was getting my BF Yves Saint Laurent La Nuit de L'Homme which smells AMAZING. This one smells good . I guess he likes it. It just isn't what I thought we were getting.
11/01/2017
Great smelling fragrance, has a nice sweet smell to it.
11/01/2017
I'm already an Issey fan so I didn't think I would not like this fragrance. I love it and my wife loves it (which is what I was going for).
10/27/2017
I like it a 6 out of 10. Smells nice but doesn't have much staying power, at all! Don't think I'd invest in the full bottle.
10/08/2017
This cologne is amazing I love how it smells on me 5/5 a new favorite I will buy it again.
08/29/2017
This could end up being one of my favorite colognes. The scent last a long time.
07/29/2017
I loved this cologne, fresh and a little sweet. But overall, I would recommend.
07/26/2017
Very "Grown Man" type scent. For my first scent, I dug it. Can't wait to see what's coming in August.
06/29/2017
Wasn't that "loud" fragrance I was expecting. I like being able to smell myself with 1 maybe 2 sprays and this is definitely not one of those colognes. Smells very good but not my style.
06/26/2017
Complex. Wormwood notes, sensual and appealing. Women would be flayed by this.
06/23/2017
Hmm, I still on the fence about this cologne. Its a smell alot darker than I'm used to wearing but it growing on me. The jury is still out, I don't love it but I don't hate it. I give it a 7 out of 10
06/03/2017
This arrived on time and the scent is what I love. Light citrus, great silace. Lots of compliments.
06/02/2017
I love this month's scent it's just what I've been looking for it's soft but clean hard smell got my fiance wanting me to wear it everyday
06/02/2017
It smells like my grandfather.
05/23/2017
XThis was my first colonge I got from Sventbird. It is good bit it smell like all the Issey Mikake to me. It has a woody leathery vibe. You can wear it on a night on the town. Just do not wear it in the summer time. This is a winter or autumn frangrance.
05/22/2017
One of my favorite fragrances I have received from Scent Bird so far! You only need a few sprays and it smells incredible. You won't be disappointed with this fragrance.
05/11/2017
Im a huge fan of Issey Miyake L'EAU D'ISSEY POUR HOMME. But i really like this scent. Very strong so A little Dab will do ya! I know i have worked a 10 hour day and my wife asked if I just put cologne on when i got home.. Thats how strong it is. very pleased with this months choice.
05/01/2017
I found the initial scent over powering but after that wore off very good scent
04/29/2017
Great scent! I received several compliments on this one.
04/29/2017
Sexy and intense.
04/29/2017
Great sophisticated scent...highly recommended
03/11/2017
Smells great. Sophisticated smell. Not something I would wear on a daily basis. Maybe wear going out. Not my favorite by issey Miyake but it's a good cologne
03/07/2017
I didn't like it. It's very similar to other scents by Issey Miyake. To me, it's very powdery with a floral background. Not mastucline at all. Literally reminds me of a perfume my Grandma worn, may she Rest In Peace! I've tried two colognes by Issey Miyake and haven't liked either. Never again.... not for me.
03/06/2017
Smells amazing
03/05/2017
It's does smell something like the original Issey, but with it own twist to it. I would definitely buy this.
03/05/2017
Nice clean scent for men more like a going out scent I wouldn't buy a whole bottle it's nice to keep around tho
03/05/2017
1/10 scale I gave it a 7 but all the ladies compliment is cologne so maybe it's better then a 7. Ill buy it again
03/05/2017
Very pleased! Probably the best one I got so far. Does it smell like the regular Issey but it has a nice twist. Will definitely buy it .
03/05/2017
Wonderful sexy scent that lasts a long time.
03/05/2017
Very smooth scent. I wouldn't call this an every day cologne though. It seems more of a dressier scent - out on the town or an upscale restaurant. Overall great. Note: scentbird told me that this was Kenneth Cole Black Bold. Very confusing.
03/05/2017
Very smooth, elegant smell
03/03/2017
Love it. New favorite
03/03/2017
This was one of those scents I loved from first smell. This is a really well done smooth Smokey scent. Definitely bottle worthy if you like this scent like I did only drawback was the performance first hour and 20 mins good performance after that it fades real close to the skin. Performance: 4/10, Smell: 10/10, projection: 7/10, Overall:7/10. better performance and this would easily be a 9/10-10/10
02/23/2017
i do enjoy the smell there are only a couple things i dont really like about, for the first hour or so the scent has a pretty strong 'alcoholy" smell but it does die off after awhile, i also feel like the scent does not last as long considering how strong the smell is and lastly i live in texas and the weather has been pretty warm here so i dont see this as a scent that i will be using very often since its a pretty spicy smell but this is a perfect winter scent
02/17/2017
definitely a scent for after 5pm.. my wife likes it and that's all that matters..
02/07/2017
Nice soft and smooth very pleasant smell
02/04/2017
Awesome Smell and lasts alll day with much needed!
02/04/2017
I got this for my brother and he loves every month getting a new scent to try! He loved every scent I chose for him
02/04/2017
Although I really like the scent, it has a strong woodsy smell that is a bit overbearing. It would best best used for a formal occasion in a large ballroom.
02/03/2017
Great smell. Discoverable, but not overpowering.
02/03/2017
Favorite so far
02/03/2017
I love the scent, it's very refreshing and I get a lot of compliments. It's my first time truing it, I usually get Eau d'Yssey but this one is my new favorite.
02/01/2017
Love this month's cologne. Perfect for the cold winter months. So many people comment on it and i have only used it a few times.
01/31/2017
I have the original, but this smelled a lot better that I thought it would. My wife really enjoyed it even though she really enjoys the original.
01/30/2017
I actually purchased a bottle right before this arrived, will definitely use to carry with me. Smells great
01/17/2017
Love this scent. Love Issey Miyake products. This scent goes with almost any occasion.
01/05/2017
It's OK I like it overall but after awhile on my skin it smells like maple and brown sugar oatmeal.
01/04/2017
it was way too sharp for me. Notes did not even out at the end with my body chemistry. Probably great on somebody else. Awful on me
01/03/2017
Amazing and musky. Perfect for winter.
01/03/2017
Issey Miyake is definitely a game changer! I had people all night asking where did I get this great scent, that it was so powerful and everyone loved it!!!
01/03/2017
A little to sweet.
01/02/2017
Too sweet and citrus smelling
01/02/2017
It smells like I'm gonna get laid tonight #love it
12/31/2016
If you like that classic late 80s gentlemen scent this is for you. This reminds of the scents that my dad loved from the shafts era. It last long too. But not for me
12/31/2016
I adore this scent, soft yet everyone notices it with just a spritz. This is definitely a winner!
12/31/2016
Definitely worth wearing. I would actually buy this
12/31/2016
Sophisticated, clean scent.
12/31/2016
Nice smelling cologne, though it took some time to grow on me , at first I didn't like it but after a few days it started to smell better a great out of the shower cologne ...
12/11/2016
Wore this a few times going out with some friends, I received compliments every time! I will definitely be buying the full size. Scent stays with you for a long time, definitely does not wear off quickly.
12/07/2016
this was a great scent that everyone says mmmm you smell good
12/04/2016
This was the second men's fragrance that we've received and it's pretty good. Not as much oud as I expected and it fades to quite a different scent then it begins as. This will be a good back up weekend scent, not an everyday scent.
12/04/2016
Not my type of scent but I will still wear it!
12/03/2016
Not great but very unique in its on type of way. Last a long time which is a plus just needs a bit more masculine tones.
12/03/2016
Great smell, spiced and really manly. 5 star fragrance
12/02/2016
Once it has a chance to warm up, it's a VERY sweet scent. It's like I smooshed a vanilla cupcake on my wrist or wearing a melted candle.
12/02/2016
This scent is well just wonderful. As soon as I opened the package I could smell it and was, immediately in love. This sent is great for night time dates and dinners or a office meeting. As the smell is not overwhelming. It is more on the smooth side. My wife loves it
12/01/2016
I love it and my husband does too!!!
12/01/2016
Simple....Love it. Though I'm not sure of it's length of wear. I get lost in it as soon as it hits my skin.
11/06/2016
Fruity smell, but not very powerful.
11/05/2016
Perfect perfume
11/02/2016
Great scent, wears well and last all day. One of my new top choices.
11/02/2016
Ummmmmmmm jury is still out. Got 2 compliments while out
11/01/2016
Definitely one of my new favorites. Its warm and spicy just enough to where it is not overwhelming. I have received numerous amounts of compliments. Even my friend was steal sprays from me. Haha!
11/01/2016
This smelled great in the bottle, but as soon as it was on my skin the smell was unpleasant. Some component used in the cologne formulation just didn't agree with my body chemistry, which happens sometimes with other colognes (Giorgio Armani and Hermes colognes especially).
11/01/2016
One of my favorite scents so far. Literally- men and women have stopped me and asked what it is. One guy even said "It's sexy, dude"... ;-) I'll keep on getting this one.
10/31/2016
This scent is very potent. You definitely get your money's worth. Spray one spray and it is good enough!
10/29/2016
My favorite so far. Amazing smell
10/17/2016
Date night scent for sure. My favorite thus far. Very sexy and manly at the same time.
10/08/2016
Intense and sultry. Definitely a date night scent for me.
10/08/2016
Very nice. Long lasting. Lots of compliments
10/08/2016
Has a nice, musky, incense, citrus blend. What I love is that most colognes that have a musky or incense smell to them are strong and overpowering, but for this one it is subtle, and pleasant.
10/07/2016
This scent was not particularly for me. While it didn't smell bad, I did not find it to be compelling in anyway
10/05/2016
It's all good!!
10/04/2016
I absolutely LOVE this EDT. It's a good balance of spicy and masculine, but not heavy, so you can wear it regularly. Great for fall and winter.
10/04/2016
just got it today, smooth scent, not what im used to but still good
10/03/2016
Favorite one so far!
10/02/2016
My husband loved it!
09/29/2016
Smells great, lots of compliments... but its too strong at first, then mellos out. I will say that my last few colognes seem to have the same smell ...maybe its me...
09/16/2016
to spicy and strong, reminds me of a smell for a more older man. If you are into smooth scents this isnt the one for you. Its a good smell if your at work and just want to smell ok. I work in a prison so it does its job.
09/06/2016
Love the smell
09/06/2016
ordered this for my man...and both he and I LOVE it. He likes very strong spicy colognes and this did not dissapoint. The vetiver is very sharp in the beginning but it definitely softens as the day goes on.
09/06/2016
Very laid back scent, perfect for the summer.
09/03/2016
Loved it it's a great light scent
09/02/2016
First order and arrived today. Great scent yet again from Issey. Have always been a fan and does remind me of black xs, less on the fruit side which is no bad thing. Smells crisp, clean, spicy undertones andhas great staying power for my chemistry as I struggle to find good smells at tImes that last. Love it. Wife did too second she smelled it.
09/02/2016
It's really overpowering I tried to give it a chance but just too spicy for my taste. Not my go to scent.
09/01/2016
A little disappointing. Just not my favorite.
08/30/2016
Just don't like the smell
08/30/2016
Very clean smell. Lasted a good amount of time with just a few sprays. My wife seemed to enjoy it.
08/26/2016
I ordered this for my boyfriend...He LOVES it...and I love it on him! Great scent...and I don't like some of the others from Issey Miyake. Definitely has lating power!
08/09/2016
Don't get me wrong its a good scent just not my thing. Too sweet, try the sport version if you feel the same as i do, it is much a little more tame on the sweetness.
08/04/2016
Love the scent, wish it lasted longer.
08/03/2016
Best scent from ScentBird yet
07/03/2016
Great scent. Ladies love it
07/01/2016
This is definitely a nightime, formal going out scent. I like it and tested it before the gym because i happened to have been headed there. 50 minutes of cardip, swam laps, spa briefly, sauna and steam room and i could STILL faintly smell it on my wrist. Impressive.
06/02/2016
even though this is "for men" i love wearing it as my everyday scent
06/02/2016
One of my favorite scents
05/06/2016
LOVE IT! L'Eau D'Issey but darker, deeper, sexier. One of my all time favs
05/04/2016
Very sweet smell. Get compliments all the time. It's almost like Spicebomb.
04/29/2016
I really like this. Classy, and perfect for a night out in the city!
04/05/2016
Very nice . it has a warm , distinct smell . Can be worn for pleasure or business .
04/05/2016
I haven't received it yet!!!!!!!!!!!!!!!!
04/04/2016
doesnt last that long.
04/03/2016
Fantastic scent
03/29/2016
Great cologone
03/29/2016
SEVERAL compliments were given over this scent. im sure i will be placing another order soon
03/29/2016
I liked it! It smelled a little like Obsession.
03/18/2016
Nice sent refreshing & clean. could be a bit more of a stronger sent for me.
03/18/2016
This is definitely appropriate for both genders. I appreciate the warm woodsy-spice, but would prefer a bit of floral or sweetness to round it out. As is, the smell isn't particularly complex and is a bit overwhelming for me.
03/18/2016
This scent has a great warmth to it. It is woody and masculine, but still not overwhelming. I received a lot of compliments on it. It is a great fall/winter fragrance.
03/05/2016
Too sweet for me.
02/29/2016
It smells very comforting. Definitely not too strong, and not a pushover either. Woody yet warm. If you sort of like La Nuit d'Homme by YSL but feel like it's almost cloyingly floral-woody, you might like this one. It's definitely a fragrance appropriate for all genders and not exclusively woody, it has other stuff going on--but I want it to smell even more like wood, that's the thing!
02/10/2016
My lady loved the smell on me...
02/05/2016
Always smells exotic and just stands out the most!!!!
01/31/2016
It's nice airy scent
01/05/2016
Love it. So does my wife. I've gotten the most compliments on this one out of all my other subscriptions.
01/01/2016
It's definitely a evening cologne very sensual and masculine
12/30/2015
Great smell, but doesn't last as long as I'd like.. Reminds me of Hugo Boss a bit
12/11/2015
A nice scent that works well for a night on the town, but is too strong to be work-appropriate. Not a spray-and-go: I recommend waiting 20 minutes after applying to allow the fragrance to mellow. A good addition to my collection, but there are certainly better alternatives in this niche.
12/06/2015
Incredible scent that lasts the majority of the day. I will purchase this scent.
12/05/2015
can't go wrong with any of Issey Miyake.
11/24/2015
Great smell. Got plenty of compliments
11/24/2015
This is the best cologne since Nicole Miller!! Love it!
11/06/2015
Love the smell..
10/29/2015
Great Fall scent! I got a lot of complements on this scent.
09/29/2015
I didnt like it. It reminded me of an old cologne that you purchase from Avon!
09/24/2015
The initial spritz is very strong and intense scent of leather and incense. But once its sat for about a half hour and had time to mellow out a little it is fantastic. It's still an intense scent but it's not overpowering. I've done some leather working on the past and this mimics the scent wonderfully. Throw in the additional tones of incense and wood. You end up with an incredible masculine scent.